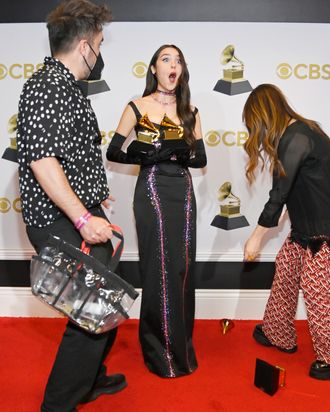 Photo: David Becker/Getty Images for The Recording Academy
Olivia Rodrigo has made me relive every tortured emotion I felt as a teen, so it's only natural that she gave us another forgotten adolescent feeling last night: the sheer horror of doing something clumsy in front of a lot of people.
Rodrigo, who won three Grammy awards (Best New Artist, Best Pop Solo Performance, and Best Pop Vocal Album), was so overwhelmed by her massive success that she dropped one of her trophies while posing for photos, breaking it clean in half on the red carpet.
Maybe she got distracted thinking about the sexy little secret that BTS's V whispered in her ear hours earlier? Or perhaps holding three gramophone-shaped statuettes is actually even harder than parallel parking. An assistant apparently reassembled Rodrigo's trophy for photos, but I can't help but suspect we could have avoided this mishap had Rodrigo been given some sort of vessel in which to transport these clunky (and apparently very flimsy?) objects. The biggest purse I saw last night fit exclusively gold-wrapped candy. Couldn't the Recording Academy spare a tote bag or two for these talented artists to lug around their cumbersome awards?
There do seem to be a few seasoned vets who have figured it out without bags, such as Jon Batiste, who expertly cradled his five awards like a chunky gold baby. Not all heroes wear capes. Well, actually, this one does.