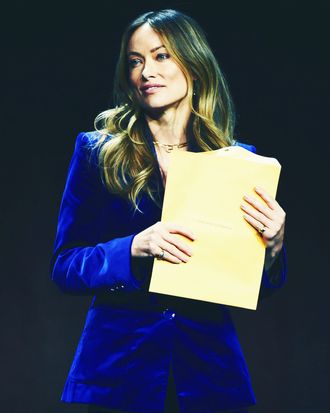 Photo: Stewart Cook/Shutterstock
You may have recently seen some photos of Olivia Wilde onstage at CinemaCon holding a mysterious manila envelope labeled "Personal and Confidential." You may have also seen reports that the envelope — which was apparently handed to Wilde while she was onstage — contained custody papers served to Wilde by her ex-fiancé, Jason Sudeikis. Excuse me, but … what?
According to Rolling Stone, Wilde was interrupted in the middle of a presentation on Tuesday at CinemaCon in Las Vegas, an annual gathering of movie-theater owners where she was promoting her new movie, Don't Worry, Darling. Reports from inside the the Colosseum at Caesars Palace say that an audience member approached the stage and placed an envelope at her feet, at which point Wilde said, "This is for me? Is this a script?" before picking it up, opening it, and saying, "Okay, got it. Thank you." She then picked up her presentation where she left off.
A few anonymous sources have claimed that the documents were child-custody papers from Sudeikis, whom Wilde was engaged to for seven years before she broke things off in November 2020. They have two kids together. At some point after the breakup, Wilde started dating Harry Styles, who's starring in her new movie.
If these are papers related to Sudeikis and Wilde's custody agreement, it's not clear why they were served to her so publicly. Some have speculated Sudeikis planned it in order to humiliate her (which would certainly be at odds with his Ted Lasso nice-guy image), but a representative for Sudeikis told Deadline the actor "had no prior knowledge" of where or when the papers would be delivered. The spokesperson also claimed Sudeikis "would never condone her being served in such an inappropriate manner" and that the decision about where and when to serve her was "solely up to the process service company involved."
To make things even stranger, sources claim whoever served the papers had CinemaCon credentials, including the event's COVID-19 vaccine bracelet and ID lanyard, suggesting that the exchange may have been carefully planned. CinemaCon's managing director told People that the convention was "reevaluating our security procedures" in the wake of the incident.
The Cut has reached out to Wilde's and Sudeikis's representatives for comment and will update when we hear back.