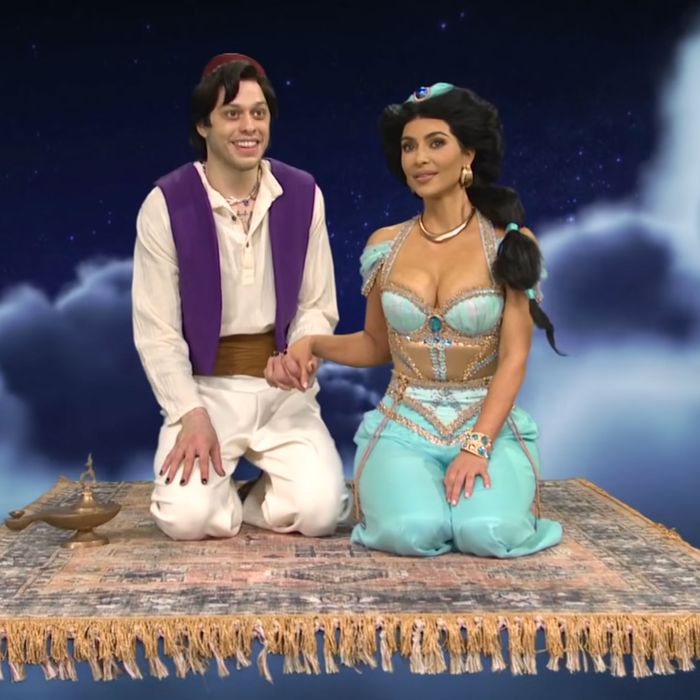 Do you think they … recreate the sketch at home?
Photo: Saturday Night Live/YouTube
What do you get the Kardashian who has everything? A magic carpet? A genie lamp? I mean … yeah, I guess so. Kim Kardashian and the rest of the Kardashian-Jenner clan (sans Kylie) recently sat down with Jimmy Kimmel to talk about their family, their upcoming Hulu show, and, of course, their relationships.
Between conversations about Kris letting her dog shit in Khloé's yard and Kim being horny for cleaning, Kimmel asked what became of the magic carpet from the Saturday Night Live sketch Kim did with Pete Davidson, who she wasn't dating at the time but is now, obviously. And great news, everyone! The magic carpet now lives with her.
"Actually, for Valentine's Day, [Pete] got me the rug and the whole outfits and the little genie lamp," Kardashian said. "So I do own the rug." We will get to the outfits in a second, but I'm curious how the magic carpet and genie lamp fit in with the bleak décor in Kim's haunted mansion. Do they have their own special room? Was she like, "Aw, thanks, babe," and then immediately put them in a big Tupperware container in the basement? How do you gift wrap a magic carpet?
More importantly, I need to know more about these gifted costumes, Kimberly. Do you two … wear them? Are they on display? Do you do Disney karaoke and put on the whole ensemble? The mind wanders …
Apparently, Pete has a penchant for elaborate gifts. Kimmel said his team "had to carry in a huge bouquet of flowers" that Pete sent to the studio for Kim's appearance. He's got that KIM tattoo. How will he outdo himself for Mother's Day? Will he buy out 30 Rock and get her face tattooed on his back? I suppose we will wait and see.