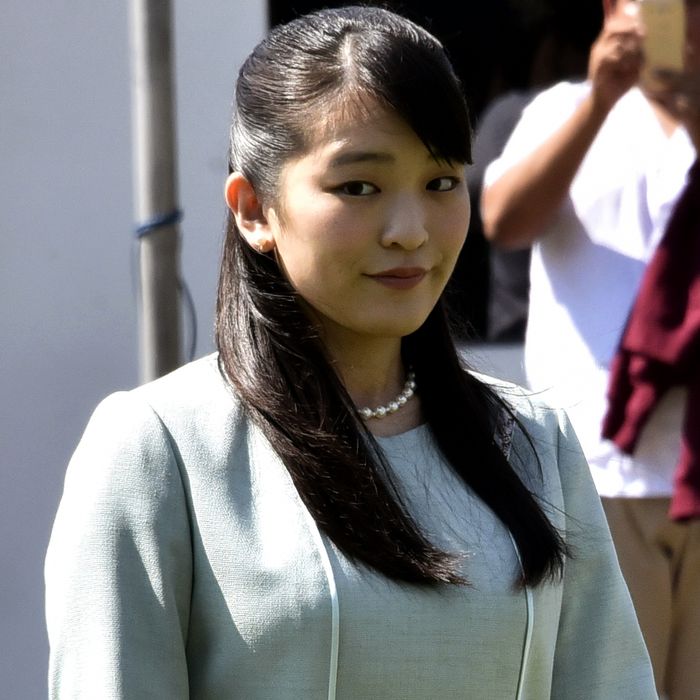 Photo: AIZAR RALDES/AFP via Getty Images
The woman formerly known as Princess Mako is fully embracing her new identity as a millennial chasing her dreams in New York City. Since she gave up her royal title in Japan to marry a commoner and move to America with him, Mako has adopted a surname — she's Mako Komuro now — moved into an apartment in Hell's Kitchen, and, most recently, done what every young New Yorker does: landed an unpaid internship.
Komuro moved to the U.S. in November 2021, one month after marrying Kei Komuro, her college boyfriend, who works at a law firm in the city. Since then, she's been keeping a low profile, buying necessities at Bed Bath & Beyond, and generally keeping out of the public eye. She is, after all, a commoner just like us! According to the Japan Times, she's now taken her new status as a nonroyal to a new level and unlocked one of the millennial's most prized experiences: working for little to no money. Per the newspaper, Komuro recently got a job assisting curators at the Metropolitan Museum of Art, though People reported her job was that of an "unpaid volunteer." Per the report, she is specifically helping prepare an exhibit of paintings inspired by a 13th-century monk. Official or not, that sure sounds like intern work to me.
As with many unpaid internships, it's unclear whether this experience could lead to a job for Komuro. She may have been a princess, but since she declined to accept a reported $1.3 million payout from the Japanese government when she left her life as a royal, she needs to support herself. And with a degree in art and cultural heritage from International Christian University as well as a masters in art museums and gallery studies from the University of Leicester, Komuro is well prepared for a career in the New York City art world. Hopefully this is one internship that will actually turn into a job — if she wants it.