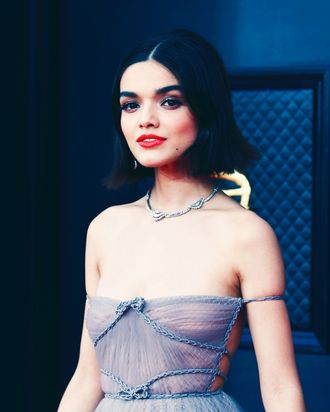 Photo: Frazer Harrison/Getty Images for The Recording Academy
The arrival of Steven Spielberg's West Side Story remake in December reminded a lot of us that one of its stars, actor Ansel Elgort, had been accused of sexual assault a year and a half before the film's release. While the movie's rollout managed to go on largely untainted by those allegations, its female leads did not get off scot-free. In an interview with Elle, Elgort's co-star Rachel Zegler looked back on repeatedly being asked about Elgort during the film's press cycle. She said it was "hurtful" and "disappointing" to have to answer for her colleague's alleged sexual misconduct. The questioning came, she said, "from a place of me having to answer for that and not them actually caring about whether or not I was okay."
Allegations against Elgort first surfaced in June 2020. A Twitter user said that Elgort had sexually assaulted her in 2014 — when she was 17 and he was 20. She shared screenshots of DMs with Elgort and deleted the account soon afterward. The post prompted a slew of others from women who alleged Elgort had engaged in inappropriate sexual activity with them over DM while they were minors, too, one of them as young as 14.
Elgort denied the initial sexual-assault accusation in a since-deleted Instagram post, writing that he had a "brief, legal, and entirely consensual relationship" with the Twitter user. He apologized for "ghosting" the teen as a means of ending their relationship, saying, "I am disgusted and deeply ashamed of the way I acted." He did not address the subsequent allegations and later wiped his Instagram account.
Elgort stayed pretty quiet for the next year or so — until December 2021, when he reactivated his Instagram to promote West Side Story. The movie had been filmed during the summer of 2019 and pushed to a later release date due to the pandemic, meaning the allegations against Elgort had come out after production but well before the movie was slated to hit theaters.
The actor participated in group interviews but declined to do any press on his own, and his female co-stars — chief among them Zegler, who played his love interest in the movie — were the ones often asked about the allegations. At the time, Zegler and her castmates hedged. "We made a movie two and a half years ago, and a lot has gone on in the world since then," she told The Hollywood Reporter in January. "You just hope that the people involved are okay, that they are asked in a respectful manner, and that they are given the opportunity to answer for themselves."
Zegler was a tad more expressive in the new cover story for Elle, in which she said it was "a real gut punch" to be asked questions about Elgort's alleged sexual misconduct, particularly when he was present at a group interview. "There are tons of people who think that you have to answer for the actions of an adult male who can speak for himself," she said, pointing out that she was 17 when she filmed West Side Story with a 26-year-old Elgort:
I was being held accountable for accusations that not only had nothing to do with me but were made about a situation that was said to have occurred years prior to when I had met and worked with this person. With no thought to the fact that I was also 17 when I met this person, 17 when I worked with them, 17 and 18 when I had to do love scenes.
Zegler said that she and her female co-stars — including Rita Moreno, "a very iconic woman in Hollywood who has spoken about her experience with sexual assault" — were asked questions "without any thought process to our experiences as women in the industry who constantly find ourselves in close encounters with men in power."
Zegler addressed Elgort's accuser, saying, "I cannot imagine what she had to go through," before concluding, "I really don't have anything to do with this conversation, and I'm looking forward to moving past it."