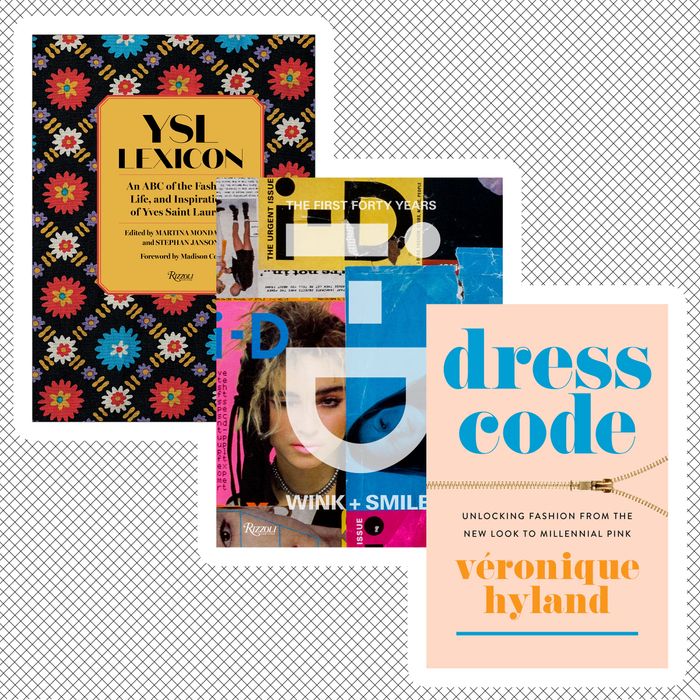 Photo-Illustration: The Cut. Photos: Rizolli; HarperCollins
Here, three coffee-table books we recommend this month.
i-D: Wink and Smile!: The First Forty Years
By Alastair McKimm
"I think it was important to show people just how i-D was always relevant," says Alastair McKimm, the publication's editor-in-chief. "i-D was always an underground style bible." To create i-D: Wink and Smile!: The First Forty Years, McKimm spent two years combing through the magazine's 40-year archive. The book, published this month by Rizzoli, is broken down by decade and definitely proves i-D has always had its finger on the pulse of culture. It featuring profiles of an 18-year-old Gisele Bündchen, a young Björk in 1996, and Chloë Sevigny in 1995, before she was in Kids, as well as fashion editorials from British Vogue's current editor-in-chief, Edward Enninful, back when he was a fashion director for the magazine in the early aughts.
Choosing the material to include couldn't have been easy. "I just go with my instincts," says McKimm. "If I got really excited about it, I would keep it in the next round of edits. I really wanted it to be the bangers. The most important thing for me was to be as hands-off with the archive as possible," he says. "I wanted to be respectful of the archive and feel the texture of a printed magazine." —Joanna Nikas
Dress Code: Unlocking Fashion From the New Look to Millennial Pink
By Véronique Hyland
Surely you've heard (and seen) the phrase millennial pink by now, but did you know that it was coined by fashion writer Véronique Hyland right here on the Cut in 2016? During her time as a fashion writer and editor at New York, she wrote countless stories that drove the conversation around what people wear and why they wear it, a subject she has expanded upon in essays for her new book, Dress Code, out since March 15. There's a chapter on millennial pink, of course, but also one on the rise of the "couture body" which she first wrote about in 2015, when celebrities started wearing "naked dresses" on the red carpet. "What struck me was that typically, people would compete to see who could wear the most capital-F fashion look, and instead I was seeing more people showing off their bodies," Hyland said recently. "The designer was kind of beside the point." In the book, she traces historical trends, illuminating how clothing has served as a way to manipulate a woman's silhouette, from corsets to Dior's New Look.
Now we have Facetune and Photoshop and plastic-surgery techniques that allow us to get the same effects IRL. "Obviously, we've seen more body positivity in campaigns, and on the runway, and in editorials — arguably not enough. But what's interesting is that at the same time, as these standards are broadening, this ideal that we see is narrowing and becoming harder and harder to achieve," Hyland added. "In some ways, it then becomes harder to keep up with fashion trends." Between the current ubiquity of the Miu Miu miniskirt and the return of the body-con bandage dress, the subject only continues to evolve, and Hyland's book provides a smart, funny, and impressively thorough breakdown. —Emilia Petrarca
YSL Lexicon: An ABC of the Fashion, Life, and Inspirations of Yves Saint Laurent
Edited by Martina Mondadori and Stephan Janson. Contributions by Claude Arnaud, Hamish Bowles, and Amy Fine Collins.
This tome celebrating the 60th anniversary of YSL explores the many inspirations that the fashion designer drew from over his career. The references are varied and diverse, from art — Christian Dior, his boss, encouraged him to go to museums, attend the theater, and take in many other artistic forms of expression — to flowers, to ballet costumes, to travel (especially to Morocco, where he had a home and fostered the beautiful Jardin Majorelle that is still there today). —J.N.