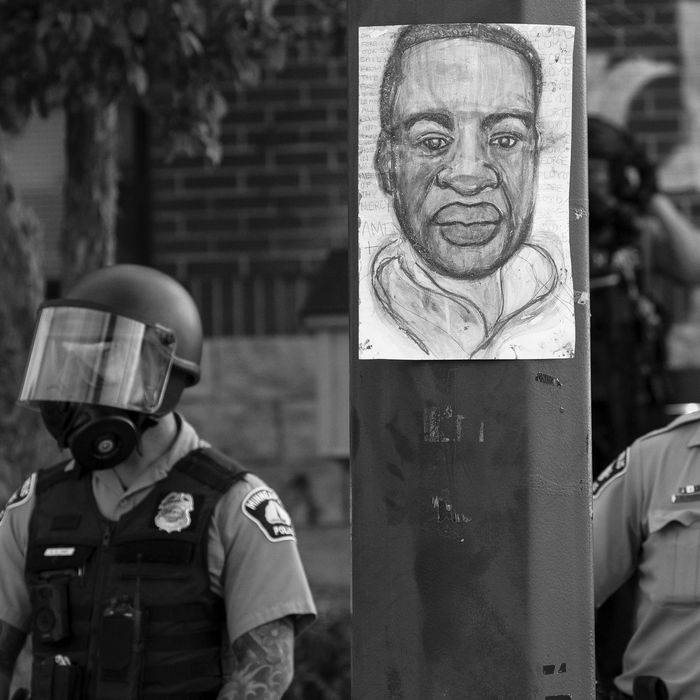 Photo: Star Tribune via Getty Images
On May 25, 2020, Minneapolis Police Department officer Derek Chauvin killed George Floyd, kneeling on his neck even after Floyd expressed multiple times that he couldn't breathe. A week later, on June 1, 2020, the Minnesota Department of Human Rights filed charges against the City for discrimination and launched an investigation into the MPD. Now, two years later, the Minnesota Department of Human Rights has released its findings: The City and the Minneapolis Police Department did "engage in a pattern or practice of race discrimination in violation of the Minnesota Human Rights Act."
The investigation reviewed 700 hours of body-cam footage, and over 450,000 pages of City and MPD documents, including "training materials, police and procedures, officers' disciplinary records," and even information from MPD's "covert social-media accounts," focusing on the last decade. It also included ride-alongs and the observation of various police training, among other events. And the findings, as detailed in a 72-page report signed by Commissioner Rebecca Lucero, are bleak.
MPD were more likely to use force on Black individuals.
A review of 300 cases involving use of force from January 1, 2010, to December 31, 2020, found that officers "used unnecessary and inappropriate levels of force in 52.6 percent of incidents in which they used a neck restraint." Furthermore, despite making up 19 percent of the population of the city, Black people represented 63 percent of the use of force victims in that same ten-year period. And, of the 14 people killed by police officers from 2010-2020, 13 were people of color or Indigenous. "People of color and Indigenous individuals comprise approximately 42 percent of the Minneapolis population, but comprise 93 percent of all MPD officer-involved deaths," the report stated.
The study also found that MPD officers were 12 percent more likely to stop a car driven by a person of color or Indigenous person during daylight, when they could easily see the race of the person driving, versus at night. The report also noted that some "current and former high-level City officials, MPD supervisors, and patrol officers" admitted to pulling over people of color for no reason "in an effort to find guns or drugs in cars operated by people of color." Police were also more likely to search a vehicle operated by a person of color — between January 1, 2017, and May 24, 2020, 78 percent of MPD searches were conducted on Black individuals.
MPD culture fostered a "paramilitary approach to policing" and allowed for racist, misogynistic, and offensive language.
In reviewing the training at the MPD, the investigation found that officers received "deficient training" that resulted in "officers unnecessarily escalating encounters or using inappropriate levels of force." Moreover, the Minnesota Department of Human Rights found an institutional lack of accountability and a lack of training to combat potential racial profiling. In fact, the report found that "MPD teaches a paramilitary culture to new officer hires and reinforces these concepts with veteran officers."
The review also found that the MPD allowed sexist, racist, and disrespectful language to be used by officers in interviews, reports, and among themselves. The report describes one MPD supervisor as referring to Somali men as "orangutans."
MPD used "covert social-media accounts" to surveil Black community members and organizations.
One more disturbing finding detailed in the report is the police department's use of "covert social media accounts," which were seemingly used just to interact and keep tabs on Black community members and organizations "unrelated to criminal activity." The report noted that, in contrast, the department did not use any such tactics to keep tabs on white-supremacist groups. One officer even used one such account to pretend to be a Black woman so that they could send a critical message to the local NAACP branch. Others reportedly used accounts to pose as community members and fight back against critics of the police.
Minnesota Department of Human Rights suggests immediate changes to the MPD.
The Minnesota Department of Human Rights ended the report with a call for a shift in culture across the board, something it says it has not yet seen from leadership. "As a result of lack of coordinated and sustained action to address racial disparities in policing, leaders have allowed MPD to maintain an organizational culture that demands unquestionable compliance, emboldens aggressive escalation, and is averse to accountability."
The department stated intentions to work with the City of Minneapolis to develop a consent decree and come up with a specific timeline of changes needed. In the meantime, the report calls on the City and MPD to improve oversight and accountability, improve trainings, and communicate with the population of the city to help ease "community distrust."