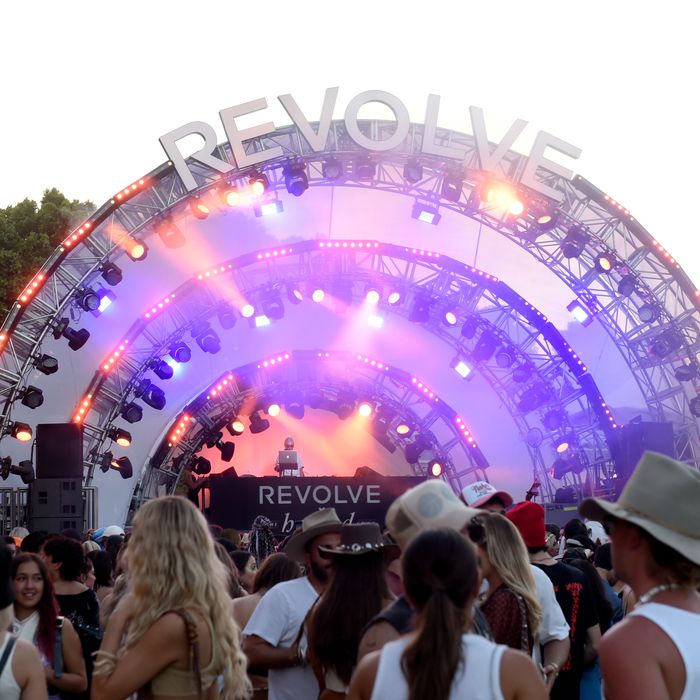 Photo: Vivien Killilea/Getty Images
The weather is getting warmer, and the influencers are wearing crocheted doilies as shirts, which can mean only one thing: It's Coachella SZN. On Friday, the 2022 Coachella Valley Music and Arts Festival — its government name — kicked off its first weekend in Indio, California. There were performances from famous artists like Harry Styles, Billie Eilish, and Doja Cat. There were famous attendees like Kendall Jenner, Hailey Bieber, and a baseball hat that everyone is claiming is Leonardo DiCaprio. And of course, there were lots of infamous branded events surrounding the main festival.
If you, like me, did not attend Coachella and instead spent the weekend online, you have probably already heard whispers/screams about one thing in particular: Revolve Festival. Or, as some influencers are calling it, "Fyre Fest 2.0."
What, where, and when is Revolve Festival?
The fifth(!) annual Revolve Festival, hosted by clothing brand Revolve in partnership with hospitality company the h.wood Group, took place on Saturday and Sunday at the Merv Griffin Estate in La Quinta, California. The invite-only event featured a carnival-style swing ride sponsored by Venmo, a booth serving complimentary drinks made with Kendall Jenner's 818 tequila, free food from Erewhon, free drinks from Celsius, free swag galore, and special performances by Post Malone, Jack Harlow, Willow Smith, BIA, and Latto. To quote modern-day philosopher Anna Delvey, so VIP.
However, some attendees claim they had a less-than-VIP experience — more on that in a sec.
Why is Revolve Festival?
I don't know. Branding? Free stuff? Uncomfortable undergarments? All of the above?
Who is Revolve Festival?
The Revolve Fest attendees appeared to be a mix of celebrities and social-media influencers, as evidenced by pictures on Instagram and the deluge of press emails I got at 1 a.m. on Sunday. While celebs like Chloe and Halle Bailey, Timothée Chalamet, Quavo, and Kim Kardashian seem to have had a lovely time, some influencer invitees claim they couldn't even get in. Which brings us to …
How come some influencers are mad?
In short: transportation. In order for invitees (whose last name isn't Kardashian or Jenner) to get into the festival, they needed to use the fest's shuttle service, which was allegedly less organized than some influencers had hoped. A series of tweets from Los Angeles magazine's Joseph Kapsch first brought attention to the transportation drama. "Influencers stranded in the dirt with no water, under the hot sun for HOURS, waiting for buses," Kapsch wrote on Saturday, adding that fights had allegedly broken out and the police had been called. "Security had crowds of influencers yelling how 'important they were and why they deserved the first seat,'" Kapsch continued. To those at home who gleefully watched influencers unravel during 2017's Fyre Fest, the sentiment sounded familiar.
However, the major complaint among these invitees wasn't that the festival didn't actually exist … it was that they weren't able to get in despite being invited. TikToker Averie Bishop posted a video calling the event "absolute chaos," claiming the shuttle service was disorganized and bordered on "dangerous." Bishop said she was among a group of people who waited in line for a shuttle for at least two hours but never got in.
Fellow TikTok creator Kristi Howard called the festival a "shitshow," saying she waited five hours for a shuttle before eventually being told to leave. "I flew out there thinking I had this big opportunity for my career," Howard said, adding that she had spent thousands of dollars to get to Revolve Fest but couldn't get in. The Cut reached out to a Revolve Festival spokesperson who gave no comment.
But was it really as bad as Fyre Fest?
No. Was transportation perhaps a bit disorganized? Sure. Did some festgoers exacerbate the problem by pushing and shoving their way onto shuttles? Probably. However, it was a far cry from the fraudulent "luxury" festival where people paid upwards of $100,000 to eat sad cheese sandwiches and stay in FEMA-style tents. Plus, according to Kapsch, once influencers did arrive at Revolve Festival, all was well as each one tried to "out-influence" the others.