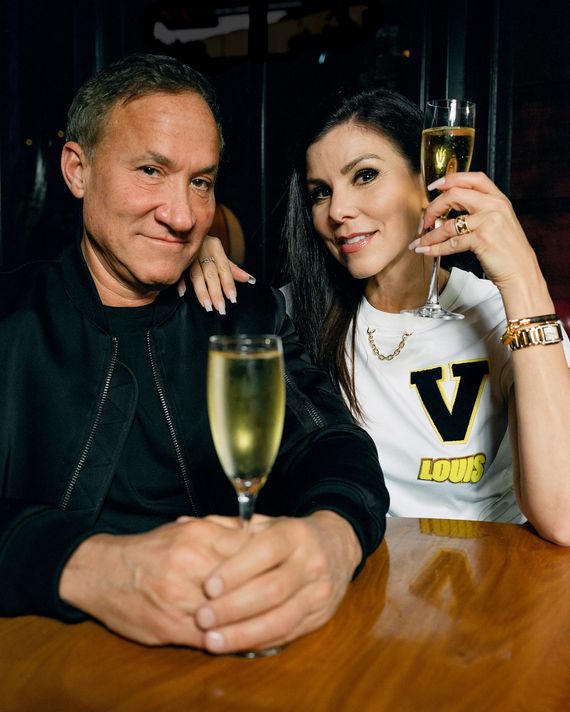 Heather Dubrow always knows her lines. A sitcom actress in the '90s and early aughts (Life With Roger, Stark Raving Mad, That's Life), Dubrow is better known in recent years for playing herself on The Real Housewives of Orange County, where her role is that of fastidious taskmaster, archly kicking the plot forward in bedazzled five-inch heels. In her first stint on the show, Dubrow played the smart brunette in a sea of dumb blondes; Housewives aren't supposed to look at the camera, but if they did, Dubrow would provide the knowing Jim Halpert glances as boozy, bronzed antics erupted around her. She left the show after five seasons, citing a classic: She wanted to pursue other opportunities.
Five years later, she's back, and she wants to know if I saw what Rihanna said about her a few days earlier. (I did: Rihanna called her "so chic while being a mom.") Dubrow saw the news through the Google Alert she has for her name and promptly shared a screenshot to her family group chat. (With celebrity plastic surgeon Terry Dubrow, co-star of E!'s Botched, Heather has four children.) Then Dubrow posted the screenshot to her Instagram. Huge mistake.
"Max was like, 'Mom, you don't post it,'" says Dubrow, mimicking her teenage daughter's scorn. "I go, 'No, you post it. You post it, and you print it, and you frame it, and you talk about it.'"
It's a charming bit, and it plays just as well a day later when she repeats it, word for word, on Watch What Happens Live, Bravo's dishy late-night talk show hosted by Andy Cohen. In the audience, a charmingly inebriated woman seated to my left chuckles approvingly. "I actually like her more than I do on TV," she confides.
When we meet at the Standard Grill on a sunny spring afternoon, season 16 of The Real Housewives of Orange County has just aired its penultimate episode. Dubrow and her husband, Terry, who has joined us for afternoon drinks, have watched along with us at home. "You have to," says Heather. "This is the mindfuck: Lisa [Rinna] and I always laugh, because we never liked watching ourselves on television. But when you got on the show, the first time I was on the show, you had to write a blog." Though Bravo no longer requires its Housewives to rehash each episode's dramas in blog form, watching (and tweeting) along with the viewers at home remains very much a part of the job.
Dubrow agreed to return to RHOC because, she says, she'd gained perspective from the COVID-19 pandemic and wanted to share more about her kids, of whom she is clearly proud. Max Dubrow, then 16, came out as bisexual in July 2020; her sexual orientation became a minor plot point this past season (new RHOC cast member Noella Bergener gave her an inappropriately sexual card game, a misguided attempt to bond over their shared bisexuality). This season also saw Dubrow's 15-year-old daughter Kat come out publicly as gay in a filmed conversation Dubrow says was unplanned.
"She wanted to come out publicly two years ago, and we discouraged her, even though we weren't on the TV show at the time," she explains. Two years later, back on the TV show, the timing felt right. Filming Housewives has "given us Botched, it's given us a huge platform to sell our products, to write books, to do all these things," says Dubrow. "Maybe our way of giving back to it is by opening up these conversations for families, especially with what's going on in Florida, what's going on in Texas."
Not everyone believes Dubrow's motives were so pure. In an episode of their podcast Two Ts in a Pod, former Housewives Tamra Judge and Teddi Mellencamp (Beverly Hills) accused Heather of "self-producing" and using her daughters' queerness as a story line. Heather says she texted Tamra shortly after hearing the quote and that the two had a "very, very nice text exchange" about it, which I take to mean that Tamra apologized.
The Dubrows are very good at getting people to apologize. Much of season 16 hinged on a confrontation between the couple and Nicole James (née Weiss), who once sued Terry for what castmate Gina Kirschenheiter called a "botched boob job." Dubrow had actually suggested James for the show, apparently without realizing she was the same woman who once sued her husband; it was castmate Shannon Storms who made the connection. Shannon told Gina, Gina told Heather, Heather got mad at Shannon (largely for bringing up the lawsuit on-camera), Heather told the camera crew to stop filming (which they ignored), and the Dubrows confronted the plaintiff.
"You're Nicole Weiss!" cries Terry, crouching in front of a chastened James. Heather joins him as Nicole bursts into tears. "You had a complication, there's no question about that," continues Terry. "You dropped it, it went away, it's fine. By the way — thanks for dropping it." At this, Terry and Heather break into raucous, lightly maniacal laughter. ("That was nervous laughter," Heather clarifies.) Nicole apologizes, Shannon apologizes, and the Dubrows call off their dinner party, leaving countless spicy salmon rolls uneaten. (Later in the episode, Heather tells Terry the gathering cost them $36,000.)
After the incident, Nicole James promptly disappeared from the show, which led some viewers to believe she'd been fired at the Dubrows' urging. (Heather insists it was the opposite: "I begged her to stay on the show," she says.) Terry, too, says he wasn't angry with Nicole, but with the show's producers, who he implies intended for the lawsuit to be aired out on the show. "I thought, I'm your …" he trails off. Heather supplies the word he's looking for: "Hero."
"I'm your hero on your plastic-surgery fix-it show, and you want to subject me to random rumors?" he continues, referring to Botched, the hit E! reality show on which Terry has co-starred for eight years; both Botched and RHOC are produced by MGM Television. "They set me up."
This is the one and only sign of indignation the Dubrows display toward their employer; I sense they see their return to the show as something of a personal favor, an effort to save a clearly flailing franchise. The Dubrows believe it's working.
"The ratings are very good," insists Terry, countering, among others, ex-Housewife Kelly Dodd, who was fired after season 15. Andy Cohen apparently agrees; he called this past season a "return to form." Both Cohen and the Dubrows suggest naysayers look to the L7s (delayed ratings that account for streaming the week after) instead of the L1s, which is fair enough, but the truth remains that neither metric, this season, was particularly strong: The fun-house finale episode of the past season was the lowest-rated episode in RHOC franchise history; just 732,000 viewers watched live as the cast inexplicably performed an original song called "Whatever I Want." Dubrow, a trained singer, sang lead dressed as Posh Spice.
If the ratings don't convince, a classic indicator of a lackluster Housewives season is a two-part reunion, like the one RHOC season 16 ends with today; the more successful seasons stretch the reunion marathon to three or even four parts. Ever the diplomat, Dubrow calls the past season "transitional."
"Everyone's looking for this big reboot, and the truth is it takes time to fix things," she explains.
Both Heather and Terry think the state of Housewives has declined since their last stint on the show. "There was a complete sea change between our first five years on the show and now," says Terry. For one thing, he says, Twitter has gotten meaner ("Nasty," agrees Heather), and secondly, career and kids are no longer off-limits.
"Vicki [Gunvalson] used to say that: no kids, no careers," explains Terry. "It became so base and so gross while we were gone, apparently."
Of course, careers (past and present, legal and criminal) are what underlines the shows' premise: rich people trying to get richer. Kids have always been there, too; maybe it used to be frowned upon for cast members to talk about each other's kids, but Housewives have long featured their kids in supporting roles to make their mothers seem more sympathetic, or at least more like the rest of us. This is the Housewife's perennial paradox: convincing the viewer (and, perhaps, herself) that she's a normal gal about town, from her perch in front of the camera, in her $3,000 dollar bodysuit, in her 22,000-square-foot home.
Relatability is perhaps more key to their newest and shiniest venture than is Housewives: Together, the Dubrows developed a pilot called 7 Year Stitch on E! (which they promoted on an episode of RHOC), in which they provide "internal and external" makeovers to struggling couples at the seven-year mark. They're currently waiting to see if the show will be picked up to series, but they tell me the pilot did very well.
The Dubrows do seem to perfectly suit each other, the rare married reality-star couple to withstand the reality-show curse (and high divorce rates in general). Asked how they continue to make it work, Terry says Heather's his best friend, and she says he's hers. "With us, people will say, 'If I had their money, my relationship would be great too,'" says Heather. "It's not about the money. It's about working on your relationship, and it is about resources." (One could reasonably argue that "resources" is another word for money, but in any case, the Dubrows say the show is about spreading the wealth, proverbially speaking.)
"Let's be honest," says Terry. "We're not special. We're lucky. So if someone likes what we're all about, and we inspire them, I'm very grateful." This is why Dubrow says they strive to be kind to the fans.
"If someone meets you, and you're an asshole, they're going to go on their Facebook, on their Twitter, and say, 'I ran into so-and-so from whatever, and they were horrible to me,'" says Dubrow.
In a scene Bravo couldn't have produced better itself, I'm treated to a fan encounter 20 minutes later, having crossed the street from the Standard Grill to walk the High Line, Chelsea's 1.5-mile greenway. As the Dubrows pose for photographs, a young blonde woman notices Heather, who notices her noticing. Heather and Terry smile and wave, and when the woman positions her phone to take a picture of them, Heather suggests they take a group selfie instead. "This is crazy," the woman squeals. "I just saw on Instagram that you were in New York."
Not 20 yards down the path, we stop for more photos, this time on the train tracks overlooking the Hudson River. As Heather and Terry pose arm in arm, a tour group comes to a stop behind us. The guide, a bearded, middle-age guy in a gray T-shirt and jeans, is about to launch into his Hudson River Railroad trivia when he notices the photo shoot in progress. "Look at this," he says. "Anyone know who that is?" The tour group is quiet, presumably anxious that the mystery subjects are well within earshot.
"I'm nobody, trust me," laughs Terry.
There's another pause. "Botched?" a young woman offers. "Yep," says Terry. "Never seen it," says the tour guide.