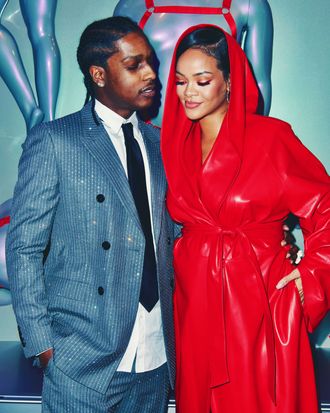 Photo: Diggzy/Shutterstock
I would love to believe most of what I read on twitter.com. I wish that the bots that followed me really could help me make millions from the comfort of my couch. I wish this account was really run by a literate bird. Of course, it is easy to tweet sans fact check, which is how a recent rumor that Rihanna and A$AP Rocky broke up, despite Rihanna's being pregnant, appears to have started.
Thursday afternoon, fashion writer Louis Pisano tweeted, "Rihanna & ASAP Rocky have split. Rihanna broke up with him after she caught him cheating with shoe designer Amina Muaddi." Were this claim true, it would have been made extra juicy by the fact that Muaddi has frequently collaborated with both Rihanna and A$AP Rocky. Most recently, Rihanna wore custom sandals created by the designer.
Making rumors even rumor-ier, gossip account Deux Moi recently posted a blind item about Rihanna and A$AP Rocky having an argument during dinner at Craig's in Los Angeles. The post alleges that they "cried at the table," though that is the extent of the details provided. Gasp! Shock! The drama! However, it seems the unverified rumor is just that: an unverified rumor.
In fact, one unnamed source connected to both musicians told TMZ that the rumors are "100% false on both counts," adding that any claim that the couple has broken up is "1 million percent not true. They're fine." Another unnamed source also told "Page Six" that Rihanna and A$AP Rocky are "fine." "Page Six" also claims to have spoken to an "eyewitness" who saw Rihanna and A$AP Rocky on their date at Craig's. "She looked fine, and when they walked out they were fine," the source said. "It felt normal between them."
Now Muaddi has spoken out against the "vile" rumors, implying that there is no truth to them. "In the last 24 hours, I've been reminded that we live in a society that is so quick to speak on topics regardless of factual basis," Muaddi wrote in a statement posted to her Instagram story. She said she initially had no intention of responding to the rumors but eventually decided to speak up, "as this is not only directed toward me but it is related to people I have a great amount of respect and affection for." While she did not explicitly address the cheating allegations, she wished Rihanna "serene" continuation of her "best dressed pregnancy" and everyone else a happy Easter.
So how did the rumors gain traction in the first place? Who would be so bold as to spread potential misinformation about Robyn Rihanna Fenty? As mentioned, the rumor appears to have taken off after Louis Pisano's tweet went viral. Interview magazine recently called Pisano "Instagram's messiest fashion influencer," a title Pisano appears to gladly accept. Pisano said they start off their day checking their phone "to make sure I'm not starting the day off in some drama (that I probably caused online)." One of their favorite Instagram follows is Azealia Banks, a fellow drama connoisseur.
This is not the first time Pisano has been at the center of celebrity drama. In November 2021, Pisano shared allegations that designer Daniel Lee was fired from Bottega Veneta after calling someone a racial slur. Pisano tweeted that the information came from a "reliable source" that is "INCREDIBLY close to the matter." However, Kering group, which manages Bottega Venata, responded to Pisano's tweet and denied the allegations.
Not long after Muaddi addressed the rumors, Pisano posted a response of his own about what he called "a dumb decision to tweet some information I had received." Apologizing for the "unnecessary drama," he wrote, "I'd like to formally apologize to all parties I involved with my actions and for my reckless tweets."
Meanwhile, in the wake of the cheating and breakup rumors, Rihanna and A$AP Rocky decided to leave the country. They reportedly jetted off to Barbados on Friday and were photographed arriving at the airport in Rihanna's home country. Here's hoping Rihanna can find some peace away form the rumors.
This post has been updated.