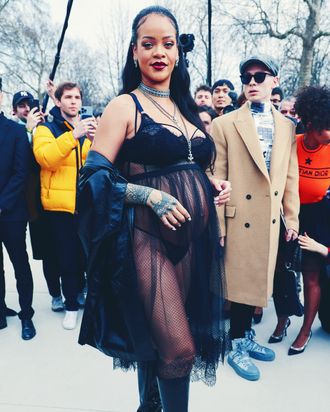 Photo: Laurent VU/SIPA/Shutterstock
Baby showers: cute, sweet, typically pretty tame. Unless you're talking about Rihanna's baby shower. In her new Vogue profile, Rihanna shared some ground rules when it comes to any baby-related celebrations: "No brunch, no blush tones. And no animal-shaped nothing." You heard her! No brunch! She added that that kind of baby shower is "lit for a lot of people." However, Robyn Rihanna Fenty deserves more.
"Personally, I want a party," she said. "I want everyone to be plastered and crawling out." Some other requirements: It must be co-ed, and she will not be made to sit some silly little chair. "Don't put me on no wicker chair somewhere with gifts at my feet where everyone is staring at me," she said. Lace lingerie famously does not pair well with wicker.
Another no-no? A gender-reveal party. This should be no surprise as Rihanna's previous response to "Boy or girl?" was to make this face. "I asked my doctor: Is something wrong with me for not wanting this?" she said of not wanting to do a gender reveal. "Because people keep asking me. Am I a bad mom? When we're ready to tell the world, we'll just tell them." To clarify, Rihanna will be a perfect mother on account of … she is Rihanna.
The theme of much of Rihanna's pregnancy seems to be spontaneity. When asked if she and A$AP Rocky were planning on having a kid, she said, "Planning? I wouldn't say planning. But certainly not planning against it. I don't know when I ovulate or any of that type of shit." I, too, do not know when I ovulate. Stars — they're just like me!
Rihanna also shared that, at the time of the interview, she hadn't bought any baby things yet — nary a crib nor a onesie: "Not. A. Single. Thing!" (However, she was seen shopping for baby clothes at Target last month.) Regardless, if you're looking for something to gift RiRi and her bebe, really anything will do. Except a wicker chair. Absolutely no wicker chairs.