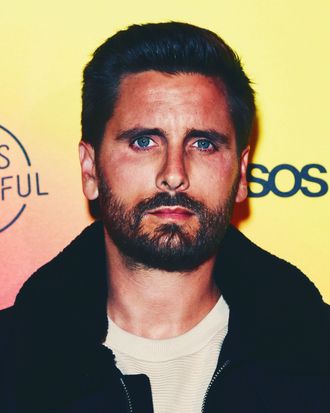 Photo: Presley Ann/Getty Images
Scott Disick thinks that Scott Disick can't catch a break. First, his ex Kourtney Kardashian gets engaged to Travis Barker — Disick is famously not a fan of Kravis and their PDA. Now, another one of his exes has gotten engaged. What's a guy to do?! Why, post an Instagram picture of a big boat, of course!
On Wednesday, Sofia Richie, a model who previously dated Disick, shared that she is engaged to Elliot Grainge, her music-executive boyfriend of one year. Disick said nothing as this does not concern him.
Just kidding! A few hours after Richie shared news of her engagement, Disick posted a photo of himself looking itty-bitty on a boat. "In the 305 just call me good luck chuck," he captioned the photo, referencing Dane Cook's 2007 film (??) Good Luck Chuck. For context, the movie is about a man whose exes all seem to find true love after dating him, and Sofia Richie was 9 years old when it came out.
Richie and Disick dated for nearly three years before breaking up in 2020. Shortly after they split, Disick, who is currently 38, started dating another 19-year-old model, Amelia Hamlin. The two of them reportedly broke up in September 2021.
Hamlin congratulated Richie on her engagement, commenting, "So happy for you both!!" on the announcement post. If the Dane Cook–inspired prophecy holds true, Hamlin, who isn't publicly dating anyone at the moment, should get engaged sometime in next year. My advance congratulations to her and condolences to Disick.