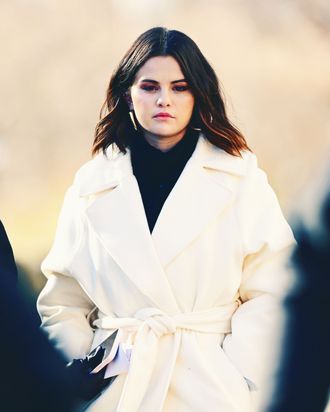 Photo: James Devaney/GC Images
If you are someone who is still commenting on what celebrities do or do not eat in the year 2022, consider this message from Selena Gomez your official sign to cease and desist.
The singer, actor, and television chef took a stand against any food police or body-shamers in a TikTok Story shared Sunday. "So I be trying to stay skinny," she opens the video. "But I went to Jack in the Box, and I got four tacos, three egg rolls, onion rings, and a spicy chicken sandwich." Great order, perfect balance of fried foods, 10/10 would recommend for all late-night snack needs. All that's missing is a dessert, but according to Gomez's birthday Instagram post from 2013, she considers Jack in the Box tacos to be a suitable cake substitute, so in her own way, she had dessert covered.
She continued, "But honestly, I don't care about my weight because people bitch about it anyway. 'You're too small,' 'You're too big,' 'That doesn't fit.' Bitch, I am perfect the way I am." Gomez has talked about her experience with body-shamers in the past, saying in a podcast interview that it "really messed me up for a bit."
She ended the message with one crucial lesson: "The moral of the story? Bye!" To that, I say, "Exactly." Good-bye to any potential body-shamers or food police — you are not welcome in Gomez's mentions or, frankly, anywhere. If you see me with a Jack in the Box order and feel the urge to say something to me, please be on your way.