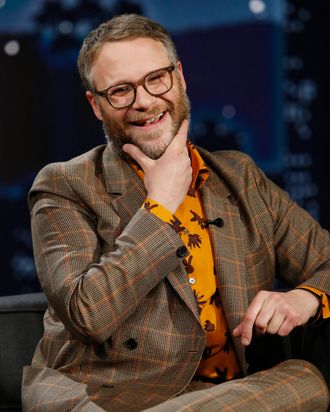 Photo: Randy Holmes//ABC via Getty Images
You've seen his movies; you've heard his laugh. You may even have smoked his weed. But, have you seen Seth Rogen's orb? Don't worry, this isn't a metaphor for something. It's literally just an orb, or, really, more of an abstract sculpture. And the sculpture is just one of many comedian-made ceramics shown off in a tour of his Houseplant headquarters with Architectural Digest.
Rogen is a man of many talents. He's a writer, actor, patron saint of Hollywood stoners, and the co-founder of his own weed and home-goods company, Houseplant. And, surprisingly, the company's headquarters pretty much looks almost exactly like what you'd expect a well-off white man's weed-accessory business to look like. Houseplant home base is a literal home, more specifically a 1918 bungalow in Los Angeles that is definitely nicer than wherever you are smoking your weed. The place is immaculately decorated with, what else, a collection of vintage ashtrays, as well as Houseplant products.
"I found myself really struggling to furnish my home in a way that complimented the fact that I smoke weed all day, every day, and also the fact that I wanted to have nice things around," Rogen says in the video tour, showing off his vases and signature "gloopy glaze." In between showing off various Houseplant products — a marbled rolling tray, a lighter that was apparently featured in a photograph with Beyoncé — Rogen stops to admire one piece of art. "And this is an orb I made," he says, pausing for laughter. The orb looks suspiciously like a vase — with the shape of a slightly elongated snowman — and is lavender and green. In other words, it's everything you'd hope an "orb" by Seth Rogen would be.
Other items featured in the tour are a desk lamp-ashtray combo and a lighter holder shaped like his dog, Zelda. "I always lose my lighters," Rogen admitted. "Me and my wife, we don't fight about much. She really is mad that I will take lighters from her and lose them. I don't know where they go. I won't pretend it's not a real problem." He sculpts orbs and admits his faults? That's hot.