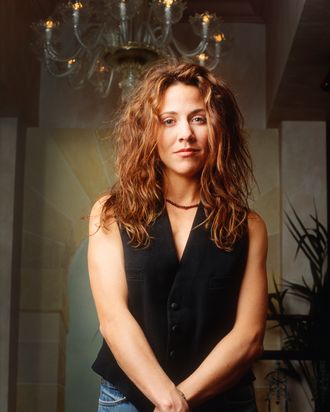 Photo: Gie Knaeps/Getty Images
It's official: Kim and Kanye have nothing on Sheryl Crow, who just might have the most haunted house in Hollywood. Or, technically, in Tennessee, where the singer is selling "furniture, antiques, art, decor, etc." in a massive estate sale.
Crow posted about the sale Thursday, promoting its last weekend on Twitter. "Like many of you," she wrote, "the last two years have helped me get rid of *stuff*!" This "*stuff*" includes Native American artifacts, vintage carousel pieces, Santos art, mirrors, and an antique rocking horse, to name a few. And yes, it all looks just as haunted as it sounds. Among the items listed for sale on the official Estate Sales website are an old horse costume that I can only assume comes alive at night to feed on your dreams, a statue of a girl with antlers that likely comes with the trapped soul of a lost child, a few religious paintings, multiple antique rocking horses, and a framed image of a disheveled teddy bear. But the most disturbing is the striking collocation of creepy dolls. Looking for an old cloth doll with shockingly high eyebrows and wide hips? Crow's got it. Or perhaps you're in the market for a naked doll with giant legs and a creepy head or one that lost an arm.
Look at them. These are old souls, hardened by life and carrying deep trauma wherever they go. These dolls have seen too much, and they definitely don't belong in your home — where you sleep. As concerned as I am for her well-being now that I've seen her belongings, Crow doesn't seem bothered by the creepiness of some of her possessions. In a 2019 tour of her home for Architectural Digest's "Open Door" series, she pointed out a few vintage pieces, including an antique rocking horse, and noted that she loved picking up antiques while on tour. "Lots of little, weird things in here," she said while showing off the antiques in her dining room. "You know, it kind of creates a vibe and lots of conversation."
To be fair to Crow, some items seem slightly less haunted, like an old pinball machine or this chaise longue, but overall, the estate sale looks like where you'd want to go if you wanted to pick up a collector's item and the ghost attached to it. But I won't judge. Collecting haunted objects must be the thing that makes Crow happy. And if it makes her happy, well, it can't be that bad.