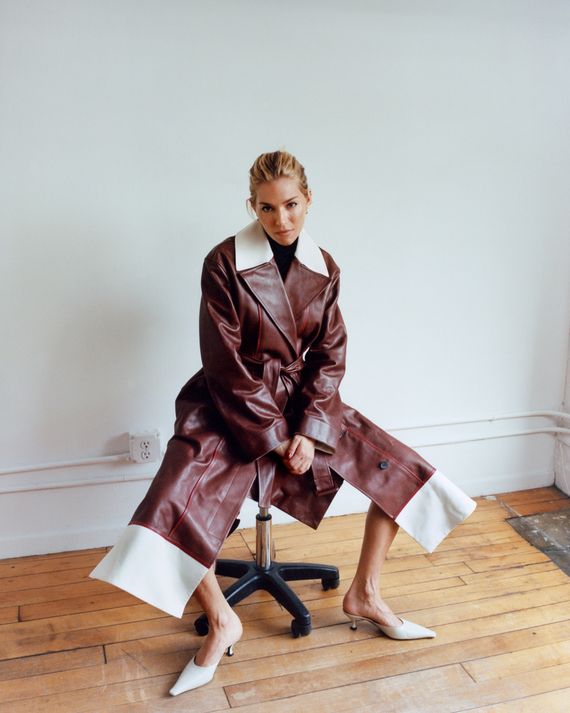 Jil Sander
Calf Leather Belted Coat,
available at jilsander.com
, and Second Skin Jersey Turtleneck,
available at Bergdorf Goodman.
Kwaidan Editions
Leather Pointy Toe Kitten Heel Mule,
similar available at ssense.com.
Jennifer Fisher
Silver Bolden Hoops, available at
jenniferfisherjewelry.com.
Photo: Bella Newman
It's 4 p.m., which if you're inside a fancy London hotel, as Sienna Miller and I are, means the main restaurant is filled with people eating dainty sandwiches and a lady playing show tunes on a piano. It's slightly surreal and too brightly lit, so Miller, who was in her hometown for last night's BAFTA Film Awards, ushers us into a much quieter bar behind a grand, sweeping staircase. It was a long night, she quietly confesses, as she finds us a discreet booth in a dark corner. The evening's slinky Gucci gown has been traded in for a comfier black cashmere sweater — and a Bloody Mary.
Miller has an enchanting energy. She often speaks with her hands and punctuates long, serious sentences with mirthful cackles. "I feel like my mojo has been refreshed," she says with a giggle about just turning 40. "I take less shit than I used to." While watching the acceptance speeches during yesterday's ceremony, it struck her that "it comes so naturally to young people," but despite having the wisdom and acceptance that comes with age, Miller confesses that she wouldn't know how to stand in her power, "even if she understood what that power was or how to stand in it."
Fame came suddenly to Miller early in her career after her role in 2004's rom-com remake of Alfie, but the spotlight only swirled around her actual work, landing instead on her personal style and personal life. In the early aughts it was hard not to pick up a newspaper with her in it — her every move was scrutinized, her every outfit unpacked. It's all a distraction from what actually makes her interesting: She is an actor who has chosen roles with measured good taste.
In the past decade, Miller has played a cast of complicated and brilliant women: On Broadway she was Sally Bowles in Cabaret and Margaret in Cat on a Hot Tin Roof. Onscreen, she was Tippi Hedren in The Girl and single mother Deb Callahan in American Woman. Years ago she vowed to do a play every two years, despite how much they terrify her. "If I could only rehearse plays and never do them, that would be my heaven," she says. "The doing them is terrifying. There is a rush of adrenaline in facing something that you don't want to but have to do. It is a magical thing."
Despite what she might suggest, she has done all this without taking much shit. When she found out that she was being underpaid for her work in the 2019 action thriller 21 Bridges, she asked for more money. The studio refused, so her co-star, the late actor Chadwick Boseman, who was also a producer on the film, donated a portion of his fee in the name of equity. Years prior, Miller delivered core evidence to the 2012 Leveson Inquiry, a judicial public inquiry in the U.K. that investigated the ethics and practices of the country's press after Rupert Murdoch's News of the World's phone-hacking scandal. In 2014, Miller took The Sun tabloid newspaper, also owned by Murdoch, to Britain's High Court for hacking into her phone and targeting her medical records in 2005. The case was finally settled last December, a few weeks before her birthday.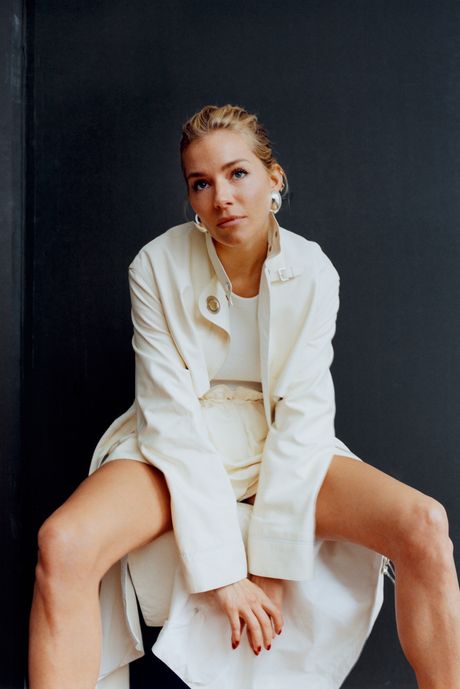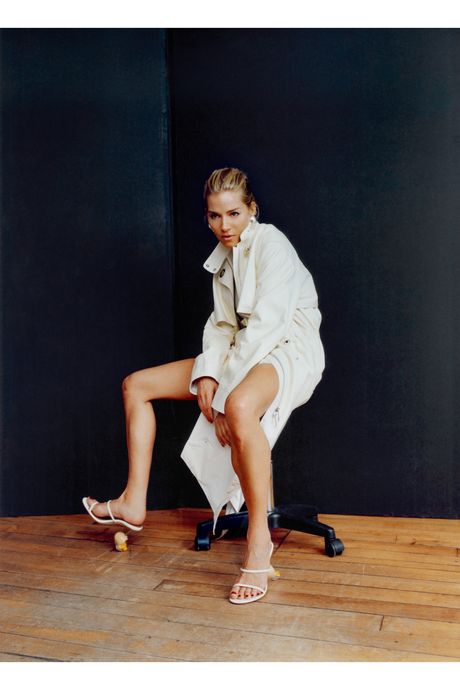 Miller is currently making the press rounds for Anatomy of a Scandal, a new Netflix six-episode series, which brought her back to London for filming during the 2020 pandemic lockdown. Produced by David E. Kelley and Melissa James Gibson, the team behind The Undoing and Big Little Lies, the show is as glossy as you'd expect, which is, in part, why Miller took the job. "I've done so many independent films and I'm very proud of them," she says, "but only seven people ever see them. So it's nice to do a show that people will actually watch. There's a lot of heart and thought that goes into little independent films versus a lot of big studio movies that are all about a lot of money, but I am playing a long game. I want to be doing this when I'm 80. I want to be playing Lear onstage!"
Based on the best-selling book of the same name, Anatomy of a Scandal tells the story of James and Sophie Whitehouse. James (played by Rupert Friend) is a rising and popular member of Parliament, and Sophie (Miller) is his beautiful, devoted wife. They're college sweethearts who met at Oxford and now, with their young children, live the sort of pretty, privileged life you imagine the elite class enjoying while the rest of us, well, don't. The bubble bursts when James's betrayal is made public. He initially tries to shrug off the affair with a junior member of his staff, until she accuses him of rape. Although there is a stereotype for the sort of woman Sophie is — upper-class English, with a classic sense of style and duty — Miller plays her with nuance.
While the series is a soapy reflection of the current state of British politicians and their shameful private lives, there is one particular scene that stays with you. Sitting in the audience of the courtroom where James is being accused, Sophie is silent. A portrait of torture — you can feel her pain acutely. "It was a difficult part; the knots kept coming out," says Miller. "She's in shock, but there's so many shock-betrayal-hurt looks that you can do, so to find the layers was a struggle." She admits that she is interested in playing out parts of her own life and her psychology in the work she chooses to do. "I could write the book on public betrayal," she says.
In the early aughts, Miller endured a breakup with actor Jude Law that was as high-profile as the people in it: After a few years of being together and an engagement, reports that Law had had an affair with his children's nanny were everywhere. The tabloids were frothing at the mouth. Law publicly apologized to Miller in a statement made to the British Press Association, and while they continued to be on-again/off-again for a few more years, the two split for good in 2011. "I wanted to look at why I wanted to play Sophie, to put myself in a space that is ugly and familiar, and I quite like being a tourist in someone else's reactions," says Miller. "Her reaction to betrayal was so measured and different from mine. So on a psychological level, to put yourself into someone else's experience has a massive catharsis." With impeccable timing, the waiter clears our empty Bloody Mary glasses and asks if we'd like to see a wine menu. Without hesitation, Miller orders us two large glasses of red.
Today Miller is happy and content in her life, living somewhat privately (i.e., she doesn't post on Instagram) in New York City with her 9-year-old daughter, Marlowe; two dogs; and a cat. She admits that she is "a people pleaser and a sensualist; a pleasure-seeking individual. I gravitate toward things that bring me pleasure, and that is all I really care about," she says, laughing. "People may have done more, but I have had more fun. I'm almost sure of it." What she cares about above all else, she says, is "the people I love and feeling fulfilled — and good manners, which I am trying to instill in my daughter. I was such a people pleaser as a child, so I wanted to raise her not to be, but it has swung too far. Which for a people pleaser is arse clenching!"
We finish our wine and Miller confesses something: She wishes more people knew how funny she is. "It's a little ace in my back pocket that I am ready to whip out," she says. She puts an imaginary lump of funny on the table. "I'm ready for levity." She flicks her hair out of her face and composes herself for a second. "Also, it would be nice to look glamorous in something. I always look hurt and sad and bedraggled. I can't cry again. There's only so many cry faces I can do, and they're all already out there." She gives me a few examples: classic sad with downturned mouth, beleaguered with puppy-dog eyes, and a lightly doomish look. "Although, people haven't seen all those films," she jokes. "But levity. And glam and funny." She drains the last of her wine — the nanny has texted and she has to go back upstairs to Marlowe — before adding, "And maybe even a musical number."