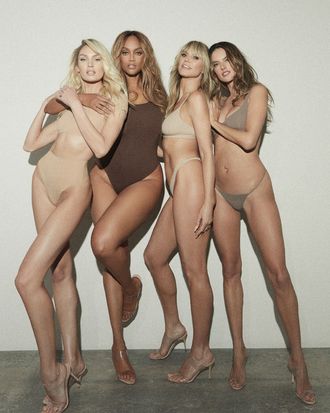 Hate her or love her, Kim Kardashian continues to prove that her shapewear line, Skims, is more than just a celebrity-backed brand. In the two and a half years she's been in business, she's made over $1 billion, partnered with Fendi for a collaboration that quickly sold out, and now for her latest campaign she managed to pull together four OG supermodel icons: Heidi Klum, Tyra Banks, Alessandra Ambrosio, and Candice Swanepoel.
Although they are all former Victoria's Secret angels, this is the first time they've all starred in a campaign together. There isn't another fitting name for the campaign outside of "Icons," but while it's iconic for some, it's lacking inclusion for others. "Kim hiring ex-Victoria's Secret models seems kinda counterintuitive to her 'Skims Fits Everybody' message," one tweet said. But for Kim, this was a "full circle" moment. Each woman "has played such a distinct and everlasting role in shaping the industry," she said in a press release. And of course she had to jump in a campaign image with them because "it was too iconic," she said on her Instagram.
In the campaign, the models pose wearing different shades of the cult-favorite "Fits Everybody" Skims collection, the brand's signature collection of buttery-soft bras, underwear, bodysuits, and other loungewear. While this campaign might not feature every body, the collection does in fact go up to a size 4X and fits multiple bodies.
Could there have been other OGs featured in this campaign? Absolutely. With the backlash of lack of diversity and inclusion of bodies over the years, no one should be trying to recreate those Victoria's Secret days. (Not even Victoria's Secret wants to recreate past Victoria's Secret. The company has done their own rebranding with models like Paloma Elsesser, Sofia Jirau, and Valentina Sampaio.)
Either way, I must say rallying up four models with legendary and long résumés like Heidi, Tyra, Alessandra, and Candice is a celebratory moment for Skims, but I can't help but think that Skims has a great opportunity to influence the next generation of "angels" since their campaigns are normally inclusive with an array of models.