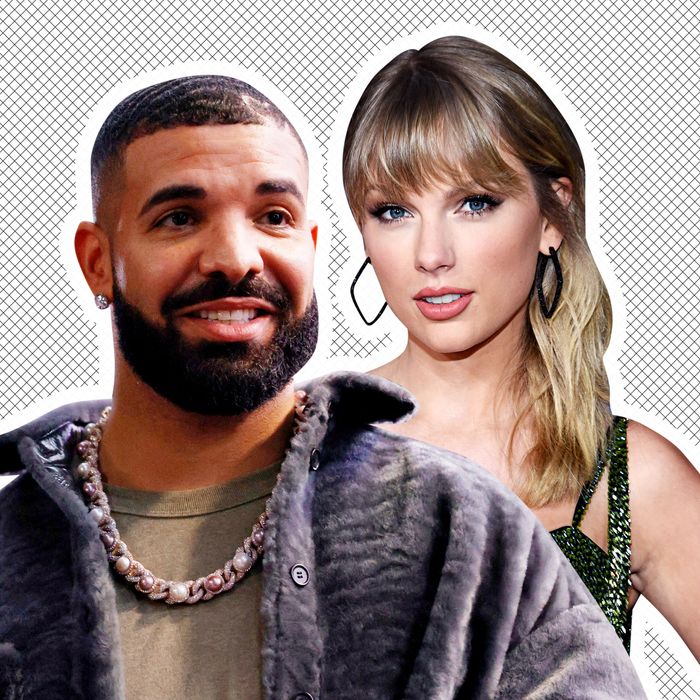 Photo-Illustration: by The Cut; Photos: Getty Images
Here's a riddle: Taylor Swift and Drake are in an Instagram post together. It's not a relationship post, and the photo was taken years ago. Can you guess what's going on here?
I have a few theories, but first let me lay out the facts. The picture was actually part of a carousel, which includes three photos of Drake himself, a photo of his son throwing up a peace sign, and — notably the last slide — a picture of Drake with his arm around Taylor. Based on both of their hairstyles, it seems to be an old photo. The mysterious photo dump is summed up with the caption:
"They too soft to understand the meaning of hard work."
Let's put our newsboy thinking caps on. Here are two people famous for writing lyrics about people who hurt them. They have an amicable history — Drake said in 2010 that it's "always fun" to see Taylor, and she was at his 2016 birthday party. The caption suggests everyone involved in this post is working very hard.
All this leads me (and a lot of enthusiastic Swifties) to the conclusion that Drake and Taylor are working on a song together. Some particularly diligent fans have theorized that Drake will be featured on 1989 (Taylor's Version), the next album Taylor is rerecording in her mission to own the complete rights to her music.
While I would not be opposed to a Drake verse on "Blank Space," we can't rule out all other possibilities involving Drake, Taylor Swift, and rigorous work. Such as:
Drake and Taylor are doing a candle collab
Taylor, a real-estate enthusiast, is writing a song about Drake's confusing house
Drake wants Taylor to play a mom in the next season of Euphoria
Taylor wants to play a big sister in the next season of Euphoria
Drake wants to play Harry Styles — the rumored subject of many 1989 tracks — in Taylor's next music video

Drake has hired Taylor to babysit his son
Why do you think Drake is putting Taylor Swift in his photo dumps? Only time (and Drake's erotic watch) will tell.