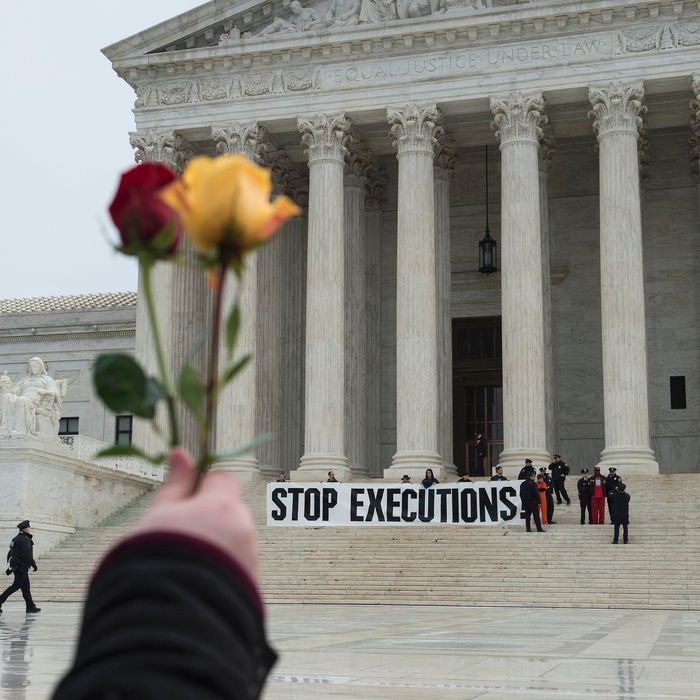 Photo: BRENDAN SMIALOWSKI/AFP via Getty Images
Melissa Lucio will no longer be executed on Wednesday after a Texas appeals court issued a stay of execution Monday. Lucio has been on death row for over a decade, after she was convicted of beating her 2-year-old daughter, Mariah, to death in 2008. Her case will now be revisited by a lower Texas court to determine if a new trial is warranted.
"I am grateful the court has given me the chance to live and prove my innocence," Lucio said in a statement, per the AP. "Mariah is in my heart today and always. I am grateful to have more days to be a mother to my children and grandmother to my grandchildren." Lucio is a mother of 14 — she was pregnant with twins at the time of her 2007 arrest. "I will use my time to help bring them to Christ. I am deeply grateful for everyone who prayed for me and spoke out on my behalf."
Lucio's lawyers, in conjunction with the Innocence Project, claim that Lucio is innocent, that detectives coerced a confession, and that key evidence that would have helped her defense was suppressed in the original trial. Moreover, they argue that key scientific evidence has since been determined that could prove Lucio's innocence. "All of the new evidence of her innocence has never before been considered by any court," said Innocence Project lawyer Vanessa Potkin in a statement Monday. "The court's stay allows us to continue fighting alongside Melissa to overturn her wrongful conviction."
Lucio has the support of a bipartisan group of state lawmakers and representatives, a group of whom visited her in prison just last week. Celebrities also helped publicize her case in recent weeks with Kim Kardashian alerting her 72 million Twitter followers to the case.
In 2008, the prosecution claimed that Mariah died as a result of head trauma caused by abuse, but Lucio's lawyers argue that Mariah died after suffering brain damage from a fall down the stairs two days before her death, something many of her children who were present at the time witnessed. (None of the children were allowed to testify at Lucio's original 2008 hearing, and Lucio's lawyers claim the jury was led to believe that only abuse could have caused Mariah's injuries.) Per Lucio's defense, new expert testimony shows how Mariah's fall could have caused bruising on her body that investigators originally attributed to alleged abuse and could have resulted in her death.
Lucio's defense maintains that her original confession, obtained after five hours of interrogation, was coerced and would like the court to consider evidence that undermines its validity. (She originally confessed to hitting her daughter, but did not explicitly confess to killing her, and she quickly recanted.) Her interrogation has, in fact, been deemed "coercive" by many critics and experts. "Her so-called confession was the result of highly coercive interrogation tactics, some of which are so coercive that they are no longer used today," Potkin told CBS News.
Should Lucio get a new trial, the district attorney's office of Cameron County, which originally tried the case, is ready. "I welcome the opportunity to prosecute this case in the courtroom: where witnesses testify under oath, where witnesses may be cross-examined, where evidence is governed by the rules of evidence and criminal procedure," said District Attorney Luis Saenz. "That is our criminal jurisprudence system, and it is working."