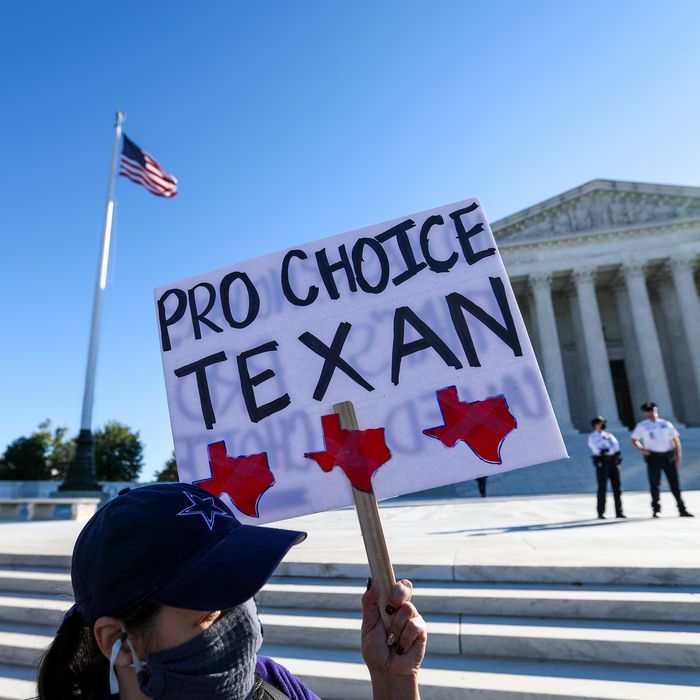 Photo: Yasin Ozturk/Anadolu Agency via Getty Images
As states across the country continue to restrict abortion access in anticipation of the Supreme Court's decision on Dobbs v. Jackson Women's Health Organization, a county in Texas has apparently decided to test current laws protecting pregnant people from being prosecuted for having alleged abortions.
On Thursday, April 7, 26-year-old Lizelle Herrera was charged with murder for allegedly self-inducing an abortion. Days of protest followed, and on Sunday, April 10, Starr County District Attorney Gocha A. Ramirez issued a statement announcing plans to drop the charges against Herrera. But questions surrounding the arrest remain unanswered.
Lizelle Herrera was arrested for the "death of an individual through self-induced abortion."
The Starr County Sheriff's office confirmed on Saturday that Herrera was arrested for the "death of an individual through self-induced abortion," but the circumstances surrounding her pregnancy are unclear.
Rockie Gonzalez, founder of La Frontera Fund, a group raising abortion funds for the Rio Grande Valley, claimed at a protest outside the Starr County Jail that Herrera was reported to the sheriff's office by hospital staff. "She miscarried at a hospital and allegedly confided to hospital staff that she had attempted to induce her own abortion and she was reported to the authorities by hospital administration or staff," Gonzalez said. According to Telemundo, the Starr County District Attorney's office presented a case against Herrera to a grand jury which indicted her, though the indictment has yet to be officially released.
It's also unclear under what law Herrera was indicted. Texas has famously established some of the most rigid anti-abortion laws in the country, but S.B. 8, the recent six-week abortion ban, only allows civilians to file charges against anyone who "aids and abets" an abortion, not a criminal prosecution. In a statement, Starr County Sheriff's Maj. Carlos Delgado did not specify under what law Herrera had been charged, per Fox 7 Austin.
Herrera was released on a $500,000 bond on Saturday, with help from La Frontera Fund, which is also raising funds to support Lizelle's legal defense. She has not made any public statements.
Starr County D.A. dropped the charges against Herrera.
On Sunday, April 10, D.A. Ramirez issued a statement pledging to dismiss the charges against Herrera on Monday. "In reviewing applicable Texas law, it is clear that Ms. Herrera cannot and should not be prosecuted for the allegation against her," the statement read in part. "Although with this dismissal Ms. Herrera will not face prosecution for this incident, it is clear to me that the events leading up to this indictment have taken a toll on Ms. Herrera and her family," Ramirez continued. "The issues surrounding this matter are clearly contentious, however based on Texas law and the facts presented, it is not a criminal matter."
Despite his statements clearing Herrera of any criminal charges, Ramirez did not fault the Sheriff's Department for investigating, noting, "The Starr County Sheriff's Department did their duty in investigating the incident brought to their attention by the reporting hospital."
Questions persist about Herrera's arrest.
There are many aspects of Herrera's indictment and arrest that have raised eyebrows. For example, the Texas penal code states that pregnant people cannot be charged with murder in connection with "the death of an unborn child," per The New York Times. So why was Herrera's case brought before a grand jury in the first place? And how did this case make it this far? What was Herrera actually charged with? As Lynn Paltrow, the executive director of National Advocates for Pregnant Women, told The AP, "There is no statute in Texas that, even on its face, authorizes the arrest of a woman for a self-managed abortion." Finally, under what grounds or circumstances did the hospital report Herrera to the local Sheriff's Department?
All these questions will hopefully be answered after the charges against Herrera are officially dropped. But as the Supreme Court prepares to potentially gut or overturn Roe v. Wade, Herrera's case raises a more complex question: Is the prosecution of people who miscarry or self-induce abortion the future of reproductive healthcare in America?