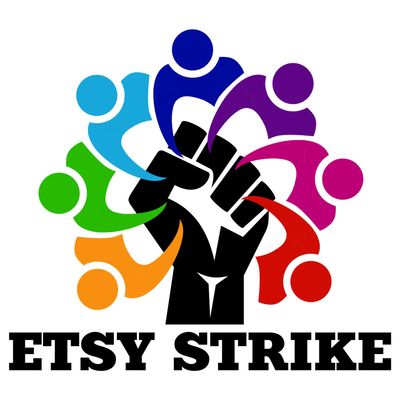 On Monday, thousands of Etsy sellers put their shops on vacation mode and asked customers to boycott Etsy stores, kicking off a weeklong strike against higher transaction fees on the platform. Etsy has served as an international marketplace for artisanal and vintage wares since 2005, but in recent years, the company has come under fire for cutting into sellers' profits with higher fees and service charges while increasing its already thriving bottom line. "Rather than rewarding the sellers whose hard work has enabled Etsy to become one of the most profitable tech companies in the world, Etsy gouges us, ignores us and patronizes us," reads a petition created by Etsy dress seller Kristi Cassidy.
The petition, which is addressed to Etsy CEO Josh Silverman and has nearly 50,000 signatures, protests a transaction fee increase effective April 11 that gives Etsy 6.5 percent of each customer purchase. (Previously, Etsy took 5 percent.) Etsy proposed the increase — its second in four years — in February, claiming that the "incremental revenue" would ultimately benefit sellers. Sellers pushed back, saying Etsy already pocketed sizable chunks of their profit margins through a slew of mandatory fees, and accused the company of "pandemic profiteering."
In addition to calling for the company to cancel the increase, strikers want to elect out of Offsite Ads, an initiative that has sellers front the cost of advertising; for Etsy to crack down on resellers peddling sweatshop-produced products; and for the platform to answer seller help tickets on time. They also want Etsy to nix its "Star Seller" program, which rewards sellers with high customer engagement — a tactic sellers liken to micromanagement — and address its AI bots, which were designed to address suspicious activity but mistakenly shut down legitimate businesses instead. "I am mindful every day that [Etsy] could shut me down, and I would be without an income, and there would be nothing I could do about it," an anonymous seller told The Verge last month. 
With margins already tight, some sellers say they can't afford the strike and boycott, which is scheduled to go through April 18. For their part, Etsy defended its new fee structure in a statement, doubling down on the claim that it's all for sellers' success: "We are committed to providing great value for our 5.3 million sellers so they are able to grow their businesses while keeping Etsy a beloved, trusted, and thriving marketplace." Meanwhile, some strikers say they'll leave the platform if their demands go unmet. "Every demand we have made is very reasonable," Kristi Cassidy told Yahoo! Finance. "If Etsy refuses to work with us on these, it does not give me very much hope for the future."