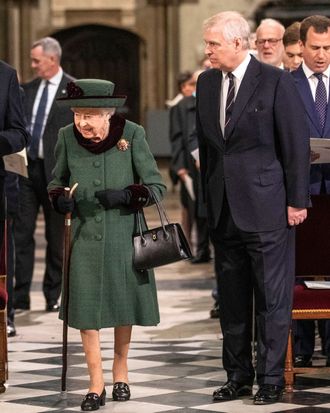 Photo: WPA Pool/Getty Images
When Queen Elizabeth entered Prince Philip's memorial service accompanied by her disgraced son, Prince Andrew, last week, she made it clear that nothing — not even a large settlement with Virginia Roberts Giuffre, who accused Andrew of raping her when she was a minor — would keep her from supporting her son. Except, it turns out, a camera.
According to the royal photographer who snapped the photos of Andrew escorting the queen to her seat at the March 29 memorial, the Buckingham Palace press office actually forbade him from taking pictures of the queen before she had taken her seat. "Naturally, I balked at the order," wrote photographer Richard Pohle in The Times. As the only photographer in the room, Pohle felt it was his duty to capture everything, especially anything newsworthy, like, say, the queen seemingly giving her public blessing to a royal accused of sexual abuse.
Pohle hinted that the press office was so determined for him not to get a shot of the queen and Prince Andrew walking into the service that, once in the venue, he was placed far away from where the royal family would be seated, ensuring that he might not get a clear shot at the mother and son. "Desperation dictated I do something quickly," he recounted. As the choir started up I jumped off my footstool and moved quickly to the aisle between the rows of seats opposite where the queen would walk." He claimed a press officer attempted to stop him, but was unsuccessful.
It's not surprising to hear that the Buckingham Palace press office would rather not have photos of Queen Elizabeth supporting Prince Andrew out in the world. Thanks to his past friendship with Jeffrey Epstein and the allegations against him, Andrew has been stripped of most of his royal duties and titles. In January, his military affiliations and royal patronages were taken away, and he was barred from using "His Royal Highness." But despite these public consequences, the queen reportedly "insisted" that Andrew be by her side at Philip's memorial, according to royal commentator Robert Jobson. "It shows she wholeheartedly loves and believes her son," Jobson told People. "As she did when she made a statement about Camilla being Queen's Consort, many people will now accept the queen's word and judgment." Given how big a story Andrew's presence at his father's memorial was, I wouldn't be too sure about that.