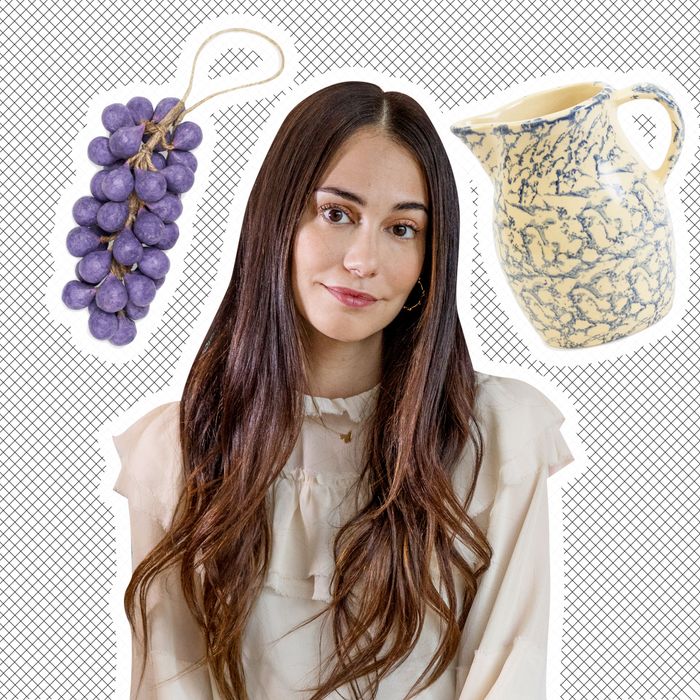 Photo-Illustration: by The Cut; Photos: Getty Images, The Six Bells
When reports came out last week that Audrey Gelman, founder of the shuttered feminist utopia the Wing, had opened a "country store" in Cobble Hill, an upscale Brooklyn neighborhood, I rolled my eyes so hard my eyeballs just about left my skull. I was not alone. The Six Bells, Gelman's new boutique featuring quaint textiles and kitchenwares, quickly became the subject of derision online. First, there's the decision to base the store on a fictional English-esque village, "Barrow's Green," complete with a bewilderingly complex backstory and cast of (fictional) characters, some of whom were given racist histories. On top of the cringe factor, there were the whiffs of colonialism surrounding the entire concept of a romantic British hamlet. Though the website advertises "housewares that come from a little world far away," some have pointed out the aesthetic is more accurately described as rural Middle American — with the price tags multiplied by five.
While it's worlds away from the "Boss Bitch" matchboxes and Handmaid's Tale–themed cocktails Gelman used to peddle at the Wing, the Six Bells is a strangely logical second act. By the time a Swiss holding company took over the start-up's majority shares amid bankruptcy rumors in 2021, the Wing's grip on upwardly mobile millennial women had slackened, thanks in part to a March 2020 report from the New York Times, where former staffers recalled low wages and casual racism from Gelman and the club's guests. Gelman apologized and subsequently stepped down as CEO, but she and the Wing remain mascots for a Trump-era brand of corporate feminism that has rapidly soured.
Given all of that, it's easy to forget how covetable the Wing and its plush Glossier-pink couches once were. Even those of us who never made it through the minimalist rounded archways of its brick-and-mortar locations recognize its color-coded bookshelves and caned chairs — a textbook example of the "millennial aesthetic." "Say whatever u want about Audrey G — her influence on the interiors of rich women is hard to overstate," writer Kathryn Jezer-Morton tweeted this week. "The wing codified an entire genre. Watch the exact same thing happen now with chintz," she wrote, speculating that "the new old country store" aesthetic would be all over the Instagrams of mainstream momfluencers by next year.
Gelman helped define what an aspirational space looked like in 2016. Now, she's put her finger on a new mood haunting women of various income levels: the fantasy of the country. With the Six Bells, she's distilled a hodgepodge of interconnected trends — cottagecore and the nap-dress sensibility, the return of maximalism, the explosive popularity of domestic hobbies like gardening and crafting — into a coherent and honestly pretty appealing genre of interior décor. Some of these goods are actual antiques; others are handmade or just look like they could be, lending the space an old-timey quality that feels, ironically enough, very of the moment. If the Wing was primed to satiate our thirst for spaces that looked good on Instagram, the Six Bells recognizes the more recent turn away from sleek, grid-friendly visuals toward something with more personality and some semblance of connection to the past — with the caveat that it still looks very pretty.
And sure enough, drawn in by the prospect of hate-browsing this problematic fairy tale/brand concept, I soon came to the realization that, actually, I would very much like to buy some of this stuff. The shop's tin ceilings, rustic hutches, and sun-soaked yellow walls make it feel like Nancy Meyers designed a farmhouse — and frankly, I'm ready to move in. Much like the Wing between 2016 and 2020, the Six Bells is the kind of place I hate to love — annoyingly charming, maddeningly trendy, and filled with overpriced knickknacks (olive oil grape soap!) that I absolutely must have.
The Six Bells also feels pointedly molded by the real-life upper-class exodus from New York City during the pandemic, which has spawned a new class of permanent country-house residents. (It bears a startling resemblance to the newly constructed "general stores" that have popped up in Hudson Valley towns over the past few years.) A quick perusal of Gelman's Instagram shows plenty of pre-2020 time spent upstate, and the Ditmas Park colonial revival she bought in 2019, which features a magnolia tree and wraparound porch, suggests she's been pursuing the country-house look for a while. The Six Bells tells NYC expats that, should you decide to keep your remodeled Brooklyn brownstone after relocating to Hudson, you can still fill it with the charming detritus of rural life, such as $18 jam with handwritten labels.
Gelman's store is tempting even to those of us still battling vermin in our 600-square-foot New York City studios. When I stopped by on a sunny afternoon last week, it was largely empty — a few stragglers wandered in and out without buying anything — but filled with quaint little tchotchkes that made me want to roast a chicken by candlelight somewhere deep in Vermont. It's like Gelman saw my wish to live among the trappings of a farm without ever having to milk a cow and said, "Hey, here's a store for that."
The grape soap, disappointingly enough, turns out to be unscented and more a cluster of wax balls on some hemp string than anything else. Still, it took every ounce of my willpower to walk out before shelling out $40 for the (also unscented) candles with hand-painted roses on them. Something tells me they'll find their way into my apartment anyway, whether I like it or not.