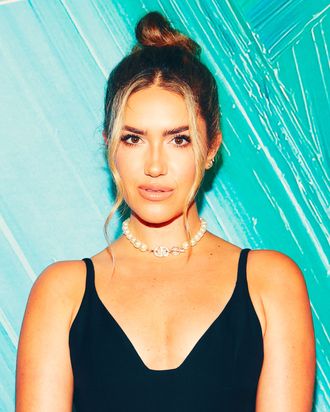 Photo: Amy Sussman/WireImage
Last week, a series of controversial old tweets posted by Christina Najjar, a.k.a. TikTok star and influencer Tinx, resurfaced on a thread in the sub-Reddit r/tinxsnark. Known colloquially as "TikTok's big sister," the 31-year-old influencer first blew up on the platform in the summer of 2020 posting "rich mom starter packs" and soon became an influencer, speaking openly about Botox and sharing body-positive dispatches about her eating habits.
Some of the resurfaced posts — which were originally posted between 2012 and 2020 — were fat-phobic and misogynistic. One from 2012 said, "Kim kardashian is so fat I don't know what to with myself #oops." Another from 2013 said, "Fat people at coachella LOL."
Others were likes and retweets indicating support for a wide range of conservative views, including pro–Boris Johnson takes and a quote tweet calling liberal journalist Ken Klippsten's wife "ugly," to which Tinx responded, "No wonder Ken is so nasty." In one that Tinx herself wrote in 2016, she said, "Interesting disparity between #TheresaMay and #Hillary TM seems like a real politician whereas HRC comes across as an exhausted show horse." She also retweeted a series of posts urging states to lift lockdown measures in April of 2020.
Tinx addressed the tweets on Sunday, posting an apology to her Instagram that said she was "more than cringing" at her past behavior. "About 10 years ago I sent some truly nasty mean, horrible tweets," she wrote. "I called people that I had never met fat and ugly. When I read the tweets back I am ashamed and embarrassed."
Tinx did not address the political views expressed in her old tweets but wrote that she was "21 and deeply, deeply insecure" when she posted them, presumably referring to those posted in 2012. "I hated myself and had a bad relationship with my body" she wrote. "I tried on many hats, one of which was a mean tweeter to get a laugh." She said that the tweets "are not representative of who I am" and concluded, "I am very sorry. I am a work in progress."