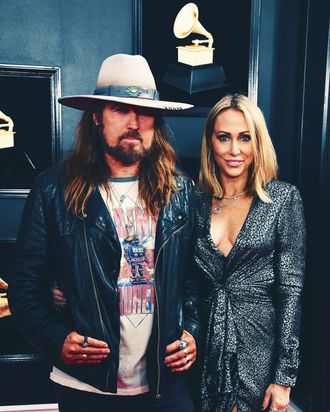 Photo: Steve Granitz/WireImage
It has come to our attention that Billy Ray and Tish Cyrus have filed for divorced for the third time. Yes, third. According to E! News, Tish filed divorce papers in Tennessee on April 6. She reportedly cited "irreconcilable differences," noting that she and Billy Ray haven't lived together since February 2020. Neither Tish nor Billy Ray has publicly spoken out about this most recent divorce filing.
Let's take a little walk down divorce memory lane, shall we? Tish, 54, and Billy Ray, 60, got married in 1993. (They share five kids, including Miley and Noah Cyrus, and Billy Ray has one son from a previous marriage.) Then Billy Ray filed for divorce in 2010. "As you can imagine, this is a very difficult time for our family," the two said in a joint statement at the time. "We are trying to work through some personal matters. We appreciate your thoughts and prayers." However, five months later, Billy Ray told The View he had dropped the divorce. "I want to put my family back together," he said. "Things are the best they've ever been."
Unfortunately, it seems that didn't last long, as Tish filed for divorce again in 2013. Billy Ray released a statement saying, "This is a personal matter and we are doing what is in the best interest of our family. We ask that you respect our privacy at this time." Then they called the divorce off later that year. "We both woke up and realized we love each other and decided we want to stay together," the couple said in a joint statement. "We both went into couples therapy, something we haven't done in 22 years of being together, and it's brought us closer together and really opened up our communication in amazing ways." However, it seems they've once again chosen to end their 28-year marriage.
To quote Billy Ray himself: much to think about.