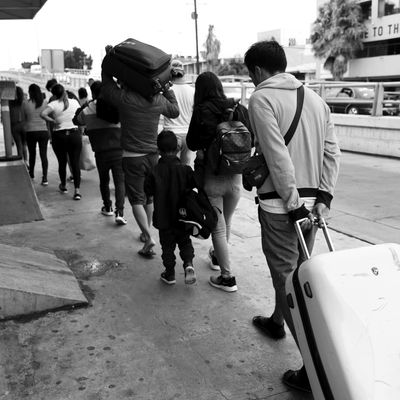 Asylum-seeking migrants depart from the San Ysidro Port of Entry after being denied entry to the U.S. in July 2021.
Photo: Mario Tama/Getty Images
In recent weeks, the U.S. government began allowing Ukrainians and Russians fleeing the war to request asylum on a case-by-case basis at the U.S.-Mexico border. Julia Neusner, an attorney with the advocacy and research organization Human Rights First, tweeted on March 23 that she witnessed 26 Ukrainian asylum seekers being granted entry into the U.S. while a Mexican family waiting with them was turned away. The Ukrainians were allowed to come into the port of entry after telling a Mexican municipal police officer, who coordinates with U.S. authorities, where they were from. Meanwhile, the Mexican family — which, Neusner wrote, had "fled death threats by an organized criminal group who'd brutally murdered their family members" — were sent away after telling the officer they were afraid to be in their own country.
The number of Ukrainian refugees showing up at the southern border has been increasing. Between October 2021 and February 2022, the U.S. Customs and Border Protection agency reported it had encountered around 1,300 Ukrainians there. But in the first three weeks of March alone, the agency encountered nearly 1,000 Ukrainian people, according to Axios. The Biden administration has said it will admit 100,000 people displaced by the Russian invasion. "We should welcome them here with open arms if they need access," the president said days before the announcement.
That hasn't been the experience for the majority of migrants seeking asylum at ports of entry for the past two years. The U.S. has been turning them away at the southern border — often putting them on expulsion flights before they can even request protection — under the guise that they represent a threat to public health. This was made possible by Title 42, a rule implemented by the Centers for Disease Control and Prevention in March 2020 under pressure from the Trump administration, even though the nation's top doctors didn't believe the regulation would slow the spread of COVID-19. The rule is based on a 78-year-old public-health statute that allows the indefinite closure of the border to "nonessential travel," though it had never been used to ban immigration. Biden kept Title 42 in place after taking office and defended it vigorously in court. However, under increasing pressure, his administration signaled this week that it may lift the policy soon.
Neusner investigates the impact U.S. immigration policies have on people seeking asylum at the border. When we spoke, she had been in Tijuana for ten days documenting the situation at the San Ysidro Port of Entry. "Ukrainians and Russians absolutely should have the right to seek asylum at the border. The government is doing the right thing," Neusner said. "They're upholding U.S. and international refugee law. The problem is they're not extending the same humanity to everybody else who's seeking protection."
Last week, you tweeted about witnessing Ukrainian asylum seekers being allowed entry into the U.S. while a Mexican family waiting with them was turned away. As of last night, you said there were around 500 Ukrainians at the San Ysidro Port of Entry, many of whom are being processed while people of other nationalities continue to be blocked from seeking asylum. What do you make of the disparities between whom the government considers a refugee and whom it does not?
Under U.S. and international refugee law, anybody from any country has the right to seek protection at the U.S. border if they express fear of returning to their country of origin. Since the start of the pandemic, the United States has not been affording people that right. Only recently, we've been seeing the U.S. government make exceptions for Ukrainians and Russians arriving at the southern border. At the same time, people from Central America, Haiti, African countries, and many other places around the world have been waiting months and, in some cases, more than a year for the opportunity to request asylum. It's really unfair.
The policy you're talking about is Title 42. Can you explain how it works?
Under guidance from the Trump administration, the CDC issued an order in March 2020 allowing the U.S. government to summarily expel or prevent from entering people seeking asylum at the border. The U.S. government has used Title 42 to turn away asylum seekers more than a million times. These are not individual cases; these are people who have sought protection multiple times and been turned away at the border.
Trapping people in Mexico and denying them the ability to request protection at ports of entry has enriched organized criminal groups who systemically kidnap migrants for ransom and control the crossings between ports of entry, which are the only avenues to seek protection at the moment. Our organization has tracked almost 10,000 kidnappings, assaults, and other violent attacks against people stranded in Mexico since Biden took office.
The administration has also flown more than 25,000 people to Haiti without giving them the opportunity to ask for asylum, and it has sent expulsion flights to Honduras, Guatemala, Ecuador, and, recently, Colombia, among other countries. It's a very egregious violation of international refugee laws and domestic refugee-protection laws.
Title 42 was implemented at the start of the pandemic, and the stated justification was to prevent the spread of COVID-19. Since then, the CDC has lifted mask mandates; the DHS has lifted border restrictions on visa holders. So the administration's claim that Title 42 is necessary to protect public health is just looking more and more ridiculous every day. Public-health experts have repeatedly, exhaustively established that Title 42 has never had any public-health benefit. The fact that now Ukrainians and Russians are being allowed to show up at the border and seek asylum just further underscores the fact that this was never about public health. There's no reason to think this group of people would pose any less of a public-health threat than anybody else.
For someone trying to seek asylum at this point, what does the process look like? 
Under Title 42, asylum processing is nonexistent at ports of entry. That is the stated policy. Now, within the actual order, the U.S. government has the discretion to make exceptions for people with particular vulnerabilities, like children with serious medical conditions. They have pretty broad discretion, so, for the past two years, the Department of Homeland Security has been making exceptions in a way that is haphazard and arbitrary.
At McAllen, Texas, for example, one lawyer reported about a month ago that most of the applications she's submitting there were being accepted. And then there are parts of the border in Arizona where close to zero applications for exemptions have been granted. There's no consistent policy.
There's also no official policy on allowing Ukrainians and Russians to enter. This is purely discretionary. There was guidance by DHS secretary Alejandro Mayorkas to CBP officers a couple of weeks ago just basically reminding them that they have the ability to exempt people from Title 42 and that includes Ukrainians. We've been seeing the U.S. government use these exemptions in a way that is totally disparate, and it has denied them to the vast majority of people who have been seeking asylum in the past two years, who are overwhelmingly people of color.
Can you tell me more about the impact of Title 42? Have any cases stood out to you?
I spoke with a Haitian family a couple of weeks ago. They were a young couple in their 20s, and the man's family was active in politics in Haiti. He received death threats for the political-organizing work he was doing and had to flee with his wife. They entered the U.S. with the intention of requesting asylum in December 2021, but they were never given the opportunity to do so.
Instead, they were put on a plane in shackles after spending a couple of days in detention, where they reported abuse by guards and really horrendous conditions. They were not even told they were being expelled to Haiti until the plane was already in the air. When they got back to Haiti, they again received death threats from the same people who were trying to kill them before, and they had to flee again. They have now made their way back to Tijuana, and they've been living in a tarp tent for months, struggling to support themselves while they wait for Title 42 to be lifted. The man told me they're terrified to try to ask for asylum again because if the U.S. sends them back to Haiti again, they'll be killed.
There were reports this week that the Biden administration may lift Title 42 and that the change would take effect by late May. What do you think about how it's taken so long for this?
It's really, really frustrating. The administration has had well over a year to figure out how to end this policy — which was created by Stephen Miller, who's now bragging on Twitter about being proud of having created this evil, xenophobic policy that has caused the death, harm, or torture of countless people who have tried to seek U.S. protection.
This administration knew even before taking office that this policy had to go. They've been saying they just need time. We've been hearing that for months. They've had more than enough time, and every day they delay, more people are subject to kidnapping, torture, abuse, and attacks while struggling to support themselves as they wait for the opportunity to seek U.S. protection. It's frustrating that the administration is insisting on taking another several months to end this policy. But I guess it's gratifying to hear that at least they're publicly stating an intention to end it soon, and I hope the administration will follow through on its promise.
There's often a lot of attention, as well as misinformation, on the situation at the southern border. What's it currently like there, and what are the biggest misconceptions people have about the area?
I read news media framing the Biden border policies as "open borders," and it's just astonishing to me that there's this narrative that's just absolutely false. The Biden policy has been nothing even resembling open borders. The Biden administration kept in place what has been the most sweeping ban on asylum in U.S. history. There have consistently been multiple encampments along the border of people waiting for the opportunity to cross. The administration has returned, expelled, and blocked countless people across the southern border.
Another talking point I see quite often in the news is this idea that migrants are bringing in drugs. That's not true. The people I've interviewed want to seek asylum legally. They know that they have a legal right to seek asylum and that they are unable to exercise that right because of this policy. They want a safe and orderly way to exercise their right to seek protection. That's what this is about.
This interview has been edited and condensed for length and clarity.