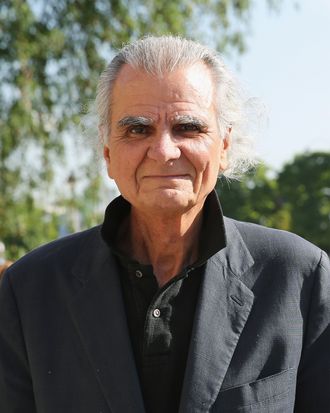 Photo: Mireya Acierto/Getty Images
Patrick Demarchelier, the French photographer whose name alone telegraphed the glamour and chaos of the fashion industry — "I have Patrick!", as it was bellowed in The Devil Wears Prada — died yesterday at 78, according to a posting on his official Instagram account. A cause of death was not given.
Born in Le Havre, France, and self-taught, Demarchelier first rose to prominence shooting for Vogue in the late 1970s, and achieved new heights there in the late 1980s and 1990s, when he continued the collaboration he had begun at British Vogue with Grace Coddington, one of new hires of its new editor-in-chief, Anna Wintour. The two can be seen together in The September Issue, Demarchelier issuing terse instructions in his famously thick French accent ("I couldn't decipher a word at first, let alone a sentence," Christy Turlington wrote on Instagram), and he was so associated with Vogue that he had a cameo in the Sex & the City movie as the photographer of Carrie Bradshaw's wedding-dress shoot for the magazine. But in fact, Demarchelier worked widely, and when Liz Tilberis reinvented Harper's Bazaar in 1992, she and Fabien Baron turned to Demarchelier to shoot the first cover, a stripped-down statement of new intent: Linda Evangelista against a pure-white backdrop in a beaded black bodysuit, one hand swanishly covering her face.
Demarchelier's particular specialty was beautiful women. All of the supermodels were regulars in front of his lens, and celebrities sought him out to get the supermodel treatment: Princess Diana made him her official photographer; Madonna, after a famous Vogue cover in 1989, had him shoot her for the "Justify My Love" single in 1990; and Janet Jackson hired him to shoot the famous cover of her 1993 album, janet., a shoot which also provided the topless-but-not-bare-breasted cover of Rolling Stone. (It was such a sensation that newspapers ran items wondering whose hands were cupping Jackson's breasts from behind.) He shot quickly, and he said instinctively; some subjects were surprised that a picture was done before they'd even settled themselves in. "I like to make it easy," he told Cathy Horyn in 2011. "I always say to young photographers, 'Have a good time when you work. If you're stressed, it's not normal when you're doing fashion work.'" Unlike some of his contemporaries, Demarchelier didn't have a heavy style. "His pictures are hard to categorize," his gallerist, Etheleen Staley, told an interviewer. "They all have a certain glamour to them, but they're not just one kind of photograph." "He can happily fit into any situation," Coddington added.
Demarchelier's long career was celebrated and much awarded. He was named an officer in the Ordre des Arts et des Lettres from the French government in 2007, and saw exhibitions and gallery shows of his work staged over the years. But a cloud settled over the last chapter of his life when he was accused of sexual misconduct by a number of models and a former photo assistant in the Boston Globe. Demarchelier denied the allegations, which were corroborated by the paper but not attributed on the record. But Condé Nast, which owns Vogue, Vanity Fair, and a number of other magazines, announced it would pause working with him.
At the time of his death, Demarchelier was at work recently on an exhibition at his German gallery, Camera Work, which the gallery confirmed will go ahead as planned in Berlin this fall. He is survived by his wife, Mia; three sons, Gustaf, Arthur, and Victor, who also became a fashion photographer; and three grandchildren.