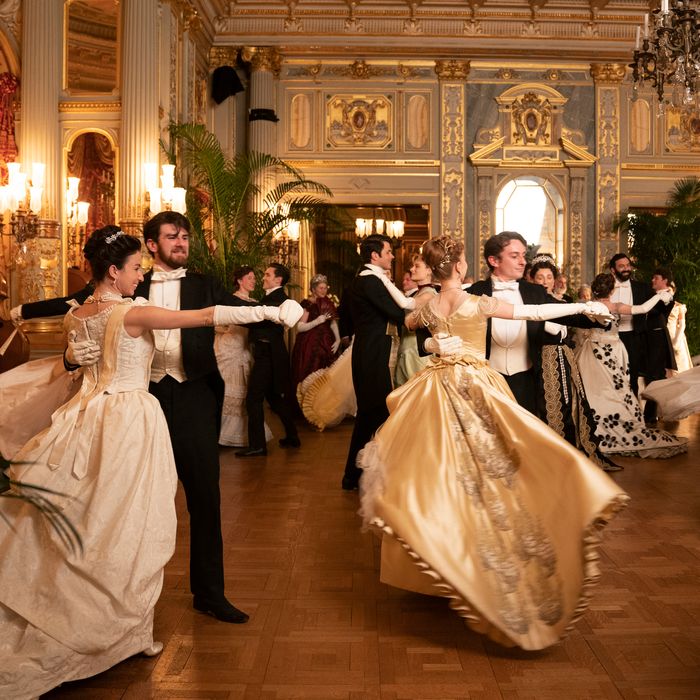 Photo: ALISON COHEN ROSA/HBO
It's time for the Met Gala again, and if you're feeling a little déjà vu this year, don't worry, you're not crazy. Traditionally, the annual event — oft described as the "Oscars of fashion" — takes place at the museum on the first Monday in May, but because of the pandemic, it skipped a year in 2020 and was held in September 2021 instead. Now, several months later, it's back on for Monday, May 2, featuring the opening of the second half of a two-part Costume Institute exhibition on American fashion. Here's everything you need to know before watching the red carpet, including what the dress code, "gilded glamour," actually means.
What's the Met Gala Dress Code This Year?
This year, the dress code on the invitation reads, "gilded glamour," with specific instructions to wear "white tie," not black tie.
"Dust off Edith Wharton's Age of Innocence and The House of Mirth," Vogue explains. "The 2022 Met Gala will ask its attendees to embody the grandeur — and perhaps the dichotomy — of Gilded Age New York."
Coined by Mark Twain, the "Gilded Age" designation refers to the period of time from 1870 to 1890 when American innovation boomed and the upper crust of New York society thrived. It's when all the names we know today as subway stops and street signs — including "old money" like the Astors and "new money" like the Vanderbilts — built and reveled in their enormous fortunes. It's when the lightbulb and the telephone began making their way into buildings and when skyscrapers started filling the skyline. It's also right around the same time Vogue was founded, in 1892.
But What Does that Mean for the Red Carpet?
It means excess — but an excess deeply rooted in tradition. First of all, "white tie" is even more formal and old-school than black tie. Yes, it literally means white ties, but it also means floor-length gowns for women and a black jacket or coat with tails for men. "There is no such thing as white-tie casual," an etiquette expert tells Brides. So no sneakers this time, Timmy.
"Women's dresses often featured a combination of many textiles, like satin, silk, velvet, and fringe, all adorned with over-the-top textures like lace, bows, frills, and ruffles," Vogue explains of the period's fashions. Women also wore big hats with feathers, corsets (we're definitely going to see some corsets), and sometimes bustles.
People with money have always liked to throw and attend parties, and they were exceptionally ostentatious during this era. If you want a taste of what the Met Gala might look like, watch the finale of the new HBO show The Gilded Age, in which a fictional Mrs. Vanderbilt throws her daughter a coming-out ball at her uptown mansion. In real life, it's said that Alice Claypoole Vanderbilt came dressed to a similar event in 1883 as an electric lightbulb, à la Katy Perry in 2019, and her sister wore an outfit of head-to-toe peacock feathers. So you get the idea. As you can see on the show, elbow-length gloves, flashy jewels, and men in top hats were common at such events. And cleavage! Or, excuse me, décolletage.
Is It Related to the Theme of the Exhibit?
Kinda? In 2021, the theme of the Costume Institute exhibit was "In America: A Lexicon of Fashion," and the dress code for the red carpet was "American independence." The theme for part two is "In America: An Anthology of Fashion," and curator Andrew Bolton told Vogue that it "provides a historical context for 'Lexicon,' in a way." So that's why we're going back to 1870 in New York, I guess.
But Why Do "Gilded Glamour" in 2022?
Good question. Although it was a period of extreme prosperity for some and wages for many workers increased, the gap between the haves and the have-nots became even more conspicuous. (This is what Vogue presumably means by the "dichotomy" of the Gilded Age in its explainer.) The many immigrants who came to America during this time particularly suffered from poverty and inequality.
My best guess is that there's really no theme that says Screw sweatpants better than "gilded glamour, white tie." And Anna Wintour is a powerful woman like Mrs. Astor who respects tradition and loves a good costume party. It's also notable that we're returning to the time when Vogue was founded, almost like a reset.
Who's Going to Be on the Red Carpet?
So far, the only confirmed names are the event's co-chairs: Regina King, Blake Lively, Ryan Reynolds, and Lin-Manuel Miranda. Designer Tom Ford, Instagram's Adam Mosseri, and, of course, Wintour will once again serve as honorary co-chairs. And American designers Marc Jacobs and Prabal Gurung will definitely be there.
Who's Not Going to Be on the Red Carpet?
Rihanna seems really pregnant, so maybe not Rihanna. Womp. And there will be a vaccine mandate, so probably not Nicki Minaj.
Is Anyone Going to Get the Theme Right?
Hopefully, the cast of the Gilded Age will get an invite since they know the theme better than anyone and can offer us all a history lesson. But expect to see a lot of other celebrities take the theme very, very literally by just wearing gold. It may be more like Goldmember.
All Right, Where Can I Watch the Red Carpet?
Once again, Vogue.com will be hosting a red-carpet livestream on its website. Last year, it kicked off around 5:30 p.m. EST. You can tune into E! starting at 5:30 p.m to watch it as well.