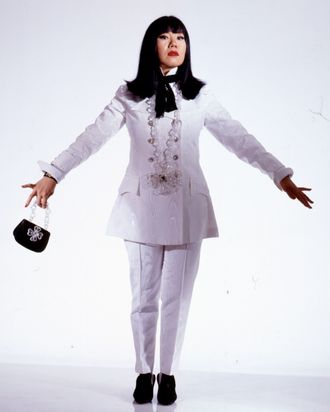 Photo: Anthony Barboza/Getty Images
It all started on March 31, when a blogger who goes by Seek the Finds tweeted about an Anna Sui dress from the 1998 fall season that was for sale on Poshmark. The day after, she received a message on her Instagram from the Anna Sui Instagram account. It said: "Hi this is Anna Sui. I saw you sold this already but I was wondering if it would be possible for me to buy it instead? We don't have this sample and it would mean a lot for me to have it in my archive."
We chatted with Casey Jackson, who runs Seek the Finds. After receiving the message from Anna Sui's Instagram account, she told her she wasn't the seller but shared that information. "It had sold two hours before she messaged me, so I thought maybe she can catch it before it gets shipped. So I sent the information, and that was it. The next thing I saw, it was on this girl's Instagram."
The dress had already been sold to Ashley Narcisse, who is a vintage sourcer in New York, and who shared photos of herself in the dress on Twitter hours after receiving it. "I told myself I was going to wait to wear it until I was on vacation, but I couldn't help it," Narcisse told the Cut. She received a ton of compliments on the photos, with someone even saying, "I mean would y'all send it back to Anna Sui?" It's a valid point and has people debating on whether or not it's worth it to sell it back. Some people on Twitter are suggesting that selling it could be used for leverage, like money, fashion-show invites, and campaign contracts.
Narcisse doesn't want to sell it, though. As someone who collects clothes, she sees the value in a piece like this. "Honestly, if I didn't care that much about the dress, I'd be open to giving it up. But I love it, and knowing the history of it and how I can pass it down to the generations of my family — it's basically an antique," she said. And she hasn't heard from Sui. Apparently neither has the original Poshmark seller, who Narcisse messaged to tell them about what had happened.
The situation raises questions about how designers archive their pieces, or don't. This is especially true of smaller brands, who maybe didn't think ahead to this day. "This whole Anna Sui thing really got me thinking how most designers don't have proper archives unlike Thierry Mugler or the Gucci vault. Unfortunate really," @maisonscene tweeted.
"I feel like I've seen this before, not with Anna Sui in particular, but with designers not saving their archives," Jackson said. "Apparently Gucci didn't save theirs until Tom Ford. I was thinking, Wouldn't they at least save their patterns? But I don't know."
While Sui doesn't have this specific dress, she does have an archive, which has been on display at multiple museums.