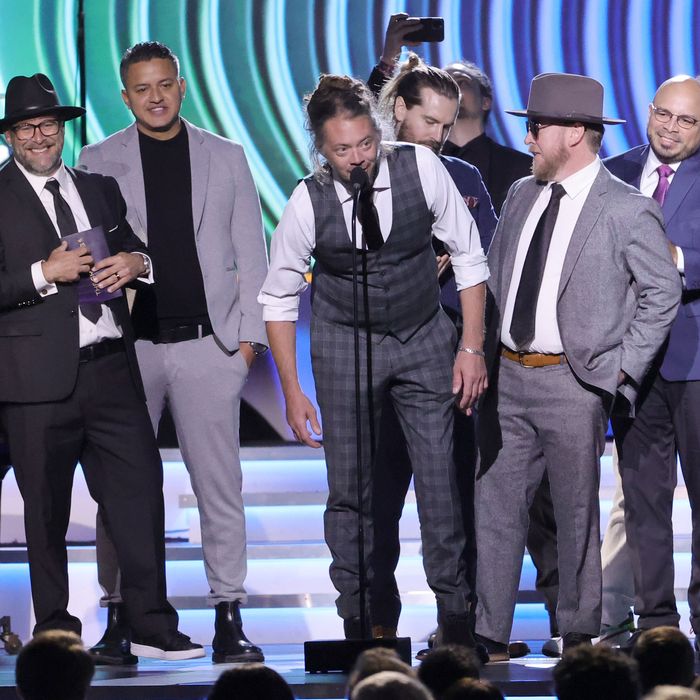 SOJA?
Photo: Matt Winkelmeyer/Getty Images
The Grammys left viewers with much to think about last night — including puzzling items such as Justin Bieber's clown-shoe Crocs and his bleepy performance of "Peaches" and the question of what it means to be a "Hip-Hop Fashion Designer." Also what is "SOJA"? A partial answer to that last one emerged before the official broadcast started when a troupe of statement hats marched onstage to collect the award for Best Reggae Album — stirring chagrin and confusion among many reggae fans.
SOJA (an acronym for "Soldiers of Jah Army") is an eight-member outfit made up mostly of white guys; it's the first time such a group has taken home this honor. According to DancehallMag, last night's ceremony marked the third time a non-Jamaican artist has won Best Reggae Album. (Jamaica is the birthplace of the genre.) BET reports that this ensemble beat five Jamaican nominees: Sean Paul, Spice, Gramps Morgan, Etana, and Jesse Royal. The members of SOJA, meanwhile, come primarily from Virginia. They have been making music since 1997, but they only visited Jamaica for the first time in 2015 (per Dancehall Mag). SOJA won the Grammy for its seventh studio album, Beauty in the Silence. According to lead singer Jacob Hemphill, "Starting our reggae band was kind of our dream and the only thing we wanted to do" when the bandmates were growing up, "then one day people started coming to the shows." Other members of the group thanked "the founding fathers of reggae" and "the island of Jamaica" for their inspiration, adding: "Give thanks. One love."
Online, the response to SOJA's win largely boiled down to "What?" and also "Who?" There's the appropriation component — "One thing yt ppl gon do is colonize, appropriate tf outta ppl culture, claim it as their own and profit the fuck outta it. Soja winnin best Reggae album is a fucking insult," as one Twitter user put it — but considering the Grammys' long history of snubbing Black artists, that is maybe not the most surprising element of the SOJA upset. Many reggae fans appeared to have heard of the band for the first time when its members took the stage. A fair number of people now seem content to accept that this clip of Andy Samberg in white-dude dreads is SOJA. Some are saying that, actually, this is SOJA:
Still others are reporting that, having listened to the winning album, they cannot see how it earned a Grammy. "Hot garbage" is one descriptor that sticks in the brain and, listen, I cannot give an opinion either way. I am simply begging Chet Hanks and his brethren to stop it with the faux Jamaican patois.