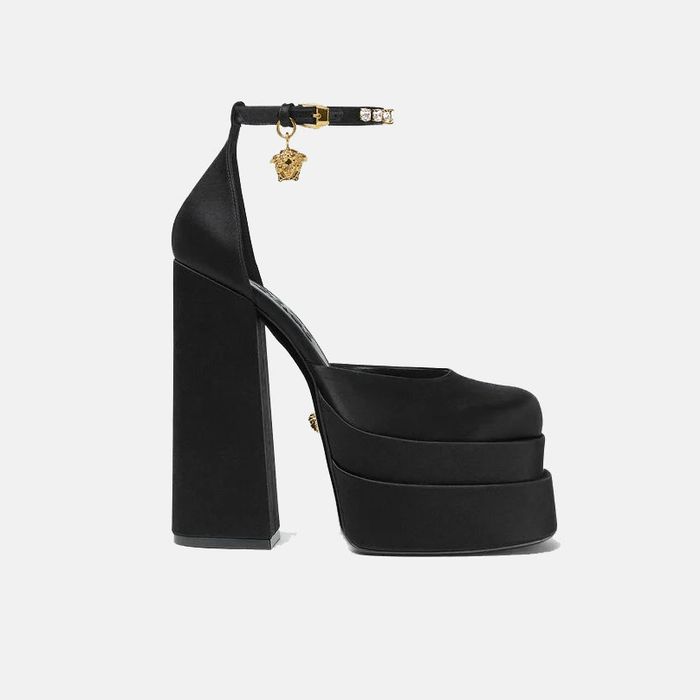 It's not every day that a shoe starts trending, and when it does, it's hard to tell if it's going to be for a good reason (remember Crocs heels?). Thankfully, today is better news. Vogue released exclusive photos from Brooklyn Beckham and Nicola Peltz's wedding, and the one thing everyone seems to agree on is how good her shoes are.
While Peltz's dress was custom Valentino haute couture, the shoes are speculated to be the Versace Medusa Aevitas Platform Pumps. The viral photo revealed the very tip of the shoe, which alone was enough to cause a stir since the platform pumps are unconventional in shape for an occasion on which most brides wear delicate stilettos. But when it was revealed that her hair and makeup were inspired by supermodel Claudia Schiffer in the '90s, it made a little more sense as to why she would choose such a unique bridal shoe.
Peltz isn't the only one who has taken a liking to these Versace shoes. Celebrities like Ariana Grande and Dua Lipa have also been seen wearing these platform pumps. So, of course, that means I now want a pair, too.
If the $1,425 price tag is a little too steep, don't worry — there are plenty of good dupes out there that TikTok users have already proved are almost as good as the real thing.
Below, all the platform pumps still available that won't break the bank.
Photo: Courtesy of Brand.
Photo: Courtesy of Brand.
Photo: Courtesy of Brand.