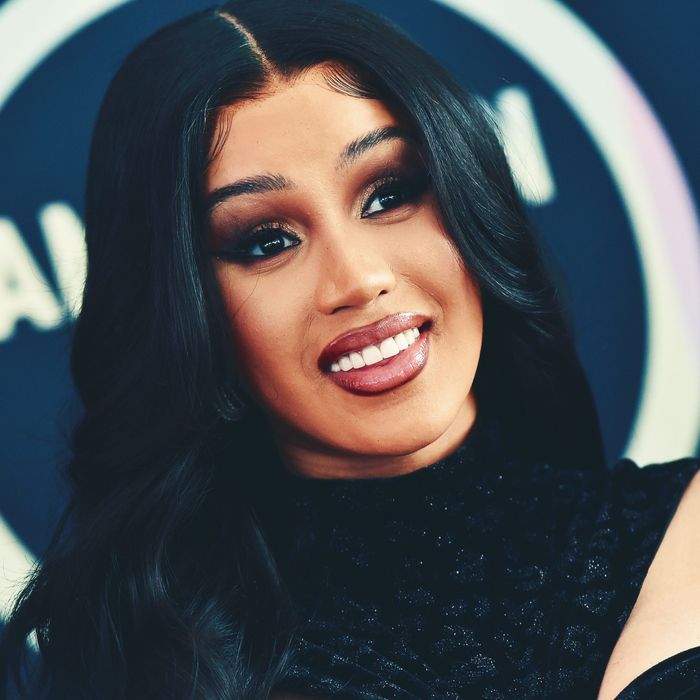 Photo: Axelle/Bauer-Griffin/FilmMagic
While we were busy watching Olivia Rodrigo win a bunch of Grammys tonight, a bit of Twitter drama went down with Cardi B. It appears the rapper has deleted her account after some fans — or, rather, "fans" — harassed her for not attending Sunday night's award show.
Despite being nominated for Best Rap Performance — she lost to Baby Keem and Kendrick Lamar's "Family Ties" — Cardi B decided to skip out on the 2022 Grammys. She was far from the only recording artist to do so; Ariana Grande, Taylor Swift, and Kanye West were among other nominees who were notably absent Sunday night. Regardless, some people were not happy with Cardi's absence.
"I'm deleting my Twitter but on god I hate this fuckin dumbass fan base," she tweeted shortly before deactivating her account. The back-and-forth with her fans appeared to start after she shared one tweet supporting her decision to not attend the awards show. However, things escalated when one fan wrote, "I bet yo son wouldnt like for you to be on your ass while teasing us fans and not ever dropping music," and she responded, uh, harshly, saying, "I hope your moms die." Cardi specifically called out tweets that were "dragging [her] kids" before deleting her account.
It's unclear whether the decision is temporary or not. However, this isn't the first time Cardi has deleted her Twitter.