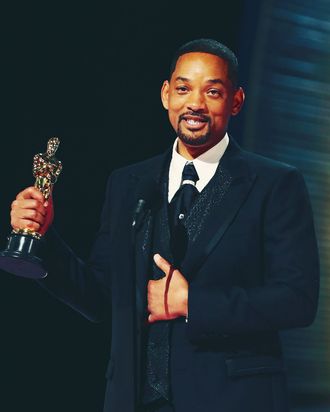 Photo: ABC/ABC via Getty Images
Two weeks and countless celebrity reactions later, the Academy of Motion Picture Arts and Sciences has decided how to address the Oscars Slap. In a letter from its president and CEO, the group announced that Will Smith — who slapped comedian Chris Rock onstage during the March 27 event after the presenter made a joke in poor taste about his wife — will not be allowed to attend any Academy events for the next ten years.
"The 94th Oscars were meant to be a celebration of the many individuals in our community who did incredible work this past year," the letter read. "However, those moments were overshadowed by the unacceptable and harmful behavior we saw Mr. Smith exhibit onstage." The Board went on to apologize for "not adequately" handling the situation during the show, writing, "We fell short — unprepared for the unprecedented." They also thanked Rock for "maintaining his composure" in the moments after the slap, as well as the other "hosts, nominees, presenters and winners for their poise and grace during our telecast."
It's not exactly a surprising decision, if an unnecessarily harsh one: In the days following the slap, the Academy made it clear it was taking the incident very seriously. It announced imminent "disciplinary proceedings" for Smith's "violations of the Academy's Standards of Conduct" on the Wednesday after the Oscars. In the same letter, it also claimed that Smith was asked to leave the event and refused — an account several other reports have disputed.
Despite some speculation that the Academy would revoke the Best Actor Oscar that Smith won shortly following the incident, today's announcement suggests this ban is the only action the Academy will be taking. It also doesn't explicitly bar Smith from being nominated for the awards themselves, though I have to wonder if he'll be getting another nod anytime soon.
Smith, who had already issued a public apology to Rock and the event's organizers, resigned from the Academy of his own accord two days after the disciplinary proceedings were announced — meaning he surrendered his right to vote but could still be nominated and attend the Oscars. The Academy's Board of Governors was supposed to determine his fate at the next scheduled board meeting on April 18, but the meeting was expedited when Smith announced his resignation. "I accept and respect the Academy's decision," he said on Friday after the Board's announcement.
Alas, this decision does not change my feelings about the incident, which are mainly exhaustion and also raging jealousy of Questlove for meditating through the entire thing. Still, I'm glad Smith at least gets to keep his Oscar.