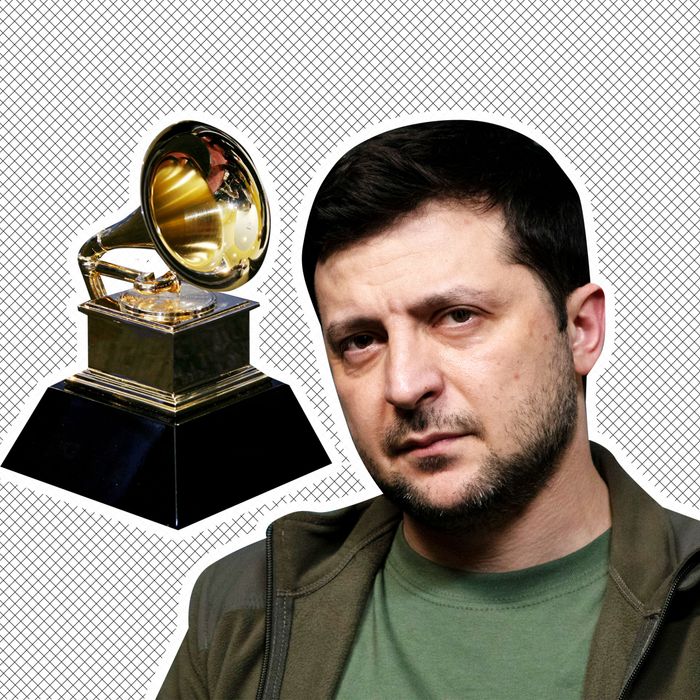 Photo-Illustration: by The Cut; Photos: Getty Images
Last week's Oscars Awards took a few unexpected turns, but one surprise that got largely overshadowed by The Slap was the fact that Ukrainian president Volodymyr Zelenskyy did not make a virtual appearance during the night's events, despite the fact that a few of the night's organizers had suggested he would. It turns out Zelenskyy, who was a comedian and actor before he ran for office, was saving his awards show stop-by for the following week.
Zelenskyy appeared at tonight's Grammy Awards in a filmed monologue, where he talked about the Russian invasion of Ukraine and music's ability to bring peace and comfort to his people. He urged viewers to "tell the truth about this war" on social media and TV. The video was followed by a performance by John Legend, who was joined by three Ukrainian artists to sing his new song, "Free."
As far as respectful entertainment industry dedications go, the segment was actually pretty inoffensive, if a little … strange? At least it was significantly more committed than the Oscars, where the only acknowledgement of the war in Ukraine was a few guests wearing blue ribbons for refugees and a brief (emphasis on brief ) moment of silence where a (cryptocurrency-sponsored) fundraiser was announced. If the celebs insist on turning war into content, it's at least nice to see them involving actual Ukrainians?