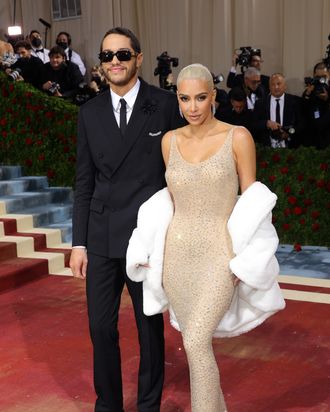 Photo: Mike Coppola/Getty Images
As you may have heard, the Kardashians have arrived at "some gala." That is, the 2022 Met Gala. This year's theme was "gilded glamour," which had a variety of interpretations. However, the Kardashian-Jenner clan's interpretation of the theme was certainly the most … creative.
There were rumors each of their outfits would be inspired by different American icons, but it seems Kris Jenner and Kim Kardashian were the only ones to adhere to the self-ascribed theme. Jenner's look was likened to one worn by former First Lady Jacqueline Kennedy Onassis. (Julianne Moore's Met Gala outfit was also inspired by Jackie O.) As was rumored, Kardashian wore Marilyn Monroe's dress. Not a replica of the dress — the exact dress. Specifically, the one Monroe wore when she sang "Happy Birthday" to President John F. Kennedy. The dress was so form-fitting that Monroe famously needed to be sewn into it. Kim told Vogue she lost 16 pounds in order to fit into it. "I haven't eaten carbs or sugar in three weeks," she said on the red carpet. Haha, what?
In very Kim Kardashian fashion, she showed up her sisters by arriving dead last alongside boyfriend Pete Davidson. He wore a black Christopher John Rogers suit and had to help Kim walk up the stairs.
The rest of the Kardashian-Jenners took their own creative liberties with the Met Gala theme. What does "gilded glamour" mean to Kourtney? "I honestly didn't really think about it," she told Vogue on the red carpet. I appreciate the honesty! Good for her! She didn't do the reading, but she is here anyway. She also described her look as a deconstructed version of fiancé Travis Barker's suit.
It was Khloé Kardashian's first time at the gala, and her look has received some mixed reviews. She wore a gold dress by Moschino, who she said made it "in like ten days." Kendall Jenner wore a giant black gown that took up most of the carpet, and Kylie gave Runaway Bride meets Lids.