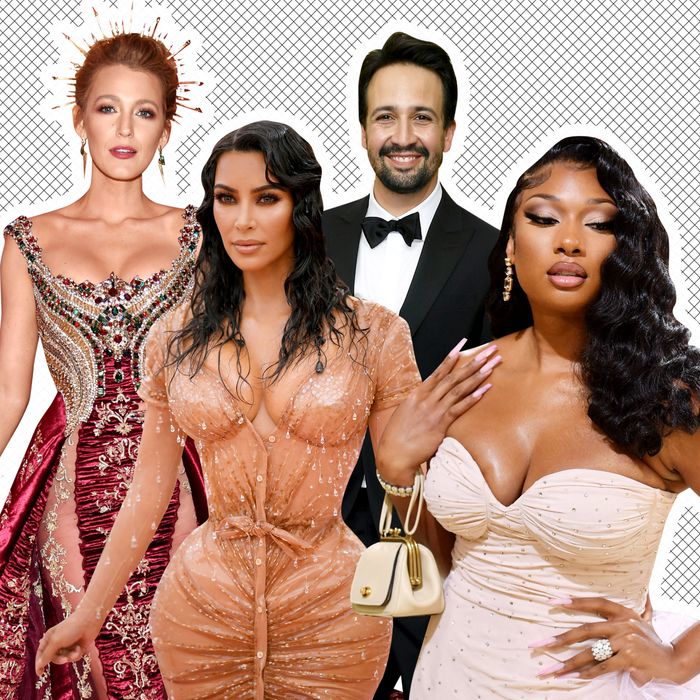 Photo-Illustration: by The Cut; Photos: Getty Images
The Met Gala is almost upon us, whether you understand its theme or not. Didn't we just do this? you're thinking. Yes, we did, because the Met Gala that was supposed to happen in the spring of 2021 got bumped to September because of the pandemic. Now, Vogue and the Metropolitan Museum of Art are back to their regularly scheduled programming, meaning that the biggest fashion party of the year will take place on May 2.
But back to the theme. This year, it's "In America: An Anthology of Fashion," which is a sequel to last year's theme, "In America: A Lexicon of Fashion." But because no one cares about anthologies or lexicons, this year's theme is widely being referred to by the dress code listed on the invitation, which is "Gilded Glamour." It's a reference to the Gilded Age in America, a.k.a. the period of massive industrialization between 1870 and 1900, a.k.a. that HBO show with all the hats. (The era was coined for the thin layer of wealth and excess enjoyed by an elite few that masked a roiling undercurrent of social inequality, which … sounds familiar.) As is custom, the theme goes hand in hand with an exhibit at the Met's Costume Institute, which will reportedly highlight the unsung laborers of the Gilded Age.
More importantly, who will be there? Good question. The celebs may also be feeling like they just did this because at least one of them, whose name begins with a Z and ends with an endaya, already said she won't be there. Still, I think there will be plenty of stars whose couture outfits we may judge from our couches. Let's get into it, shall we?
Who's not going?
Zendaya, as mentioned. Devastating.
Also devastating: It's hard to see a world in which Rihanna, who seems ready to give birth any day now, shows up, even if all she has to do is put on a giant quilt. Given recent legal trouble, it feels safe to assume her boyfriend A$AP Rocky will probably sit out this year's festivities as well. "Page Six" also claims Kanye West, who missed last year's event, isn't expected to attend.
As was the case last year, guests will reportedly need to be fully vaccinated to attend the event. In the past, this caused at least one celebrity to decline her invitation and spew a load of COVID-19 misinformation in the process. Seeing as the list of celebs who are still reportedly unvaccinated keeps growing, I have a feeling this will stir up some more drama this year.
Okay, will anyone be there?
I sure hope so! The night's hosts will presumably be in attendance: Blake Lively and her husband Ryan Reynolds, Regina King, and Lin-Manuel Miranda. Katy Perry has indicated that she'll be there, though sadly not dressed as a hamburger. "Page Six" confirmed that Megan Thee Stallion will be there in Moschino, and Tommy Dorfman is set to make her Met Gala debut. Sydney Sweeney also said that she'll be attending for the first time. Chances are she'll be joined by at least one of her Euphoria co-stars — rumor has it Barbie Ferreira, Hunter Schafer, Alexa Demie, Maude Apatow, and Angus Cloud were all invited. Please, I would do anything to see Angus Cloud stoned at the Met Gala.
"Page Six" claims all the Kardashian women were invited for the first time ever, and they're all scheduled to attend, including Khloé and Kourtney, who've never gone before. Kim told Access Hollywood at last month's premiere of her Hulu show that she's only going "if I fit into my dress," and "it can't be tailored," suggesting she's wearing something archival. Her recent visit to Ripley's Believe It or Not! museum in Orlando has a lot of Redditors theorizing she'll be wearing the iconic dress Marilyn Monroe wore to sing "Happy Birthday" to John F. Kennedy — which was so tight Monroe reportedly had to be sewn into it. For Kim, who took corset breathing lessons for her 2019 Met Gala dress and recently mummified herself in Balenciaga tape, being sewn into a dress sounds like a piece of (birthday) cake. Unsurprisingly, Pete Davidson and Travis Barker are also reportedly going, leading me to wonder whether couture tongue piercings exist.
A smattering of politicians usually end up on the Met Gala red carpet, and this year is no exception: The office of New York's hard-partying new mayor, Eric Adams, confirmed on Sunday that he'll be there. Apparently he plans to "celebrate American fashion" but also "recognize the fraught history of the Gilded Age." His political rival Curtis Sliwa expressed concern that the mayor would show up with a Bitcoin necklace, which, probably. I don't know if I can handle the discourse that another Met Gala appearance by AOC would prompt, but I'm sure she has a couple thoughts on the theme that she may or may not be expressing via couture.
Some TikTokers have also theorized that Taylor Swift, noted close friend of Blake Lively, may finally return to the Met Gala for the first time since 2016.
Other likely attendees include directors Janicza Bravo, Chloe Zhao, and Sofia Coppola, who all directed cinematic vignettes for the accompanying exhibit at the Met.
Is that it?
Probably not. Bella and Gigi Hadid have both been spotted hanging around the Mark Hotel, a big spot for Met Gala fittings, which bodes well for their presence. Bella skipped last year's event — though not, as she was quick to point out, because she was unvaccinated.
Per "Page Six" sources, Addison Rae, Dixie D'Amelio, Madison Beer, and Emma Chamberlain will all be there, as well as Cindy Crawford, her daughter, Kaia Gerber, and Gerber's boyfriend, Austin Butler. The source also said regulars like Serena Williams, Gabrielle Union, and Dwyane Wade are scheduled to go.
The (notoriously unreliable) celebrity-gossip Instagram DeuxMoi leaked a list of invites but, unhelpfully, couldn't confirm whether any of them were going. That list included Olivia Rodrigo (God, I hope so), Kristen Stewart (praying), Lizzo, Taylor Swift, Billie Eilish, Justin and Hailey Bieber, Megan Fox, and Machine Gun Kelly.
There are a few other regulars who also showed up on the leaked invite list, like past hosts Harry Styles, Lady Gaga, and Timothée Chalamet, perhaps with a shirt this time. Sarah Jessica Parker recently rated her Met Gala looks for Vogue, asserting that any outfit worn to the event should be "labor-intensive," so it seems probable that she put in the requisite "seven to ten months" assembling a getup this year. Jared Leto didn't show up on that list, but I personally am banking on him showing up with a wax head of himself as Paolo Gucci.
Also, I would bet my skeletal choker dress Julia Fox is going. Just a hunch!