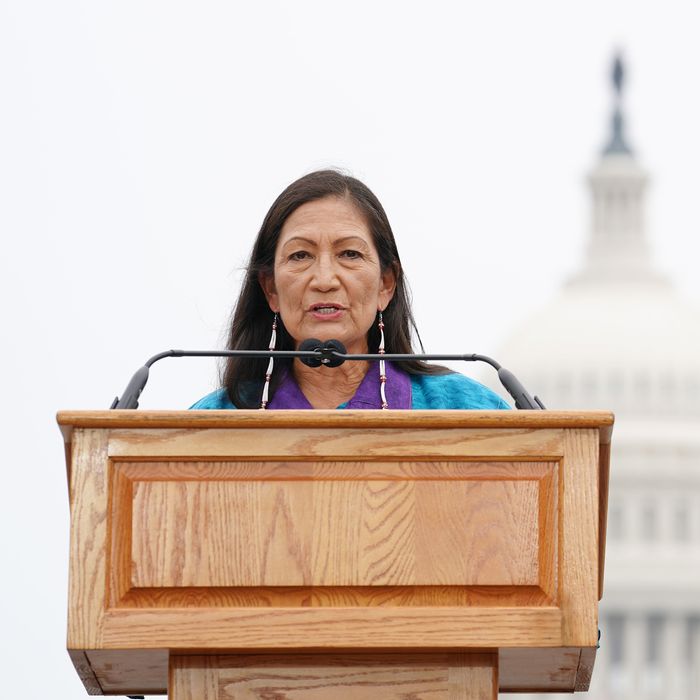 Photo: Jemal Countes/Getty Images for Native Organize
Interior Secretary Deb Haaland and Assistant Secretary for Indian Affairs Bryan Newland released a harrowing report on Wednesday, May 11, looking into the history of federal Indian board schools, which were reportedly responsible for hundreds of children being taken from their homes and families, forced into assimilation by the supposed school system, and, in many cases, child deaths. The first report, drafted by Haaland and Newland as part of the Federal Indian Boarding School Initiative, states that the investigation found 53 marked and unmarked burial sites at these schools scattered across the country.
The 408 Native American Boarding schools being investigated were run by the government and religious institutions from 1819 to 1969. Over the years, Secretary Haaland tweeted, "tens of thousands of Indigenous children were taken from their communities and forced into boarding schools." Per the report, the schools were spread out across 37 states, with 21 in Alaska and 7 in Hawaii. The investigation is still ongoing, but the preliminary findings are staggering, with CNN reporting that the report found that "19 boarding schools accounted for over 500 American Indian, Alaska Native, and Native Hawaiian child deaths." They are currently working on identifying as many children as possible, but given poor record keeping, it's unclear how successful they will be. Per the AP, Tribal leaders are hoping to have children identified so that the remains can be returned to their tribes.
A press release from the Department of the Interior stated that the investigation found that these 408 schools "deployed systematic militarized and identity-alteration methodologies in an attempt to assimilate American Indian, Alaska Native, and Native Hawaiian children through education." This reportedly included cutting off children's hair, giving them English names, and forcing them to speak only in English. Children were reportedly abused, beaten, and sometimes even held in solitary confinement. The report also notes that "the school system largely focused on manual labor and vocational skills," which limited employment opportunities for attendees, and thus "disrupting Tribal economies."
"The consequences of federal Indian boarding school policies — including the intergenerational trauma caused by the family separation and cultural eradication inflicted upon generations of children as young as 4 years old — are heartbreaking and undeniable," Secretary Haaland said at a press conference. Haaland's paternal grandfather reportedly attended one of these schools for several years.
The Federal Indian Boarding School Initiative was created last year after Canadian authorities uncovered thousands of remains on the grounds of three boarding schools for Indigenous children. Its work is ongoing, with Assistant Secretary Newland recommending that the government create a list of marked and unmarked burial sites at these boarding schools and continue to investigate the lasting effects of the trauma. Secretary Haaland also announced "The Road to Healing," a year-long tour aiming to connect survivors of the federal Indian boarding school system with the Department of the Interior, so that they may share their stories, get "trauma-informed support," and potentially participate in a "permanent oral history."