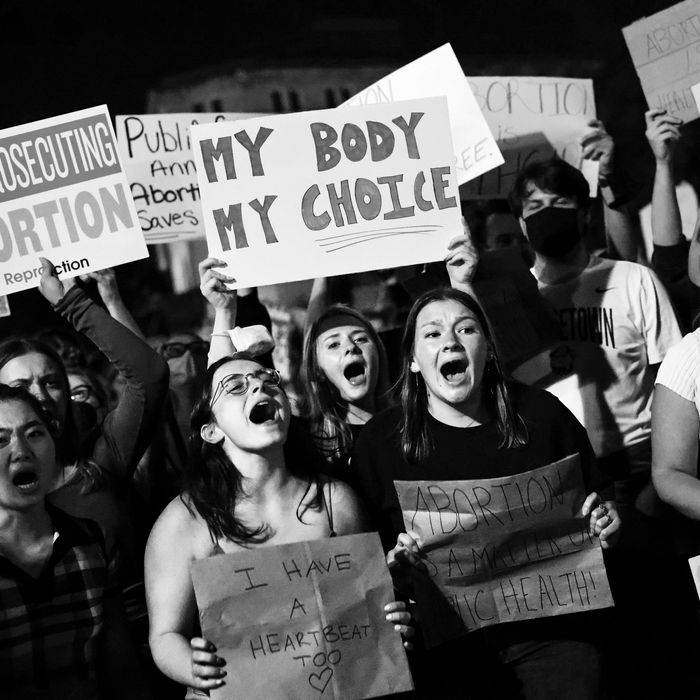 Photo: Ting Shen/Bloomberg via Getty Images
Many of us knew it was coming, but it was still terrifying to read the leaked Supreme Court draft opinion confirming that the right to an abortion as we've known it for the past 50 years is set to end later this summer. More than half of states across the U.S. are expected to outlaw or severely restrict the procedure if the draft opinion holds; a dozen of them already have laws on the books that would ban abortion immediately after Roe v. Wade falls.
It's difficult to overstate how enraging this news feels. We're staring down an abortion landscape where the clock will be set back half a century. Where people will be forced to give birth with no universal paid family leave or child care to fall back on. Where having agency over our bodies will be entirely dependent on where we live. All this in a country that already has the highest maternal-mortality rate among its peers.
For decades, people have come of age assuming they have the right to choose if and when to parent. Access to abortion care, combined with other feminist achievements including access to contraception and anti-discrimination laws, empowered us to pursue the lives we wanted for ourselves.
For those who've been paying attention, the writing has been on the wall since Roe was decided in 1973. Over the past five decades, conservatives have introduced an onslaught of abortion restrictions — the Hyde Amendment, 20-week bans, waiting periods, ultrasound requirements, and TRAP laws — making the procedure harder to access. These measures have largely impacted poor people and people of color in conservative states. The leaked Dobbs v. Jackson Women's Health Organization draft opinion is the climax of this decades-long right-wing political project to obliterate legal access to abortion.
Knowing all of this context doesn't make this moment any less painful. And if recent legislation gives us any indication, abortion laws will only get more punitive and dangerous from here. But we can still harness our anger to take action to mitigate the damage and help people who need abortion care.
"This is an outcome we have been preparing for for a long time," says Debasri Ghosh, managing director at the National Network of Abortion Funds. "Despite how disheartening this news is for abortion-access advocates, there are really powerful, simple actions you can take today and in the coming months. This is a long game. This is not a onetime crisis moment."
Tell people abortion is still legal
The leaked draft is not the law of the land. Only if the Court issues a decision overturning Roe, likely in June, will individual states be able to decide how to regulate and restrict abortion.
Abortion remains legal to varying degrees in all 50 states. Providers will still offer care today and in the coming weeks, and anyone with an appointment should keep it.
Donate to a local abortion fund
Abortion funds are a lifeline for patients who need financial or logistical support to access care. They are especially important for people who need to travel, often hundreds of miles, to get the procedure done. But even though abortion funds offer crucial services, they are severely underfunded compared with national organizations such as Planned Parenthood. Both single and recurring donations are incredibly useful for these community-based organizations. We have compiled a list of funds in every state, starting with the places where lawmakers are most hostile to abortion and where patients need the most support.
Connect with organizers in your area
You should ask yourself what kind of abortion-advocacy infrastructure exists in your area. "The natural inclination for folks when other abortion bans have been introduced has been, Let's start our network. Let's start an organization to help get people where they need to go," says Oriaku Njoku, the co-founder and executive director of Access Reproductive Care–Southeast, an Atlanta-based abortion fund. "But we're literally in a network of over 90 organizations committed to doing exactly that."
Instead, call up your local abortion fund and ask what type of help is needed in your area, Njoku suggests. Are providers in need of clinic escorts? Do funds need IT support? Could organizers use someone with experience doing media or planning events? Your community is likely where you'll have the most impact, and following the lead of people who have already been doing this work on the ground will ensure that your time and support are invested efficiently.
Show up at a protest
Show your opposition to the Court's likely ruling by showing up at one of the many rallies being organized across the country this week. There's also a national week of action planned from May 8 to 14.
Discuss abortion as much as you can
"Talk with your family, talk to your friends, talk to your co-workers about how abortion is normal," says Ghosh. "There is so much stigma and shame surrounding the abortion conversation right now, and one of the most powerful things we can do is break down that stigma and shame for everyone."
Here is a guide from the Texas advocacy group Avow on the best ways to compassionately and factually talk about abortion. And if you'd like to share your own experience with abortion, consider getting involved with We Testify.
Call your lawmakers
The Women's Health Protection Act looks to protect the right to an abortion by codifying Roe's provisions into federal law. Although the measure passed in the House, conservatives blocked it in the Senate earlier this spring. Senate Majority Leader Chuck Schumer said Tuesday that he will hold another vote on the bill, so you can still call your senators and tell them to support it. Here's a step-by-step guide on how to contact your congressional representatives.
You can also contact your state lawmakers to tell them that you oppose anti-abortion laws and that they should enshrine the right to choose. Find out who represents you here.
Prepare for the future
Local abortion providers and advocacy organizations are the experts on what's happening both in your state and nationally. The landscape of access is constantly changing, so make sure to subscribe to their email lists and follow them on social media to stay up-to-date with any new developments and ways to take action. If you want more practical information for the long term, consider getting The New Handbook for a Post-Roe America: The Complete Guide to Abortion Legality, Access, and Practical Support, by activist and writer Robin Marty.