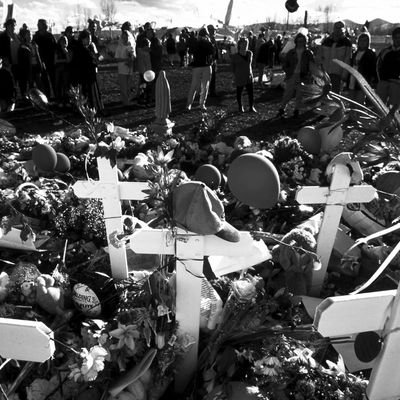 Flowers and tokens laid at a makeshift memorial to 13 victims killed at Columbine High School.
Photo: Steve Liss/Getty Images
Twenty-three years ago, Missy Mendo was a freshman at Columbine High School when two gunmen killed 12 of her classmates and one teacher. Now 38 and mother to a daughter set to attend preschool later this year, Mendo is the director of community outreach at the Rebels Project, a nonprofit organization founded in 2012 by survivors of the Columbine and Aurora movie-theater shootings. The group provides assistance to people who survive mass shootings across the country, from hosting support meetings to funding mental-health and counseling services. On Tuesday afternoon, Mendo was working from home in Colorado when she got the news that a gunman had opened fire on Robb Elementary School in Uvalde, Texas, killing 19 kids and two teachers. One of the texts she received that day read, "Not again." 
My mother and I both recently battled COVID, so we've been staying home. I was on a break from work and had started to fill out my daughter Ellie's preschool paperwork. She's 4, and she will begin school in the fall. I started getting these text messages: "I see what's going on. Are you okay?" "I love you." "Stay away from the news." "Not again." My heart dropped. I would rather hear the news from another survivor or somebody who's close to me, rather than randomly find out through social media.
I stopped doing her paperwork because I have no idea how I'm going to get through that and feel okay to submit it. It will get done because I don't want to project any kind of fear onto my child. That's my biggest thing — I don't want her to ever be afraid. But I had to walk away. I opened the window, and I had to take some breaths of air. I am here filling out paperwork so my baby can go to school, while other parents in Texas will be burying theirs. This shouldn't be happening. How do you close that loop?
The idea of her going to school didn't dawn on me until my child was about a year old. It was the 20th anniversary of our shooting, and I decided to go back into therapy because the thought of dropping my child off on her first day of school is one of the biggest fears of my life. I've thought about her coming home and talking to me about those kinds of drills. Something that has gotten me through it is keeping in check with my mental health and talking with other survivors who are parents and have gone through sending their child to school. Their advice and guidance is something that helps me. They've said, "When they get to a certain age, they can handle certain things." Or, "It's a gradual thing. It's not all at once. They may start asking questions, and you can then decide how to answer." I just feel like I'm going to have to take it one day at a time.
She's actually going to be right down the street from Columbine. I know the security people who are in that building, and they are friends of mine. That has really reassured me as far as the safety of the school. One of them is a survivor himself.
Back then, I was 14 and I was sitting in math class when we heard these loud noises. I thought they were somebody hitting the lockers, but it was gunshots. I heard a rumbling, and it was actually kids running. Somebody yelled, "They have guns. They have bombs." I went to the park across the street, and you could see smoke coming out of the back of the building. We were standing there thinking it was some kind of a senior prank. And then they started shooting at us in the park. We ran into the neighborhood, and eventually we could contact our parents. At the time, school shootings were not a thing, so we survivors really bonded together. After it happened, I just needed to get through high school. It was very difficult.
When we were able to go back to class, there were still large portions of the school that had to be repaired. The library was still there. But the staff at the school made it so insanely calm. They tried as hard as they possibly could to get through every day for themselves and for us. My teachers were so impactful in my life. I graduated and moved away to the East Coast. I lived out there for 11 years and then came back about eight years ago, and I've been here and been a part of the Rebels Project ever since.
I've spoken to thousands of survivors and know so many of these communities. I've been to the Heath High School community, the Boulder King Soopers community, the STEM Highlands Ranch community, the Route 91 Las Vegas community. There's just such a shock wave going through the survivors community right now, and such horrendous mental-health setbacks are happening.
Each shooting affects survivors in a different way. Some instances may be more triggering than others. Children and animals are my kryptonite. Sandy Hook affected me deeply. The Marjorie Stoneman Douglas shooting affected me significantly. And Route 91 affected me because I worked for a large entertainment corporation that was based in Atlantic City for years. We've been to Las Vegas. We knew the properties, the industry, everything about the building. That one was extremely, extremely triggering to me.
As far as Ellie's first day of school, I've been looking up tips, tricks, and trades to prepare for it. This article came up about President Obama, and he was talking about him and Michelle becoming empty nesters because both of their daughters left for college. They asked what advice he had to give. He said, "Wait to cry until you get into the car." I felt like it very much applies to my situation. I will stand in front of the school with her. I will take her pictures of her first day at school and walk her to class and pump her up and make sure that she is happy. And then I will wait to cry when I get into the car.
This interview has been condensed and edited for clarity.