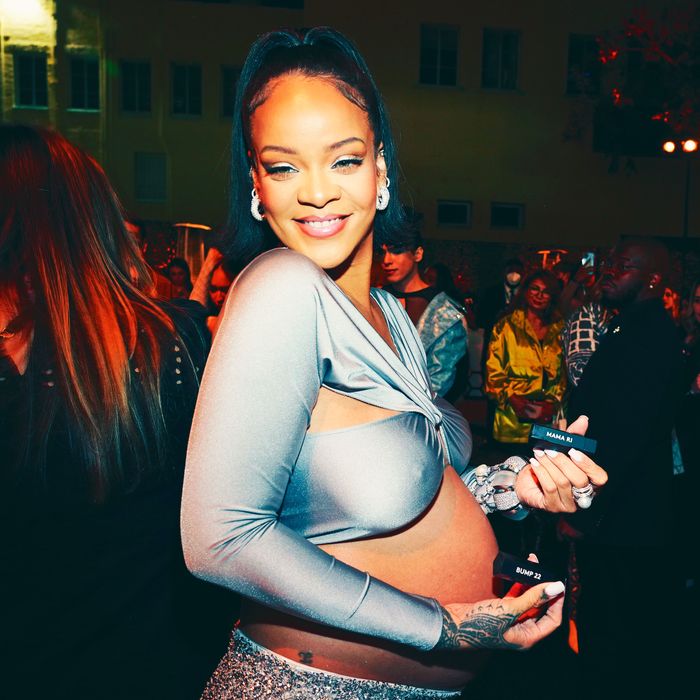 Rihanna celebrating the launch of Fenty Beauty at ULTA in March 2022.
Photo: Kevin Mazur/Getty Images
Can you really have a Met Gala without Rihanna? Sure, there were plenty of other great celebrities — Riz Ahmed in a Prada-fied homage to the era's immigrant laborers, Lizzo with her golden flute — but nothing made up for the absence of the gala's patron saint, the Right Excellent Robyn Rihanna Fenty. Though it was always unlikely that Rihanna would attend (she is extremely pregnant), I was still hoping. After all, this is the woman who served us looks like sparkly pope and beautiful, giant omelet.
The answer, clearly, is no, and even the Met agrees: The museum and Vogue paid tribute to Rihanna by immortalizing her April Vogue cover into a digital rendering of a marble statue, Alaïa bodysuit, baby bump, and all. Vogue unveiled the statue on Instagram on Tuesday, and well, behold:
This is celestial. This is the zenith of maternity fashion. Per Vogue, the statue of Eirene — the mythological personification of peace, the daughter of Zeus, and a goddess of the seasons and time — is normally the "highest-profile marble goddess" at the Met's Greco-Roman galleries. But Rihanna's digital pregnant marble form usurped her, naturally. Rihanna herself seemed pleased by her likeness, which was made by Ross Shuman and Nick Lines's animation studio ApeManRobot. "Shut down the met in marble! What's more gilded than that?" she captioned an Instagram post sharing Vogue's video and thanking the magazine and the Met for the homage. "Y'all bad for this one!"
To which I say, thank you, Rihanna, for presiding over this year's gala in digital-goddess form. We couldn't have done without you. I hope your human form spent the evening relaxing on the couch and watching Real Housewives.