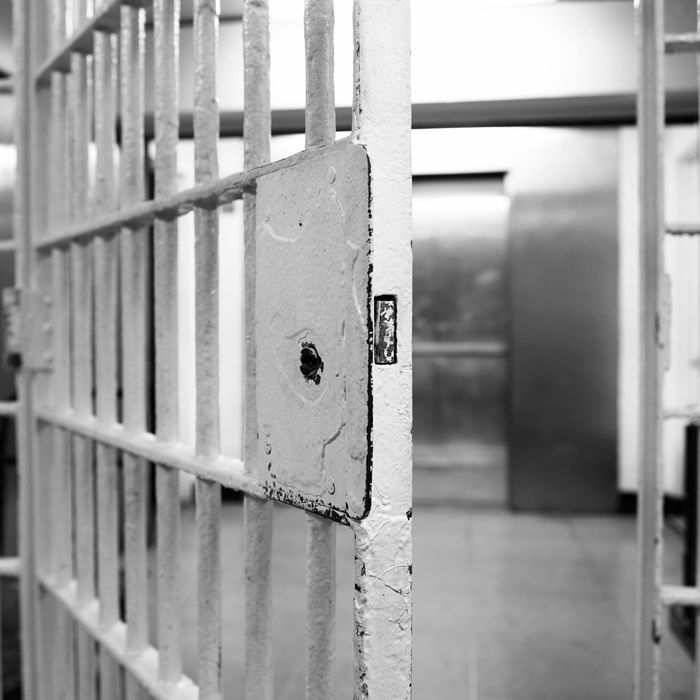 Photo: Hans Neleman/Getty Images
On December 31, 2017, then-29-year-old Adora Perez was booked into a California jail. Less than 48 hours earlier, she had gone into labor, delivering a stillborn son she named Hades. But while she was grieving her baby, her doctors were calling the police. The local district attorney charged Perez with murder, alleging that she had killed her unborn child by using meth during her pregnancy (as I reported last year for the Cut). Six months later, on June 15, 2018, she was convicted of manslaughter and sentenced to 11 years in state prison.
But on Monday, after spending four years incarcerated, Perez had her case dismissed by the district attorney.
The "dismissal of the charges against Ms. Perez is much-needed good news after a long battle for her freedom," Mary McNamara and Audrey Barron, two of Perez's attorneys, told me in an emailed statement. "We hope this result heartens advocates around the country who continue to fight against criminalizing pregnancy loss. We are thrilled for our client, who is doing well and whose future is bright."
Just weeks after Texas implemented its six-week abortion ban last September, California announced that it would become a "reproductive-freedom state." More than 40 reproductive-rights organizations joined together to form the California Future of Abortion Council, which issued 45 policy recommendations that California should implement to truly become a reproductive-freedom state. One of those recommendations: "Protect people from prosecutions and criminalization of abortion or pregnancy loss."
In that spirit, California's attorney general and state assembly began pursuing policies to dissuade local prosecutors and police from bringing charges related to pregnancy loss. But until this week, it remained unclear whether the state would be able to live up to its goal with Perez's case still working its way through the legal system.
The nature of California's murder law has been at the center of this case. California Penal Code Section 187 defines murder as "the unlawful killing of a human being, or a fetus, with malice aforethought" but gives three exceptions: under the state's Therapeutic Abortion Act, to protect the life of the mother, or when the act was "solicited, aided, abetted or consented to by the mother of the fetus." Because of that, reproductive-rights advocates argue that Perez should never have been charged with murder.
But Perez didn't spend the past four years incarcerated on murder charges: She had been convicted, instead, of manslaughter. During one of her earliest hearings, Kings County district attorney Keith Fagundes entered a count of voluntary manslaughter as part of a plea bargain; rather than pleading guilty to murder, which could have resulted in a life sentence, Perez could plead guilty to manslaughter and face a maximum sentence of 11 years. The key to this arrangement, however, was an understanding between Perez's court-appointed lawyer, the DA, and the judge. Manslaughter did not apply to cases of pregnancy loss under California law. The charge was simply a way for her to avoid a longer sentence.
Perez could easily have spent 11 years incarcerated if another woman had not been charged under nearly identical circumstances. In November 2019, Chelsea Becker was charged with murder by the same district attorney after using methamphetamines and delivering a stillborn child at the same hospital as Perez. Becker's case made national headlines, and in investigating her story, a Los Angeles Times reporter stumbled across Perez's case and brought it to the attention of reproductive-rights advocates who arranged pro bono legal representation for her.
Since Perez was first convicted, California has taken two notable steps to discourage prosecutors from bringing charges against people who experience a pregnancy loss or have an abortion. First, following the guidance of the California Future of Abortion Council, Attorney General Rob Bonta issued a legal alert to the state's district attorneys and law enforcement in January, clarifying that California's murder law does not apply to miscarriages or stillbirths. Legislators also introduced a bill, known as AB 2223, that would specifically forbid prosecutors from bringing charges against people who experience a pregnancy loss or have an abortion, and it would even allow them to sue prosecutors who do bring charges.
Over the past two years, Perez's attorneys worked to reopen an appeal that would allow her to contest the fact that she had been charged with murder in the first place. In March 2022, the Kings County Superior Court ruled that Perez should never have been convicted of manslaughter and vacated her sentence. However, it determined that Perez would need to stand trial on the original murder charges. Although she wasn't yet free, advocates hoped she would finally have the opportunity to argue that neither manslaughter nor murder applies to pregnancy loss under California law.
Weeks later, Perez was released on bail. After four years behind bars, she entered a drug-treatment program while she awaited her day in court. Before the preliminary hearing for the trial, the DA dismissed the murder charge.
In court filings, District Attorney Fagundes explained that while California is likely to pass AB 2223, which would clarify that murder charges do not apply to pregnancy loss, he will refile murder charges against Perez if the bill doesn't become law.
In a press release, Perez's attorneys explained that the charges were dropped because the district attorney had not identified a medical expert to testify that methamphetamine use had caused her stillbirth. Despite common misconceptions, addiction-medicine providers say that drug use during pregnancy does not cause stillbirths.
Although Perez is now free, her case is only part of the current challenge facing the United States as the Supreme Court appears prepared to overturn Roe v. Wade. Between 1973 and 2005, the nonprofit National Advocates for Pregnant Women tracked 413 cases of arrests or forced interventions against pregnant women in the U.S. In half the number of years, from 2006 to 2020, that number has tripled to more than 1,300 cases. NAPW advocates expect those numbers will dramatically increase with the fall of Roe, which is why state protections, like those proposed by California's AB 2223, are so important.
"Adora Perez can now begin to rebuild her life, but nothing can ever make up for this unlawful and unjust prosecution," said Dana Sussman, acting executive director of NAPW. "With both Adora Perez and Chelsea Becker free, we can focus on ensuring this never happens again in the state of California. We are reassured by the state legislature's and California AG's efforts to end pregnancy criminalization. It's a model that anyone who believes in upholding the full personhood of pregnant people should follow."
Jennifer Chou, a staff attorney at the ACLU of Northern California, which co-sponsored AB 2223, agreed: "There's this misconception that California is a progressive bastion. We do have very strong laws and policies in place, but laws and policies only get you so far. That is not an assurance of access, and that's not an assurance of justice. It is the floor," she said. "We hope it can be a model for other states who are looking for ways to prevent these kinds of prosecutions from happening in their communities."