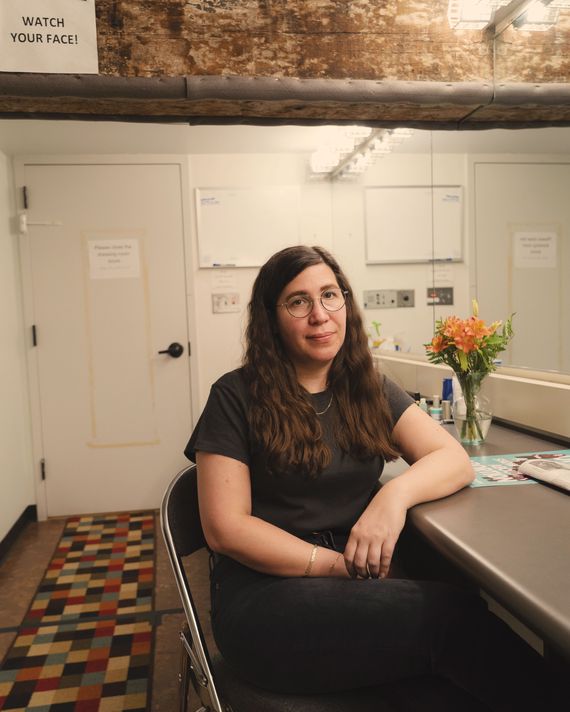 Three days after the Supreme Court leak heard round the world, the crowd at Alison Leiby's one-woman show about abortion was ready to laugh. "My mom told me to kill it tonight," the 38-year-old comedian deadpanned as she took the stage at the Cherry Lane Theatre in the West Village. "I already did." The theater was packed, the buzzy crowd a near-even split of men and women, from college students to well-dressed senior citizens posing for photographs in the lobby. Out front, I spotted Queer Eye's Antoni Porowski as well as Midori Francis from The Sex Lives of College Girls. Nearby, three young women discussed egg freezing — "Are you gonna?" "Yassss!" "My friend did" — and everywhere I turned there were more spring dresses than visible dread. Jasmine Holloway, 31, manages a boutique in Astoria and heard about the show through a friend. "I saw the title and jumped. I mean, who hasn't had an abortion?" she said.
Leiby — whose writing credits include work on The Marvelous Mrs. Maisel — has been performing this set, Oh God, a Show About Abortion, since January 2020, but it achieved peak visibility this week. She had wrapped Monday's show and was eating dinner at Via Carota when she heard the news that the Supreme Court had privately voted to overturn Roe v. Wade. "I almost started crying," she said, and she spent the next few hours scrolling through an endless stream of texts. Then, less than a day later, she was back onstage. "I'm not changing anything in response to the news, but I understand that your feelings toward it might be different," she told the audience before Tuesday's show. "If something is funny, not funny, cathartic — feel that. That is valid. I'm not up here dancing for applause. We're in this together."
On Thursday, there was no preface. The news had cast an implicit shadow over a roomful of people who were there for different reasons: escapism, solidarity, a little levity. Over a 70-minute set, Leiby told jokes about bad public-high-school sex ed and how the only part of being in labor that men would be good at is shitting in public. Slipping easily from light fare to dark, she turned the theater into an intimate space. When she asked who else had almost died from Yaz (a birth-control pill allegedly linked to high rates of blood clots), a number of people raised their hands. Arriving at the story of her own abortion — she found out she was pregnant while on tour in Missouri in 2019 and returned to New York to have the procedure at Planned Parenthood — Leiby acknowledged the anticlimax.
But that's the point. She wants to make clear that, for her, having an abortion wasn't an "outrageous trauma." At the same time, she recognizes that her experience is rapidly becoming an enormous privilege — having enough access to abortion that it's little more than an inconvenience. "I'm very aware that my experience at this point is the easiest version you can get in this country, and that's less and less realistic and accessible for many people in light of the news about Roe," she told me.
After the show, Leiby changed into jeans and a striped shirt and we ambled off in pursuit of stiff drinks. As we ordered spicy margaritas at Joseph Leonard, she was sniffling. "The past two days have been emotional," she explained, "but these are allergies."
"I've always written my life pretty earnestly and jokingly," said Leiby. So when she got pregnant at 35 after deciding not to have children, she knew she had to write about her abortion, too. As she started doing sets at stand-up shows in the East Village, the prospect of bringing up her abortion intimidated her. "I was not confident. I bombed so hard," she said. "The bit required me to say, 'I just had an abortion.' I could feel the crowd tighten, and I was nervous. We're taught abortion can't be funny."
Over the past few days, she said, she has sensed "an unspoken group feeling, especially seeing so many women sharing their abortion stories." Emotionally, it's been a mixed bag. "There's part of me that's like, Wow, I'm part of this conversation," she said. "But then I think of all the states with terrible laws that will be upheld because of Roe being overturned. I couldn't have had my abortion in a lot of those states, which is scary." Watching the crowd of mostly white New Yorkers laugh along with Leiby's set, I found it hard to escape the feeling that the people who would be most affected by the impending decision weren't in the room.
This week's news cycle has brought a huge surge of interest in the show, which Leiby said has been "a strange needle to thread." "Every time I share a post on Instagram, like 'The show is amazing, go see it,' I'm like, Yuck, this feels awful," she said. "It feels gross to self-promote and capitalize on what is a horrific moment in human rights." She's hesitant to call her work important ("I'm a comedy writer; nothing is important, everything is icing"), but the response has been moving. "More people have told me about their abortions in the past four days than they have in my whole life," she said. "It's amazing."