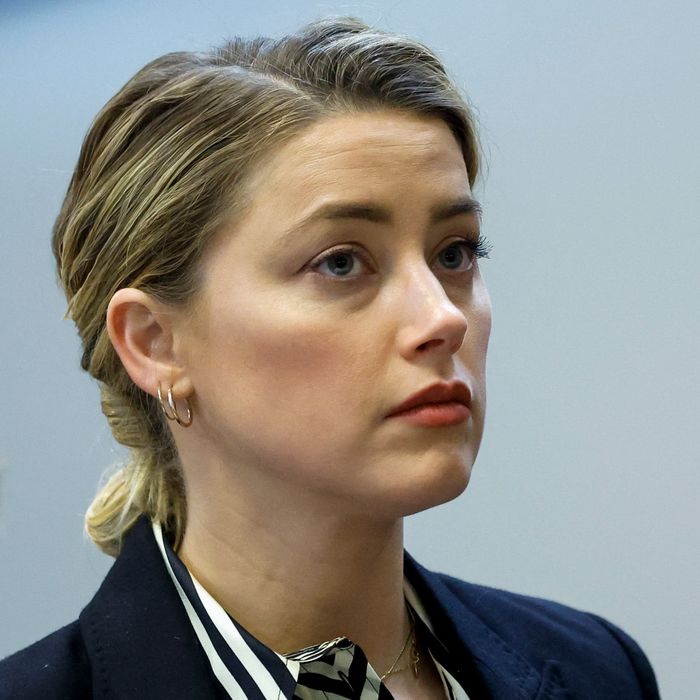 Photo: JONATHAN ERNST/POOL/AFP via Getty Images
For six weeks now, Amber Heard and Johnny Depp have been in court for their ongoing defamation trial. On the stand, Heard has described five years of abuse she claims Depp inflicted on her, while Depp has denied he was ever violent and suggested he's the true victim of abuse. As the trial has unfolded, Heard has been the subject of vicious attacks online, with hordes of Depp fans flooding social media and court livestream comment sections with insults, threats, and accusations that she's lying. On Thursday, Heard took the stand for her rebuttal testimony and spoke about being on the receiving end of this endless stream of vitriol.
"I am harassed, humiliated, threatened every single day, even just walking into this courtroom," she said, "having the worst parts of my life used to humiliate me." She continued:
People want to kill me. They tell me so every day. People want to put my baby in the microwave. They tell me that. Johnny promised me that if I ever left him, he'd make me think of him every single day that I lived.
Heard also described how her alleged abuse has impacted her day-to-day life. In previous testimony, Heard recounted a string of fights between the couple throughout their relationship that she said involved Depp slapping, shoving, choking, and, in one instance, sexually assaulting her, recalling times that she thought he was going to kill her. As a result, she said Thursday, her friends and partners follow "unspoken rules about how to not scare me, how to not touch me, not to surprise me." She said she has rules for "doctors, medical professionals, and gynecologists," who have to touch her to examine her, and that she has had "meltdowns" on set while training to do combat scenes. "I'm not sitting in this courtroom laughing, smiling, making snide jokes," she said. "This is humiliating for any human being to go through. I'm a human being. Johnny promised that I deserved this and that he'd do this, and I don't deserve this."
Heard was also questioned about comments made by Depp's former attorney Adam Waldman, who called her allegations a hoax in several interviews in 2018 and was later dismissed from this case in 2020. When asked what kinds of threats she's gotten since Waldman first started making these claims, Heard said that she receives "hundreds of death threats regularly, if not daily. Thousands since this trial has started."
"I just want Johnny to leave me alone," she said. "Johnny has taken enough of my voice. I have the right to tell my story. I hope I get my voice back."
The jury will hear closing arguments Friday morning and then jurors will be dismissed to deliberate.