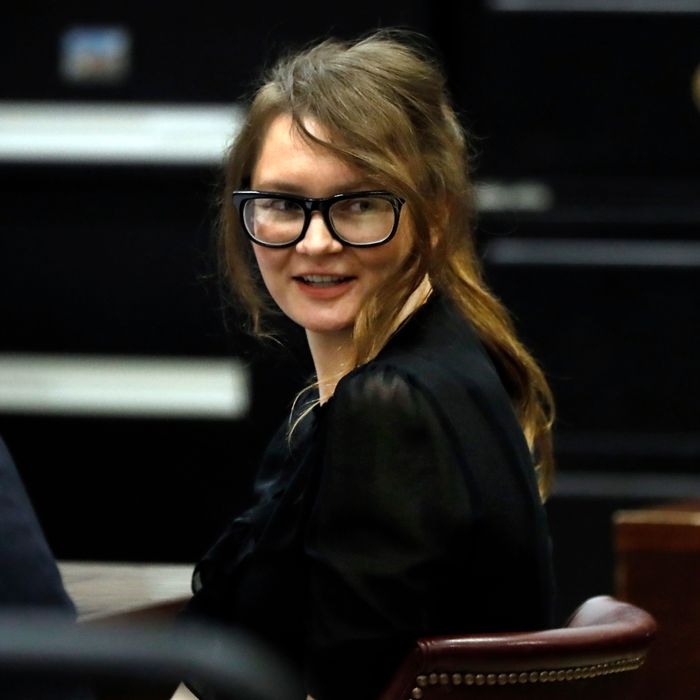 Photo: Richard Drew/AP/Shutterstock
Notorious scammer Anna Delvey now fancies herself … a lawyer? Without any apparent legal education or license, Delvey, the woman who tricked New York's upper crust, is apparently talking about starting a law firm.
The "announcement" came in the form of a message Delvey (née Sorokin) sent to Insider reporter Jacob Shamsian, who posted a screenshot on Twitter:
"Today I am so very excited to launch my own legal practice," she wrote, listing her firm as "Delvey & Daughters, PLLC, or short 'Double D'" along with a "Warning: Highly Litigious." How to get in touch? Naturally, dial 1-800-BETTER-CALL-ANNA, which, it's worth noting, is far too many digits to be a real phone number. The address listed for the law firm matches the ICE facility in Goshen, New York, where Delvey has been detained since March 2021, six weeks after she was released from prison.
Delvey's limited legal experience comes mainly from her own trial, where she was found guilty of charges including grand larceny and theft of services. Her past (and present) legal troubles have not deterred her, though — in fact, she seems to believe they work to her advantage. "Some may say that being jail [sic] is not a great look for a lawyer but I'm once again expecting to prove my detractors terribly wrong," Delvey wrote. "It merely means I have more time to focus on solving my clients' issues as opposed to wasting time on pointless dinners and small talk the rest of the world is subjected to on daily basis [sic]."
All of this raises many questions, most notably: Is she serious? The announcement ends with the note that retainer is "payable in Dogecoin exclusively." By the way, Delvey is also launching a solo art show at the Public Hotel this week. Best case, this is all performance art? That said, she's certainly fooled people before.