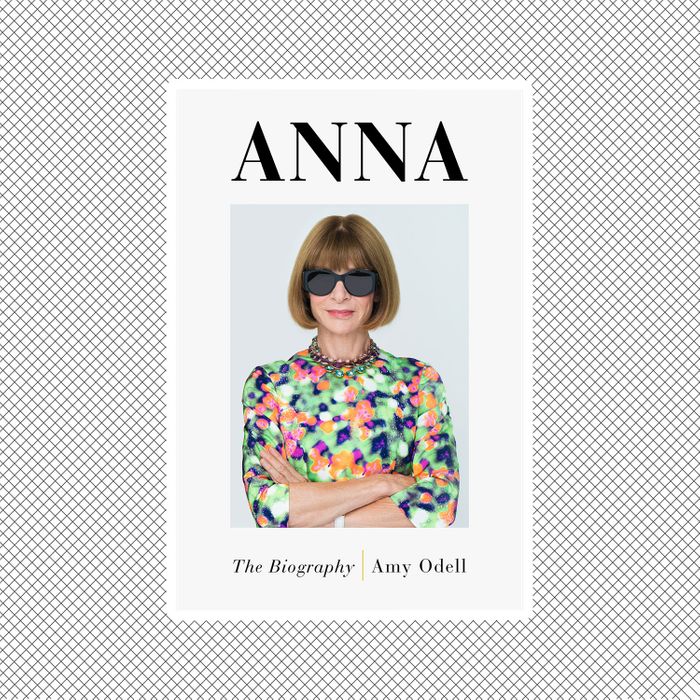 Photo-Illustration: The Cut; Photo: Simon & Schuster
In 2018, when Amy Odell set out to write the definitive biography of Anna Wintour, she was met with mixed reactions. "Some people told me, 'You're not going be able to do this,'" she recalls. "'Condé Nast is going to shut you down. She's going to shut you down.' But other people said, 'I think she's going to help you; don't worry.' It was interesting to get both of these perspectives early in the game."
Ultimately, what transpired was something in between. Wintour declined multiple requests to be interviewed, but she did seem to give her blessing to those in her inner circle to participate — the next best thing to an A.W.O.K. (which stands for "Anna Wintour okay," a stamp of approval on staffers' work).
The result is a stunningly thorough, balanced, humanizing portrait of the most powerful woman working in fashion, and one of the most powerful business leaders in America. Of course, it chronicles every time she's ever cried (hardly ever) or said or published something offensive (a more regular occurrence). But the things people normally salivate over — her Starbucks order and the toils of her various assistants — are the least interesting parts. After speaking with over 250 sources and poring over letters and magazines, Odell gives us countless juicier, more illuminating details to gobble up. We learn, for example, about Wintour's love affairs (not with Bob Marley, for the record). That she once thought Bill Gates was attractive. That she was fired more than once. That her lunch order is a Caprese salad without tomatoes (???). That she banned chives from the dinner menu at the Met Gala. And that she put Madonna on the cover of Vogue because some random guy she met on a plane said the magazine would "never" do that.
In sum, Anna: The Biography gives readers unprecedented access to the Vogue editor-in-chief's exacting, heavily guarded mind. Below, we spoke to Odell about her reporting process and how she wrote the definitive biography of Wintour without access to the woman herself.
You started working on the book in 2018. Where did the idea come from, and what was your starting point?
I was waiting to go into labor with my son when my agent and I got on the phone. She told me an editor at Gallery — they published my first book — was thinking about doing an Anna Wintour biography, and I thought that was such a great idea. I got chills right away. I went into labor the next day, and when I recovered, I put together a proposal.
If you just think about business leaders in general, it's hard to think of anybody who compares to Anna in terms of longevity. Jeff Bezos, for instance, has been at Amazon for 27 years. Anna Wintour has been at the helm of Vogue for 34 years. Her power is really unmatched. People I spoke with compared her cultural innovation to that of Steve Jobs. And so I thought there was a real opportunity to figure out what made her powerful and how she stayed in power for so long, and also to uncover who she is as a person, because many people who come across the biography are only going to have an idea of her from The Devil Wears Prada. That movie presents a really one-dimensional view of someone who many people told me is really complicated.
You reported for a year and a half before Anna and her team got wind of the project. And then things changed; she provided you with some contacts, and sources started opening up. What were the early days of your reporting process like, before people made themselves available?
It was extremely, extremely difficult throughout, but especially in the very beginning. As people hung up on me, I had serious questions about whether or not I was going to be able to do this, to be honest. Many people felt a loyalty to her and did not want to talk about her if they felt like I was doing something that she was not sanctioning or would not be okay with. Weeks would go by, and I couldn't get anybody to talk. It was just: No, no, no. I thought, Okay, well, maybe if I approach this chronologically and find people from the beginning of her life, and then work my way forward, maybe I'll be able to make some more progress. That proved to be a pretty good strategy. After about a year and a half of doing that, her office found out that I was working on the book, and a representative reached out. What ultimately came out of that is that Anna put forward a list of her close friends and colleagues for me to talk to and respectfully declined an interview herself. We made a number of follow-up requests for interviews, but she declined.
A year and a half is a long time to go without key sources. What sort of archival research were you doing during that period?
I spent a lot of time in the library. The letters of Charles Wintour, Anna's dad, are archived in the Arthur Schlesinger Jr. collection at the New York Public Library, and I noticed he had papers archived in the U.K. as well. I thought, Maybe there's something here. So I started looking around, and those letters really opened up some of Anna's earliest years. For instance, one detail I uncovered is that Anna was thinking about moving from London to San Francisco at one point. Can you imagine if she had gone there instead of New York? How different fashion would have been? Another thing I uncovered in her dad's letters is that he said she was off to kind of a rocky start with her career. At Harper's Bazaar, she was ultimately fired for perhaps being too headstrong. All of her magazine work — all of those spreads that she did for Harper's Bazaar, Harpers and Queen, which she did in London in the early '70s, and for New York Magazine — all those I could all find as well. It was really fun going through old fashion magazines and just looking at the images. The only one I had a hard time tracking down was Viva. Maybe it's not in the archives because there was nudity.
Obviously, I loved the chapter about Anna's time at New York Magazine. There are so many great details: She brought her own table, because she didn't like our crappy desks, and her own chair. She pissed off editors by including a $9,000 goatskin trunk in a luggage market story. She was seen throwing out pennies. It doesn't sound like she was treated very nicely by some of her colleagues, though.
Yeah, I think it was an interesting job for her because she was kind of an outsider. She was a capital-F fashion person, and I got the sense that wasn't the type of person that New York usually hired. She was working with journalists and editors in an old-school kind of newsroom. It wasn't what we see in The September Issue, where everything's pristine and there are floral arrangements and racks of clothes coming through. But I absolutely loved the descriptions people gave me of her sitting at this perfect white workspace. Nothing on her desk; just everything flawless. Someone asked her: "How do you wear high heels every day?" And she said, "It's not that far from the front door to the limo." In the New York chapter, we kind of see this fashion editor-in-chief start to form in her. She's not really in the right environment for it, but by embodying that personality at that time, she gets the attention of Condé Nast.
Was there anyone you really wanted to talk to who you weren't able to track down or convince to participate? Besides Anna herself, of course.
I'm thinking … No, actually, I don't think so. I interviewed more than 250 people. I think it's safe to say that I overreported. And I'm glad that I did, because when you have that volume of material, you can really pull the best, most important stuff and put it all together and get something that feels really rich and complete.
I remember the other biography of her reading as much more gossipy. 
I didn't want the book to feel gossipy. I wanted it to feel like: These are the facts; these are the things that happened; and these are the different perspectives that people had about Anna's actions, Anna's successes, and Anna's mistakes. Nailing that tone was very important to me.
Was there anything you had to cut that you wish you could have included?
I did have to cut many darlings in the editing process. One person told me a story about how in the '90s, Anna was sitting in her office — her doors are famously always open — and she was sitting at her desk eating a hamburger with two hands. This person was like, "That was just totally cool." And they walked in and started talking ideas with her, and she said "no" to every single one of them.
Was there anything that surprised you in your reporting process? Was your mind changed about anything?
In 2018, when I set out to work on this book, I really did think that Anna Wintour's power base was weakening and had been weakened. I quickly learned that was not the case. I thought that for a variety of reasons, but really because when I think of media today, is Vogue really the foremost authority on fashion? In 1992, if you wanted to know about fashion and what trends were out there, you would have needed to go to Vogue or a magazine like it. Obviously, with the internet, that has long not been the case. But when all these people told me, "I won't talk to you unless Anna says it's okay," I saw that she does have a lot of loyalty from a lot of people who worked for her, and who knew her. And that she's doing this sort of power brokering behind the scenes all the time. She is advising on designer appointments across the industry. One person told me they couldn't think of a designer appointment that she wasn't asked about. And not just the ones that get headlines. Tory Burch told me that when she was looking for an accessories designer, she reached out to Anna, and her team put together a list of names. Even for someone like Serena Williams to say to me: There was a time that I was struggling with tennis, and I talked to Anna, and then I went on to win Wimbledon. Like, I found that to be very surprising. And I think that points to the strength of her business relationships and the power of her connections. I have to imagine there is so much going on that she's not telling anybody about.
After all this time, how do you feel about finally putting the book out into the world? Do you think Anna is going to read it?
The book is not written for Anna Wintour. The book is written for people who want to know about Anna Wintour's life. She's not going to write a memoir, so if people want to learn about her, this is the book. I'm proud of it, and I'm excited for people to read it.
Are you going to send her a copy? 
Well, what we're hoping is that some of the people who are going to the Met Gala will come into some copies. That's all I'll say.
This interview has been edited and condensed.