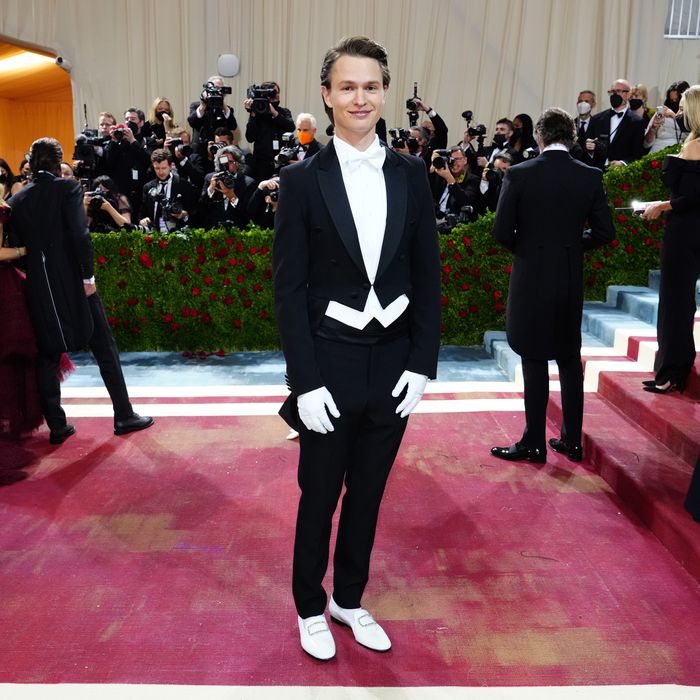 Photo: Jeff Kravitz/FilmMagic
Ansel Elgort made a rare public appearance Monday night — very public. As in the 2022 Met Gala red carpet, reportedly wearing a Fendi suit. Elgort's presence was met with mixed reactions, though mostly negative, especially on Twitter.
His outfit quickly became a bit of a meme, with fans likening him to a waiter. (To be fair, his suit does have a significant penguin vibe.)
Although Elgort walked the famous Met Gala steps and posed for pictures, it doesn't look as though he stopped for any interviews, which, given the multiple allegations of sexual misconduct made against him last year, is probably a solid PR strategy. It's actually one he's been employing all year. Even as he starred in one of 2021's biggest movies, playing Tony in West Side Story, Elgort made only a few public appearances, and he either skipped or was not invited to the 2022 Oscars, where the film was up for seven awards including Best Picture.
In 2020, Elgort was accused of assaulting a woman who claimed on Twitter that she met the actor when she was 17 and he was 20 and that he sexually assaulted her. The actor denied the allegations in a since deleted Instagram, though he admitted to having a relationship with the woman and suggested that she accused him of assault because he ghosted her. "I have not and would never assault anyone," he wrote at the time. After that initial allegation, other women spoke out. One claimed Elgort had dated her when she was 16 and he was in his 20s, and other women alleged that he sent sexually explicit messages via DM and Snapchat when they were minors.
He's currently starring on HBO Max's Tokyo Vice.