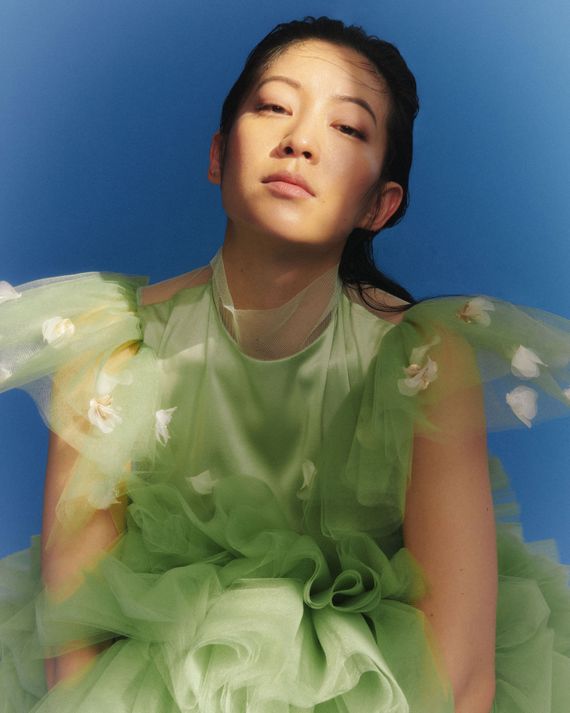 Hairstylist: Izumi Sato with 87 Artists. Makeup: Tomoyo Shionome with the South James Agency. Stylist: Destiny Joseph.
Photo: Nelson Huang
When Arden Cho moved to Los Angeles with a couple hundred dollars in her pocket in 2007, she didn't anticipate one day being at the center of a conversation about equal pay in Hollywood. In fact, the Korean American actor thought she'd be lucky if she got just a few roles. "At the time, I was like, Okay, I can either sit back and complain about the lack of Asian American presence in media forever or I can take a shot and hope that maybe I'll get to be on TV once or twice."
Cho started her career with bit parts on shows such as Pretty Little Liars and Castle and a credit as a "Korean sniper" stunt performer in 2013's Olympus Has Fallen. Being a young Asian American actor was tough, especially if you didn't want to play a foreign stereotype. She recalls being told, "If you want to be the lead, go to your country. Go be the lead where you look like the lead." But she continued to audition in Hollywood: "I want to tell stories in English. I want to be on shows that other kids like me are going to relate to because we were born here." She got her big break in 2014 when she booked the recurring role of Kira Yukimura, a half-Japanese, half-Korean teenager with supernatural powers on season three of Teen Wolf. At the time, Cho, who was born and raised in Texas by Korean parents, was one of a handful of young Asian American actors in major roles on prime-time TV — and playing an Asian American character, no less. When she was promoted to series regular for season four, she became the only woman of color in the main young cast.
Kira represented a major step forward in Asian American representation. Not only was she the love interest of the lead, played by Tyler Posey, she wasn't tangential to the story lines — she was integral. Sure, her character was the only one explicitly tied to her ethnic heritage (her powers as a kitsune came from her Japanese mother, and her grandmother's experience in a Japanese internment camp during WWII became a critical plot point in season three), but Kira herself was firmly Asian American. "What I loved about Kira was that she was so much like me," Cho says. "She had this heart to want to save her friends and fight for good, but she was super-dorky and really awkward and she just didn't know what to do with herself."
But then, in 2016, Cho was abruptly dropped from Teen Wolf during the hiatus between seasons five and six. Kira was never seen again. Cho announced the news in a YouTube video, and though she was careful not to reveal too much about what happened behind the scenes, it was pretty clear this hadn't been her decision. "Sometimes in a show where there are so many characters, there isn't always room for everyone and everyone's story lines, so I guess that was it," she said at the time.
Looking back now, Cho admits that when she first got the call, "I was in shock. I couldn't believe it." In the end, she says, "There wasn't room for Kira." (There was, however, room for Liam (Dylan Sprayberry), Jordan Parrish (Ryan Kelley), and Theo (Cody Christian), three white male characters.) Since then, she's appeared on various TV shows, including a recurring role on Chicago Med, and released original music, but she's also been more picky. When Paramount Plus announced a Teen Wolf revival movie in September 2021, fans hoped Kira might finally get closure. So when the returning cast list was announced in February without Cho's name, fans were disappointed. What happened next left them enraged.
A report from Deadline claimed that Cho, the only woman of color among the show's four female leads, had turned down the movie after being "offered half the per-episode salary proposed to her three counterparts." At the time, Cho was tight-lipped, commenting via only a few notable likes on Twitter. "I think I was actually offered even less," she says now, giving a half-hearted chuckle while insisting that whoever leaked the story wasn't in her camp. "I probably would've never shared it."
Cho is quick to point out that the reality of being paid less than her white (and/or male) co-stars is not unique to her. "I could probably, off the top of my head, think of over ten Asian American actors I know who were paid significantly less than their counterparts," she says. "Sometimes you don't have a choice to say 'no.' Sometimes you just need it. You've got bills to pay." She can't change decades of pay inequity, but she can, hopefully, have an impact on the next generation of Asian American actors. "I wasn't saying 'no' necessarily for me or because I was angry. I was saying 'no' because I hope that there will be more equality in the future." Cho declined to say how she found out she was being offered less than her white counterparts, but she does "appreciate artists who are a little bit more transparent because they realize that we're all important." (For the record, no other Teen Wolf actors commented on the report, though Dylan O'Brien, who also declined to return for the revival, did like a tweet supporting Cho. "He's always been very, very supportive," Cho says of her former co-star.)
Cho is careful not to dwell on past injustices. "That's just not my style," she says. "I want to focus on the good" — like when she meets young Asian American women who felt seen by her character. "When I meet fellow friends who enjoyed my time on the show and they enjoyed Kira, I'm happy because something good came out of it."
Another good thing is she's free to focus on her new project, Partner Track. The law-firm drama, based on Helen Wan's book of the same name, is set to premiere sometime before the end of the year on Netflix, and it marks Cho's first time as a series lead, "something I never imagined would happen in my career." (It also marks her first experience with a female showrunner and her first experience with an Asian American showrunner in Georgia Lee.) In the show, Cho plays Ingrid Yun, a lawyer originally written as Chinese American. "We talked a lot about, 'Should Ingrid be Chinese American or Asian American or Korean American?" Cho recalls. In the end, they decided to make her Korean American to reflect Cho's own identity while keeping the core of the character intact. "There are so many things I relate to with Ingrid. Not because she's Chinese but because she's Asian American. I'm Korean American, but in reality, I'm Asian American also."
Identifying as Asian American is key for Cho, though it took time. Growing up in Texas, Cho identified as American. Then she went to college, where she met international students from Korea. Calling her early 20s an "identity crisis," the actor struggled to find her place. "I was like, Okay, if Americans think I'm an outsider and I'm Asian, but Koreans think I'm an American, who am I? What am I?" In Los Angeles, this otherness persisted. "Hollywood didn't see Asian Americans as valuable. Either you're from Asia and you're really successful in Asia, or you speak another language. You're Asian or you're not," she says.
"I strongly believe that we cannot make waves or be present in this business unless we come together as a community and we fully support each other," she says. Take a look at her Twitter page and you'll find hundreds of tweets celebrating other Asian and Asian American artists in Hollywood. That's why she said no to the Teen Wolf revival and why she's not interested in dwelling on the past — she wants better for the young Asian Americans who are watching her. "I want to fight for a story that I think could make a difference for young Asian American girls, Asian American boys, teenagers," she says. "I want people to look at a character I play and say, 'That's my story.'"