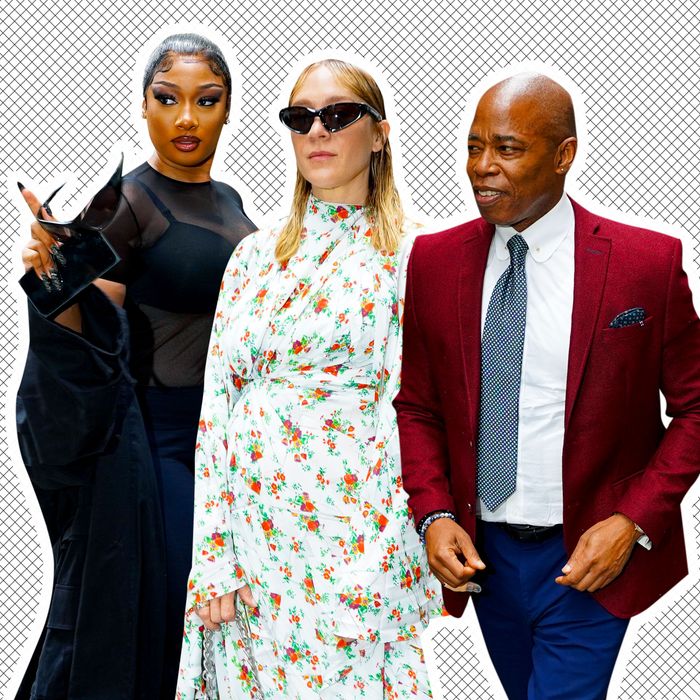 Photo-Illustration: by The Cut; Photos: Getty Images
Name a celebrity and they were probably at the Balenciaga spring 2023 fashion show in New York City this past weekend. Frank Ocean, Megan Thee Stallion, Pharrell, Chloë Sevigny, J Balvin, Orville Peck, and Mayor Eric Adams were among some of the famous attendees for the show. But it was Christine Quinn, the HBIC of Selling Sunset, who arguably had the most fun. She managed to get photos with J Balvin, Alexa Demie, Kanye West, and Anna Wintour. (Together, they are the five people you meet in consumerism heaven.) After the show, attendees spilled onto Wall Street while fans on the other side of the barricades yelled their names.
The show took place at the New York Stock Exchange, and the models walked the runway — which was the NYSE trading floor — looking like sentient mannequins. Each wore pieces from the collection over a latex bodysuit that covered the model's face and entire body, leaving tiny holes for the mouth and eyes, which were adorned with huge fake lashes. Demna, the mononym'd creative director for the brand, explained to The Wall Street Journal how the gimp suits played into the show's locale: "Money is a fetish. Probably the biggest one in the world, in a perverted way." And truly nothing says perverted like the NYSE.
To really drive the theme home, invitations for the show were printed on fake money. Balenciaga's ads leading up to Sunday also played into the theme of consumerism, with the brand's name being projected onto places such as the New York Public Library and buildings overlooking Union Square. Later, the brand announced that it is now accepting cryptocurrency as payment. Talk about fuck the system.
The combination of fetishwear and capitalism made the fashion show feel more like a performance-art piece than a display of the high-end designer's collection, having people wonder, Maybe … Balenciaga has been a social experiment this whole time? I suppose that would be the best explanation for Kim Kardashian's bizarre 2021 Met Gala look.