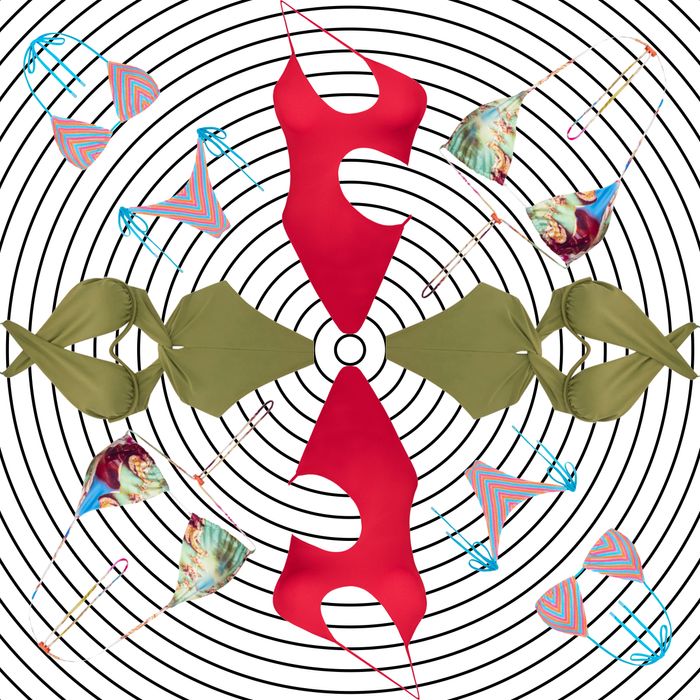 Photo-Illustration: by The Cut; Photos: Retailers
The weather is warming up. Okay, fine, we had one warm weekend in New York, but it still counts, right? With summer less than a month away, it's time to start stocking up on cute swimwear even if it isn't sweltering just yet.
Consider it manifesting warmer weather and beach vacations.
Since you want to spend more time planning your vacation than shopping for it, we've searched high and low for the best cute swimwear to add to your suitcase. These are the swimsuits sitting in our Instagram and TikTok likes, the ones we screenshot to shop later, and the ones we spotted in our favorite shows and Googled immediately. It's essentially our wish list, but we're sure you'll enjoy shopping it, too.
We found strappy options, plus-size options, and one-piece suits that are anything but boring. To see our awkward-tan-line-worthy picks, read on.
If You're Into Sustainability
Everlane's low-impact swimwear is made of regenerated nylon fibers and features adjustable straps and removable pads. Did we also mention it's very cute? Grab it in one of six shades.
If You're Not Afraid to Be a Little Cheeky
This Brazilian-style bottom comes in several shades and patterns. It's a little bit cheekier if you're not afraid to show some extra skin and features cute adjustable double straps.
Available in sizes XS to L.
If You Want Something Strapless
You can't go wrong with a classic bandeau, and this one offers a surprising amount of support, even for bigger cup sizes. It also comes in multiple colors and patterns; at this price, you can grab more than one.
Available in sizes 0 to 28.
If You Don't Want to Spend a Lot
The less you spend on swimwear, the more you have to spend on drinks and snacks. This is one of hundreds of affordable options. We love the subtle color and cutouts, and the recycled material is a plus, too.
Available in sizes 0 to 14.
If You Want to Show Some Skin
Riot Swim offers plenty of cheeky, high-waisted, barely-there swimwear in colors for mixing and matching. This cutout one-piece is a happy medium. Show a little bit of skin in one of 13 colors.
Available in sizes XS to XL.
If You Want Something Stripy
Seriously bright, cute, and stripy swimwear in a terry-cloth material — and it comes with a matching neoprene bag.
Available in sizes XXS to XL.
If You Want to Look Like Gigi Hadid
Cottage-core but make it swimwear. This very cute bathing suit makes us dream of dipping in a lake. It's also one of Gigi Hadid's favorites.
Available in sizes XS to XL.
If You Want Something That's Not Boring
With the cutout details and halter top, we're wondering if we could get away with calling this a bodysuit because it's almost too good to wear just at the beach or pool.
Available in sizes XS to XXL.
If You Want Really Good Plus-Size Options
Miaou's sexy, strappy swim goes up to size 4XL and comes in plenty of colors and patterns. We're partial to the baroque, but all the patterns are worth shopping.
Available in sizes XS to 4XL.
If You Want to Look Like a Euphoria Girl
From Emily Ratajkowski, the stringiest swimwear yet. The Las Olas top comes in a number of patterns and colors and ties across your waist, and if it's good enough for Maddy Perez …
Available in sizes XS to XL.
If You're Willing to Spend a Little Extra
Sorry in advance to your wallet, but this two-piece cutout set from House of Aama is worth the splurge. It features this cool tattoo print and bead accents.
Available in sizes 0 to 12.
If You're Not Afraid of a Little Color
Be the brightest thing on the beach in this sporty one-piece. Made of mostly recycled polyamide, the sporty piece has a low back and is perfect for pairing with denim shorts so you're always beach-ready.
Available in sizes 0 to 14.
If You Want Something Classic But Not Boring
Bold color and a plunging silhouette make a classic poolside look that's still fun.
Available in sizes S to XXXL.
If You Want Something Sparkly
You never know when you'll have some sort of nighttime pool-party situation, so maybe you should always be prepared? This sparkly top comes in three different shimmering shades.
Available in sizes XS to XL.
If You Want Something No One Else Has
Take the cutout trend to new levels with this one-piece with a flower-shaped cutout that's guaranteed to be the most unique swimsuit no matter where you go.
Available in sizes XS to XL.
If You Want the Retro Look
Rarely are bathing suits this retro and cool. This collared top is perfect for sitting poolside and pairing with your vintage shorts.
Available in sizes XS to XL.
If You Want a Good Deal
Yes, we're still shopping the Ssense sale — we'll stop when the sale stops. Get this swimsuit from buzzy brand Isa Boulder at a deep discount. May we also suggest browsing the sale and layering on a few more pieces from the brand?
Available in sizes XS to XL.