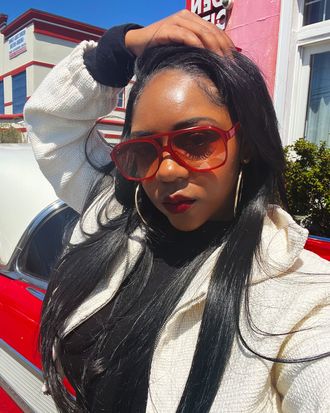 With New York reaching 90-degree weather this past weekend, I don't think there has ever been a better time to shop for the best sunglasses out there. If you know me, you know that I never leave the house without my trusty sunscreen or my sunglasses. Not only does a good pair of sunnies protect me from the sun, but they're the perfect accessory to complete an outfit. You should never underestimate the power that a statement pair of sunglasses can bring to your basic dress or shorts-and-tee ensemble.
However, I started racking up a bit of a hefty bill from the intense splurges since my favorite sunglasses are designer (sorry not sorry!), until I discovered a bit of a secret: shopping previous seasons on discount retail sites.
From Saks Off 5th to Nordstrom Rack, I've expanded my designer-sunglasses collection, scoring some of my most favorite pairs to date for a fraction of the cost. Whether it's my oversize Gucci sunglasses or my red-tinted Celine sunnies that pair perfectly with my favorite red lipstick, my sunglasses collection owes me nothing.
Which led me to ask, Am I the only one obsessed with finding a discounted gem? Turns out I'm not. According to a Saks Off 5th rep, the focus in eyewear right now is indeed designer brands. "Balenciaga in particular is having a moment, and customers are holding tried and true to Saint Laurent and Gucci. They have a loyal following — after you buy your first pair, you come back for more," they told us. And I can relate.
So now that I've let you in on the secret, scroll on to shop some of my favorite designer buys for way less.
Okay, while it's not a discount retailer, it is having a major sale right now — which makes it the perfect time to snag sunglasses that were just full price a few weeks ago and will be back to full price (or worse out of stock) when the sale ends in a few days. Another hack: You need to have an Ssense account to have access to the Private Sale where all the good discounts are.
Chloé speaks a special eyewear language with its shapes and silhouettes. This pair is an immediate add-to-cart.
Round shades can be overbearing for some facial shapes, but these are just enough.
Two trends, one design: Small frames and white frames are all the rage this season, according to Saks Off 5th comments. If you're into being super-trendy, then these are a no-brainer.
More tortoise, but make it extra-chic!
As Saks said, shapes are having a moment, and these butterfly-shaped sunnies will metamorphose you into a fly and playful girl immediately. The rimless design is also one that is not seen on many shades.
Pink continues to be trendy, but these jazzy Casablanca frames are especially unique, so even if everyone is wearing pink, they'll be nothing like these.
With a wide selection of designers and styles, you can never go wrong with finding a good pair here.
Saks Off 5th tells us that tortoise-patterned shades are never going out of style, and we agree. These are a classic. They're the perfect square size, complete with a chic Gucci logo on the arms of the shades.
Something about round sunnies just feels like they complete your face, and with a fun print like this, the pair will elevate your summer outfits instantly.
This style screams futuristic, and this shade of red will elevate a basic outfit quickly. They're also designed with an additional side shield for extra sun protection. Stylish and protective? Sold.
On all Tom Ford eyewear, there's a signature T adorned on the arms, and this pair is no different. The yellow hue is subtle enough to transition from your summer wardrobe to fall one, and the brand's shapes are fitting for almost all faces.
Another trend this season is pink, and these round Pucci specs are great for vacation — playful, trendy, and affordable luxury.
Heart-shaped eyewear was a huge 2021 trend that Saks Off 5th saw, and this season is already proving to be no different. These shades are funky but fun, and because they're black, they will go with almost anything. A pop of colorful lipstick and you've got yourself a summer look!
Classic Versace cat's-eye? Groundbreaking. No, seriously — these are great all year round and will make you feel as if you're living your rich Italian dreams.
Embellishments and recognizable brand motifs are another top seller, Saks Off 5th tells us. Not a logo lover but love a signature brand style? Nothing says Gucci more than this retro crystallized style.
Nordstrom Rack's inventory is known to sell out quickly. Take note to snag shades the second you see them. Otherwise, they'll be the ones that got away.
You can never go wrong with a pair of aviators. They are a summer essential. They complement most face shapes and pair well with just about everything.
Add some sass to your aviators with these yellow-tinted Gucci shades. They're on the oversize and extra side of the spectrum but are well worth the statement.
Monochrome shades to set off a monochrome outfit? I think so! These oversize square-shaped sunnies are the only accessory you'll need for a major monochrome moment.
Cat's-eye, but make it sleek! These rose gold Bottega shades are crafted for the stylish person who loves a cat's-eye but wants to be a bit more bold.
Round sunnies take eyewear to another level, and Ray-Ban's shades are the most classic pairs to have. Beyoncé also loves a round sunny — need I say more?
Balenciaga has been the go-to brand, and obviously it's because its sunnies are so cool. Nothing says "cool girl" more than these.
This Dior aviator pair is a cult favorite of the brand, so why not snag it for a lesser price?